<![CDATA[

Besides the essential main demo which is not to be missed; here are separate videos that go through all the features of EasyAzon 4 in detail below (2018 version).

Enjoy; world's favorite Amazon Associates affiliate marketing tool!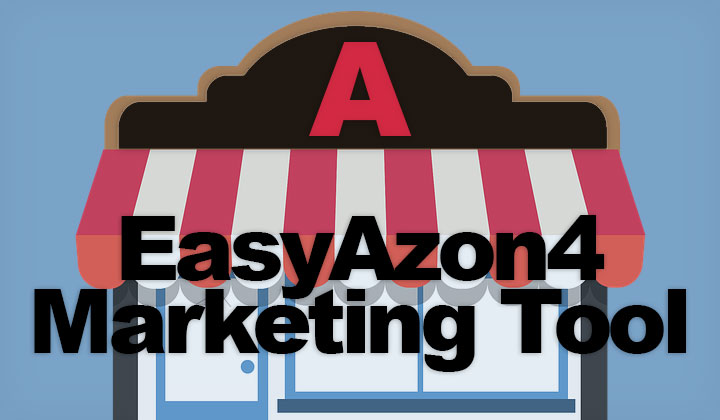 Please note; these demos are not applicable to EasyAzon 3 or any previous version — only the latest available 4.0 pro (and core) version of the WordPress plugin.
— So let's get started!
Demo #1 – Install & Activate EasyAzon 4
Demo #2 – Setting up EasyAzon 4
Demo #3 – Setting up Amazon Associates
Demo #4 – Entering Country Tracking IDs
Demo #5 – Configuring EasyAzon 4 Plugin
Demo #6 – Creating Amazon Affiliate Links
Note: original videos can be found under this link.
Demo Transcripts
Demo #1 Transcript – Install & Activate EasyAzon 4

To add a new plugin; just go to plugins — add new — and then upload plugin. From there choose the file easyazon-4.0.0.zip and you want to make sure it's in zip format — open — install — and then activate the plugin.

The same will work for all plugins.

Demo #2 Transcript – Setting up EasyAzon 4

After you have uploaded and activated your plugins; navigate to EasyAzon and the settings section — first get your access key ID and secret access key.

To do this; go to the AWS account management page. If you have to set up a new account it may ask for your billing information. You will not be charged for anything; this is just how the plugin interface works with the Amazon system.

Click on "AWS account management" link and it will head on to Amazon. You will need to be signed in. There is a popup where you should make sure to select "continue to security credentials". Because the option to "get started with IAM users" does not allow to obtain root access which is needed for the plugin to work.

Click on where you'll see "access keys" (you are allowed to have two access keys). Proceed to "create new access key", then "show access key". Copy and paste the access key ID; also make sure there are no spaces when you paste it into the credential settings in EasyAzon because that would cause problems. Go back to Amazon and further copy the secret access key and paste it to EasyAzon credentials — then save changes and you will be good to go on access keys.

Demo #3 Transcript – Setting up Amazon Associates

Once you have the AWS credentials in place; you need to be signed up for the Amazon API product which you can do through your Amazon Associates account.

Login to Amazon; navigate to "product advertising API" and click on the "sign up now" button. You may or may not be already signed up depending on how long you have been an Amazon associate. The sign up is very straight forward and once you've done that, the next step is to fill in Amazon Associates tracking IDs.

Demo #4 Transcript – Entering Country Tracking IDs

Now that the access ID and key is set up along with the Amazon product API; proceed to EasyAzon settings to insert your tracking IDs.

If you are a core user, all you need is your main country that is bringing you traffic because that is the one you will want to be getting your commissions from. But for pro users; you can get a separate tracking ID for every single country. Except for India, unless you are a resident of that country.

Countries are Germany, France, China, Canada, Brazil, Italy, Japan, Spain, United Kingdom and the United States. To sign up for them using your existing domain; click on the "sign up" link next to a country. Get approved for each program to get your tracking IDs. Then you will be all set to go ahead and configure EasyAzon the way you want it. Along with link localization with your ID for each country.

Demo #5 Transcript – Configuring EasyAzon 4 Plugin

Now that all your credentials and Amazon Associates tags are ready to go; we can configure the easyAzon plugin to what you like.

The "search" tab is where you can see your default search locale; the main source of your traffic comes from. If a link is not localized it will default to that country.

The "links" tab is where you can do a lot of cool EasyAzon pro features.

The "new window" and "no follow" features are available for the free core version. You can set the attribute so that SEO juice will not go to Amazon.

The "add a cart" option is when you get someone to click through by adding the product to their cart; you get an extra 89 days to earn the commission while the usual is 24 hours. It also pairs well with the buy now button.

You can also cloak the links so that instead of the long Amazon link; it would be your domain name and then whatever name you want like goto and then the locale, ASIN number and Amazon Associates tag.

Another good one is the "product popups" setting; when a user hovers over a link it popups and it's not obnoxious or anything which is really nice.

So that's how you can customize the links.

What's new in version 4.0 is the "link localization" tab where you can localize links just like in version 3. But now instead of just localizing for countries that have Amazon stores, you can now select exactly which countries you would like to go to which stores. So for example visitors from Belgium and Luxembourg would be directed to the Amazon store in France. Germany and United Kingdom stores are big ones with many countries included by default.

That's a huge upgrade; so you won't just get commission from the countries that have Amazon stores but also all the countries around them. You can customize it but the default settings are based on which countries usually go to which Amazon stores.

The next customization setting to look at is "localization" under settings. In Localized products; select "add new". The way it works is that you can pick one product to be associated with different ASINs in different countries. Instead of being sent to the search page the customers will be sent to the products you want.

So for example search Playstation 4 and select the right product. Then go to Brazil and since they don't have the same product you can send them to another similar product. For Canada the right product is available for selection.

So even though the products have different ASIN numbers the one in United States and Canada are exactly the same product; just in a different country. So visitors will be sent to exactly which product you want them to be sent to.

You can go through this for every product you want. Then click on "save localization" and go back to manage localizations to see your newly added product.

You can hover over the ASIN numbers to see which products they are. This is a way to be much more accurate with EasyAzon localization.

Demo #6 Transcript – Creating Amazon Affiliate Links

Now that you have EasyAzon configured and set up the way you like it; let's look at how to create links to blog posts and pages.

One way to start is by clicking on "EasyAzon" button in the post editor — and then searching products for the country locale of your choice. What's added in version 4 is the search index; so you can actually narrow down searches with category, minimum price, maximum price and other ways to sort the results.

For example; you can find the cheapest best selling Xbox One on Amazon.

You can choose to link to the search results page or a specific product. With the core version only text links are available; with pro you have a choice between text links, image links, CTA link (buy now buttons), info block and add to table. The add to table is a separate extension available for purchase.

For regular text links; you have different already familiar modifiers.

You can open the link in a new window, add nofollow, use different tracking IDs, use the option where products are added directly to cart, cloak the links, select localization options as well as enable product popups which you see when you hover over the link. Default selections are what is already set up in global settings.

In "link text" you can change the text of the link. Example: "Click here for an Xbox One" and then you can either choose the "insert" or "insert markup" button which doesn't use the shortcode but the actual html code for further customization. The difference is that global settings won't affect them.

After inserting the link you can see the shortcode on the post/page editor; to see what the actual link looks like view the content in preview mode.

Another way is to write the name of the product and highlight it; then click on the EasyAzon button which will search for the product automatically.

Under "image link" there are several options; select different image sizes from small to big. There are a lot more options than in version 3. You can align the image anywhere you want. You'll also have the typical link modifiers. Finally select the "insert" button to put your short code in the content.

Then the "call to action link"; you get different options for the buy now buttons: small light, small orange, tall light, tall orange, wide light, wide orange. This is good to combine with the add to card because if people are clicking buy now on amazon; they are expecting to buy it now and so you can have it add to cart directly.

Next is the "info block" type; you can select the attributes template which gets all the information from Amazon or "image and prices" for a simpler version.

So that's how you build links with EasyAzon; it's easy hence the name.

Click here to read more about EasyAzon 4 features!

Questions, comments, please go ahead below!

Notice: WebHostWhat is a ClickBank affiliate and therefore some of the links contained within these pages may be set to track sales and produce commission for the blog owner. This is at no cost to readers and you have my most humble and biggest thanks!

]]>