Feature rich and easy to use 1&1 cloud server solution bringing competitive edge to the ever-expanding cloud hosting market; covered in this review.
Ready to try out? Click here to start of with $50 hosting credit.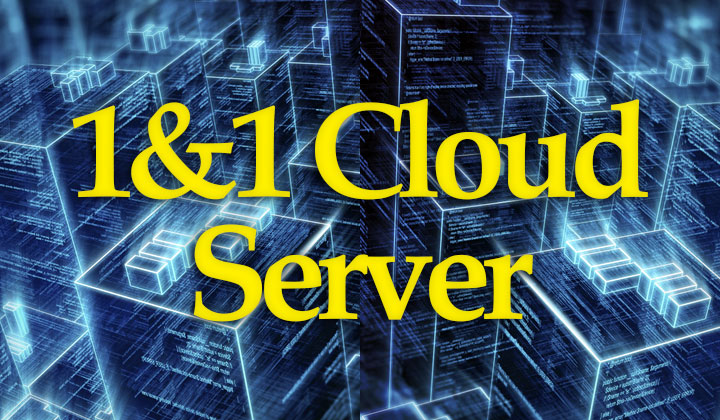 Customers don't ask if they should go into the cloud; the question now is, "how do I do it right and which partner do I choose?" — Peter Wuest from NetApp
Top 1&1 Cloud Features
Complementary SSL Certificate from Symantec (free HTTPS)
High-speed SAN storage network on SSD drives
55 second virtual machine deployment
Configure server resources on-the-fly without downtime
1and1 cloud app center for quick & easy CMS deployment of WordPress and more than 100 popular web applications
Dedicated firewall with DDOS mitigation and network data protection
Multiple data centers in United States, Germany and Spain
Unlimited bandwidth and email accounts on all packages
Advanced server infrastructure with 99.9% availability
New, Easy to Use 1&1 Cloud Server
The new 1&1 cloud server is the perfect all-inclusive solution for midsize businesses and developers. For example: as a web server, as a database server, as a test server, and many more professional applications.
The 1&1 cloud server combines the power of dedicated servers with the benefits of the cloud. It offers top of the line performance and maximum flexibility to adapt to ever-changing requirements with optimal cost savings.
Managing a cloud server is now easier than ever before.
The 1&1 cloud server is intuitive; you can configure your own server cluster directly from the control panel. You can also expand the RAM, SSD or the number of CPUs at any time. Take advantage of tailor made performance with to the minute billing, you only pay for what you use. Keep informed by monitoring the resource utilization in your dashboard.
Other highlights of the 1&1 cloud server include. Pre-installed apps make it easy to set up your web projects, premium hardware such as SSD memory ensures the best performance. Data transfer, load balancers, firewalls, and full API are included. As well as expert phone support. There's no need to worry about the maintenance and availability of your server because you benefit from the maximum security of 1&1 high-performance data centers.
Easier and more affordable than ever, and your server is ready to go in as little as 55 seconds — review a new 1&1 cloud server free for thirty days.
Ready to Use Server in 55 Seconds
To create a server; either select one of the preconfigured servers or flexibly select the number of CPU plus the amount of RAM and SSD storage. In addition to pre-installed applications, various windows and Linux distributions are available to you under the 1&1 images tab.
The intuitive interface guides you through the creation process. Advance settings are available to you if required. Within 55 seconds your server is ready to use.
Flexible Firewall Rules
To configure the firewall; give your firewall rule a name, by default all ports are closed. Define the ports or port ranges that should be opened by the firewall rule.
As a guide, the default values for ports such as HTTP, MySQL, and SMTP are prepared for you; you can easily apply these with just a click. Unless you define otherwise, the rules apply to all IP addresses that access the server. Then just click to assign the firewall rule you have created to all the servers it applies to.
Flexible Server Resources
To increase your server resources during operation with hot ad resize; in the configuration overview, you can either switch to a different package or flexibly increase CPUs, RAM and SSD storage according to your needs.
As you make adjustments, the price of the new configuration is displayed instantly. The added resources are available to you immediately, easy to use, ready to go; The 1and1 Cloud Server.
Creating a Load Balancer
To create a load balancer; enter a name for the load balancer configuration. Now define the ports into which the traffic should be divided. As a guide, the default values for ports such as HTTP, My SQL, and SMTP are prepared for you; you can easily apply these with just a click.
If you do not enter a specific IP address, the load balancer rule is applied to the traffic of all IP addresses. Now just click to assign the load balancer rule you have created to your servers. Advanced settings for the load balancing process are also available to you if required.
Cloud Market Interview
After a few years if you look into the German market; we clearly can say now that it's growing. Customers now don't ask if they should go into the cloud? The question now is, "how do I do it right and which partner do I choose to get into the cloud and get hybrid deployment".
Peter Wuest at Europe Cloud Expo in Frankfurt.
What we see clearly as well, is that customers want a hybrid cloud. It's not just going into a big cloud or to keep an on-premise status, it's a combination of both to really get the best of each from both worlds. Move from CAPEX into an OPEX deployment to just pay for what you use. That's specifically true if you think of the new agile projects that many customers are running.
They want to try something out, experiment, build new business models — and that's where you don't want to buy new assets, you want to get an OPEX based service to try them out. If successful, then run in production.
A few key trends in the cloud are clear; now the cloud is there as the foundation. The question is now, how can I make it as simple as possible to leverage the cloud, how can I keep control of my data, specifically in Europe where we have the General Data Protector Regulation.
It has to be established until May 2018. It's a key to keep control on the data. That's why hybrid cloud deployments are really key and that's one of the key reasons why you want to have a data center and the cloud partner in the country.
…
Click here to find out more about 1and1 cloud hosting.
Thank you for reading the review. Please share on SN if you found it beneficial.
Planning on moving into the cloud? Comments & questions below!
Kind notice: The review and website WebHostWhat may contain affiliated links that gather visitor data through cookies places on your browser. Potential sales made through these links may result in financial benefit to the blog author without added cost to customer. Neither have the author's opinions been affected from such affiliation.
A huuuge thank you for reading and all the support!