In this post I will explain how to get a completely FREE SSL/TLS certificate to host your website or blog on secure HTTPS with 1and1 — issued by Symantec; one of the most trusted and oldest certificate authorities.
Shortcut –> Click here to find out about 1&1 SSL Starter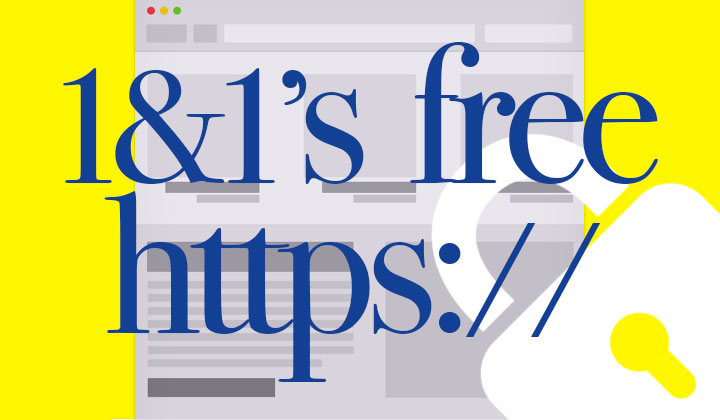 Enjoy the review and share your experience of 1&1 in the comments below!
1&1 Symantec SSL Certificates
Looking at the list of Symantec SSL certificates; it only gives you three paid options: SSL Starter ($9.99/first year & then $29.99/year), SSL Starter Plus ($29.99/first year & then $69.99/year) and SSL Business ($29.99/first year then then $69.99/year).
But what's not clear is that you only need to buy the SSL Starter package for a second domain or each additionally hosted domain name.
Yes: SSL Starter is already provided for free with all these 1&1 hosting plans!
The most basic SSL certificate offers protection for only one domain (enough for most website and blog owners). You can simply go to the hosting control panel and activate the feature with a few clicks and you are done — more about that below.
Quote: The SSL Starter certificate is included in all 1&1 products and offers you 256-bit encryption for a single domain or subdomain (source).
Paid VS Free SSL
There are differences between paid and free; however as a domain validated certificate the level of security (256-bit SSL encryption) is the same. Going free is a great way to save money but it depends on your needs.
Who needs paid SSL?
You want to prove to visitors that your website is who you say you are with an "organization validated" certificate that connects your business details with your domain — for businesses, organizations and eCommerce sites.
You are using subdomains with your website, for example: shop.yourdomain.com and not just the main domain: www.yourdomain.com
Who benefits from free SSL?
All website owners can benefit from a SSL certificate which can increase search engine rankings as well as increase general trust and security online. Especially small businesses and even many of those running online shopping sites can create enough security through a domain validated free SSL certificate.
Just make sure that you are not using any subdomains!
Installing SSL Starter
Here are the simple steps to enable HTTPS — just first make sure that you have an active hosting account with a domain attached to it. Also you will need to have the name servers of your domain set to 1and1 (etc: ns-us.1and1-dns.com, ns-us.1and1-dns.us) if the domain is registered elsewhere — more info here.
Login to the "1&1 Control Panel"
Under domains: click on "Manage SSL Certificates"
The list of available certificates should contain the complementary SSL Starter — click on "Not set up yet"
Select the domain you want to assign the certificate to and click on "Set Up SSL Certificate" button
It will take some minutes to become enable; refresh the list to see it's status
Your hosted domain is now equipped with a free SSL certificate!
After these steps you are ready to enable HTTPS for your website. On WordPress you can simply go to "Settings –> General" in the backend and change the WordPress Address and Site Address to start with HTTPS instead of HTTP.
More: About setting up 1&1 WordPress hosting here
For those who have any questions about setting up HTTPS for your website or about 1and1 hosting SSL/TLS certificates (free or paid), just let me know in the comments below — I will do my best to help out!
Please note: WebHostWhat is affiliated with 1&1 Hosting through CJ Affiliate by Conversant which provided some of the links on this page to track sales for which I receive compensation. This is of no charge to readers, thank you for supporting me!