ArmyBot is a new approach to traffic exchange with an automatic "mouse clicker" feature, which I so wanted to like but have found too many problems, so far.
Here's my experience, and honest ArmyBot.net review of 2023.
But first, the main issues I found when trying out their service;
All visitors were returning visitors from the same IPs
Only 46% of exchange traffic really visited my website
Not so easy to use, and so far lacking in features
Beyond anything, for ArmyBot to work well, they would need a huge user base which they seem to lack as the same IPs keep visiting your site.
The best alternative to ArmyBot I know — HitLeap Traffic Exchange.
They are feature rich, and the most popular traffic exchange program to date, able to produce huge amounts of traffic all geotargeted, and from unique IPs.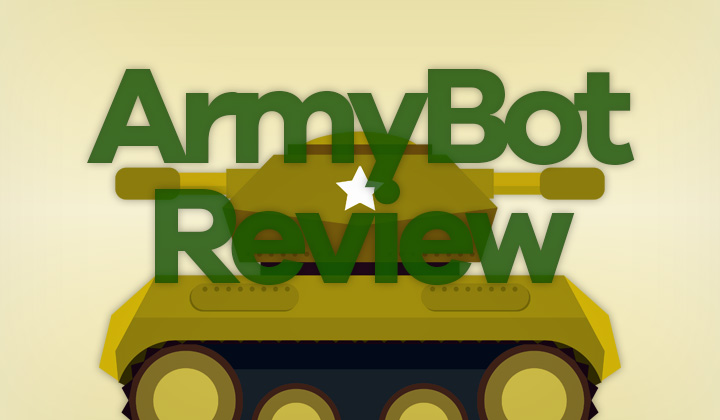 However, alternatives lack the "mouse clicker", " or "javascript" functionality that can click on your ads or do anything really, which is unique to ArmyBot.
ArmyBot Traffic Exchange Review
Besides the major flaws, I like the approach to traffic exchange with ArmyBot. And obviously there is plenty of demand for such a service, with multiple uses.
It's likely the users of their service want their traffic to look natural, randomizing it's actions to avoid getting caught for using automated traffic.
The reasons why traffic exchange programs are vital for this, is that it's the best way to get the traffic to come from real home ISP internet connections, and IPs.
But ArmyBot delivers short in this aspect, likely because of too few users.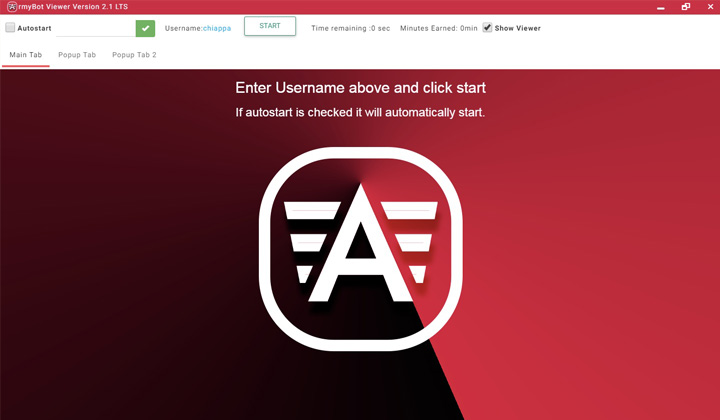 Above; The ArmyBot viewer app for Windows.
Also, each campaign has the same repetitive action, (visit a website, click on X). Unless you have the technical skills to run a JavaScript that does more specific tasks.
Here is the good & bad worth considering when planning traffic generation;
Good About ArmyBot
As you can see, there is loads of potential with ArmyBot.
Easy to generated "minutes" used for your traffic campaigns by running their muted viewer app in the background
Set custom referer URL to anything you want
Randomize visit duration from 10 to 600seconds
Randomize maximum hits per hour 1 to 5000 max.
Inject Javascript for advanced users
Mouse clicker, that can click on banners, links, videos, anything.
Random user agent so visitors come from "different browsers"
Interface supports English, Spanish & French
Bad About ArmyBot
But there's a lot to improve, especially popularity, which is the most difficult and why only a handful of traffic exchanges survive (see alternative below).
When I ordered 240 hits to my website, 110 actually landed on the page meaning just 46% of exchanged traffic was received.
Not enough users, as all the visitors were visiting the page multiple times, doing the same actions (not natural).
You could end up with hundreds of visits from the same IP, clicking on something with bigger traffic campaigns (a really bad idea with ads).
Linux version of the viewer is supported, meaning that some users will come from server IP addresses, not from natural home IP addresses.
Viewer is packed in RAR format (not all users have ever heard of or used anything other than ZIP, or EXE files).
While it depends on your traffic needs, some may consider it negative that it took 85 minutes to deliver the 110 hits. So according to my test at the time, only 1-2 hits per minute was the fastest estimated rate for generated website traffic.
Also the hits were ordered with a 30second/visit duration setting. So you are likely to see a higher visitor number if you set the duration higher.
ArmyBot Alternative
After reviewing many traffic exchange and other traffic bot services, I have never seen anything with this unique set of features that ArmyBot has.
It's obviously hard to get everything, however a lack of a big user base being my biggest concern, I would go where the traffic seems as natural as possible.
And that's HitLeap because of it's huge popularity.
It's a lot easier to use and less confusing than ArmyBot, and reliably generates either free or paid traffic very quickly from geotargeted country locations.
And they are one of the most feature rich from the alternatives.
Hope that my review helps, I'd love to hear about your experiences as well.
Questions, or what do you think about ArmyBot?
Or suggestions for ArmyBot.net alternatives welcome!
Much thanks for visiting my site, Tim.
These reviews and other posts on my blog are meant for mutual benefit, meaning that some of the links are affiliated with services that support the author financially.