Based on my work experience in Japanese tech and living there; I will explain the best ways to host speedy websites in Japan & what's best avoided in 2023.
From cheap shared hosting to blazing fast cloud VPS solutions for businesses.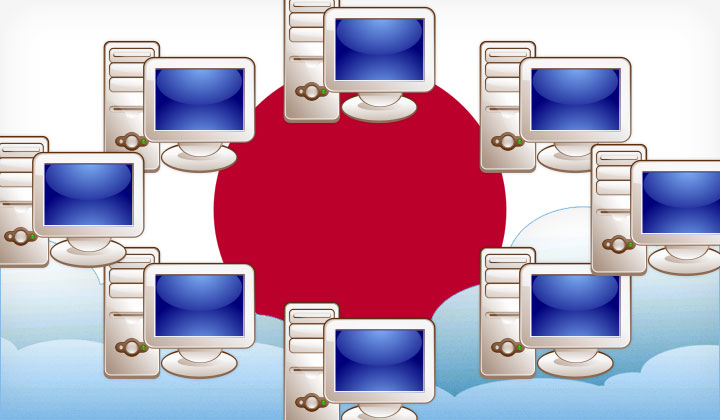 Index of Contents:
Despite the fact that high-speed fiber optic lines up to gigabit speeds are considered normal in Japan; connectivity outside the country is more unstable and much much slower. Which is why hosting your website in Japan makes a lot of sense and will have a big impact on page load times when targeting Japanese visitors.
As for Japanese web hosting companies; most are still far from the simplicity, performance, and cost-effectiveness of western competition. An industry trend in recent years is to upgrade web-design to a modern look while retaining difficult registration systems, complicated and old hosting control panels. Not to mention lack of service towards non-Japanese speakers and those not living there.
In my opinion, choosing a western hosting company with a server location in Japan is the best option for most cases. From price, to performance and ease of use.
Best Low-Cost Japan Hosting
For affordable & solid shared hosting I recommend FastComet; a company that manages to stand out with a surprising combination of really good customer service, easy & fast SSD hosting as well as super low pricing with no renewal up-charges. They launched their new Tokyo server location in March of 2016.
Included Hosting Specs:
Tokyo shared hosting from 2.95/mo (same renewal price)
Unmetered traffic & fast SSD storage
Free domain name,  SSL certificate & CDN
cPanel powered with 24h/7 support
Optimized for WordPress with easy 1-click install (see details)
45 money back guarantee
Note: FastComet is also used as a popular access-way to Taiwan, South Korea & China. However there is significant benefit in connectivity with the below cloud solution.
Best Cloud VPS Japan Hosting
Within the complexities of Japan's online network; businesses and those looking for low latency & best possible speeds throughout the country can rely on Google's evolving infrastructure. Their Google Cloud data center in central Tokyo is able to automatically scale to any set of website resources with optimal connectivity.
Now anyone can utilize the power of Google Cloud hosting with Cloudways; which partnered with Google to bring easy, and cost-effective access to the platform.
Included Hosting Specs:
Tokyo cloud hosting (managed) from 38.40/month
Pay as you go (pay only for used resources) with free trial
Industry leading servers & SSH access
Fast 24h/support
Free 1-click SSL with Let's Encrypt
Unique IP address & unlimited websites
Easy hosting control panel, instant WordPress install and migration
Cloudways is one of the few companies that has created an intuitive and easy to use custom hosting control panel that doesn't make you miss cPanel. But for some advanced users the downside is a lack of root access. So you will need to contact support for advanced administrative level tasks.
Here's the basics to deploy your website to the Tokyo cloud!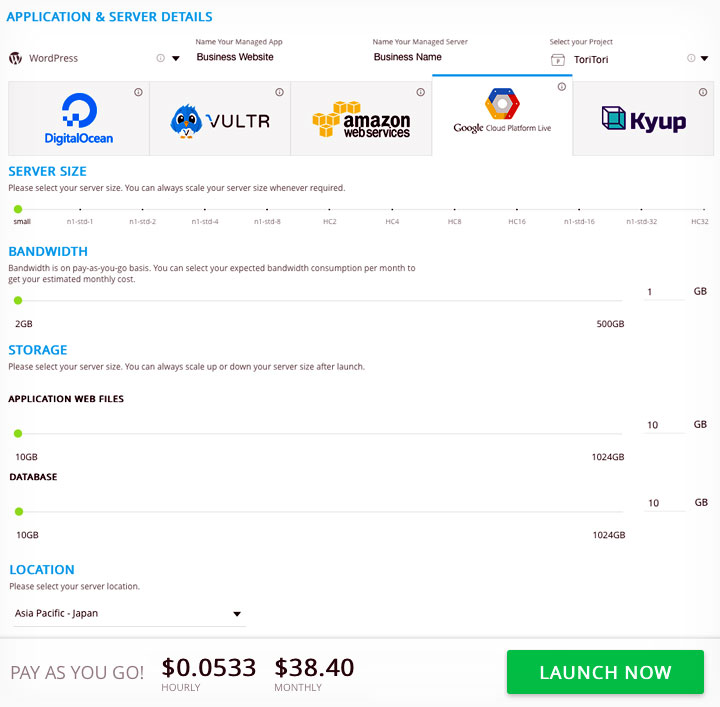 Adding a server to your account looks like the above, which will give you an estimate on how much you will be paying at the end of each month. Basically you can just set everything to the lowest setting and later scale up as necessary.
For the server settings you need to know:
Application
You can choose between ready installed WordPress, Magento, Drupal, Joomla and other CMS. Or if you just want a fresh server with everything you need to host custom web applications, choose "PHP Stack".
If you want to migrate your WordPress website; it's recommended to select WordPress and use their easy migration plugin to transfer the site contents over.
Server size
The cheapest small size with 1CPU & 1.75GB of RAM is plenty for even big sites. And it's simple to monitor website resource usage in the backend to make sure you always have enough available CPU & RAM.
Bandwidth
This setting is for estimation only; because you will always be charged for only the amount of bandwidth used by any given month.
Storage & Database
At 10GB each it's plenty for a lot of sites & easy to scale later if needed.
Location
Make sure Google Cloud Platform Live is selected above; so you can find the "Asia Pacific – Japan" as a server location setting.
Finally it should take some minutes for the trial server to be deployed..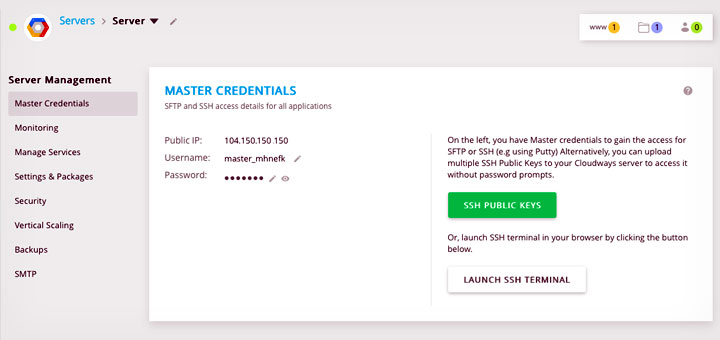 This is what the simple backend looks like.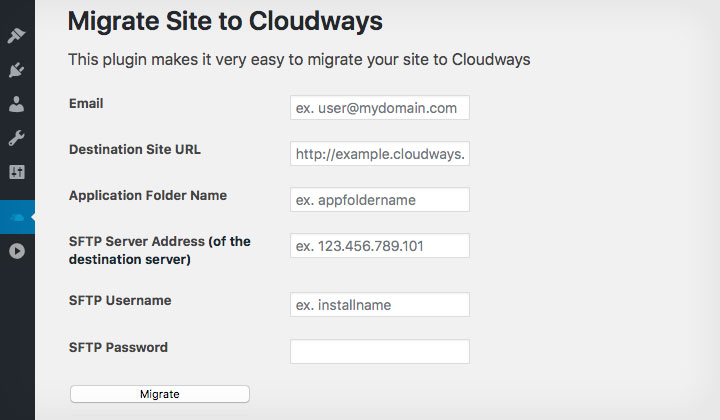 To migrate your previous WordPress site; the best way is to download the Cloudways WordPress Migrator plugin to your old website. Add the credentials as shown above and the rest of the transfer process will be completely automatic.
For a full guide on hosting WordPress on Google Cloud in Tokyo <<read this>>.
Japanese Hosting Companies
When consulting Japanese colleagues in web development for fast local hosting solutions; I'm often lead to expensive, non-competitive firms. In fact the relative closeness and lack of good competition within the industry seems to be delaying necessary development; further worsened by poor English language skills, preventing customers from shifting to western cost-effective alternatives.
As for western businesses building an online presence in the country, many encounter obstacles when looking for "rental servers" (or レンタルサーバー) as they call them in Japan. Common problem being the language barrier — only accepting Japanese residents as customers; and non-existing support for an English language interface. From what I've seen; likely an English language service would charge premium not really worth the added cost.
An annoyance in hosting infrastructure is that most companies are not using cPanel. The most commonly used hosting control panel and easy, and familiar to use. But even many of the biggest Japanese rental servers still have old, custom made backends that are ugly and overly complicated to use. There are cPanel hosts, but none that I know of that would bring any real competitiveness to the market.
One of the most popular rental servers is Lollipop; which to date has over 1.65 million customers. They have finally revamped their old outdated website to a modern look, while the backend remains old-school. I've seen sites hacked, going offline and with plain poor performance because of over-selling — yet many Japanese companies are stuck with such services. Unaware of better alternatives or simply horrified of the thought of going through the complications of migration because of low industry standards.
What's your take on Japan hosting in 2023?
Comments and questions are welcome!
Additional notice, that a portion of the hyperlinks in these posts, reviews and guides are affiliate with the companies they link to. This won't cost you anything and even is entirely voluntary. But, does help me out a lot. Big big thank you. Tim.