This is a guide to Host4Geeks discount coupon codes and promotions. While high performing infrastructure is a key feature, they bring low pricing to the mix. — And you can even save further with year-round offers.
Don't miss! See this page to access all the promo coupons of 2023.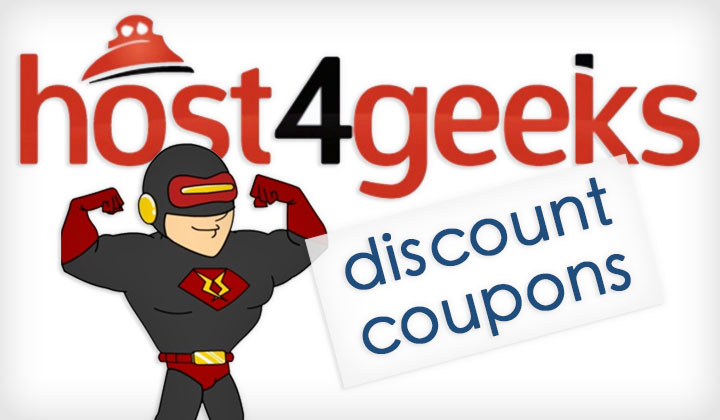 Let's not forget that we are talking about a smaller but highly competitive hosting company that matches, and even surpasses services of some popular hosting corporations. And unlike many of the big players — Host4Geeks has straight forward low-pricing without hidden costs. So don't expect to get a huge discount either as the hosting plans are an offer in themselves.
(1) Basically there are three year-round coupon codes:
Code: 10OFF — Recurring discount of 10% for all plans
Code: 20OFF — Only Reseller Hosting 20% off for life
Code: Y50XIT — First time 50% off on all 1&3month plans
(2) Besides the regular offers you can also try this:
If you are just planning a purchase, I would check the Host4Geeks Twitter account feed just in case there are any live promotions going on. Although this is and has been a very rare occurrence.
When making bigger purchases or a group purchase, I suggest to get in touch with them and contact Host4Geeks in person. Service is great and personal — these guys will help you the best they can.
(3) Best possible discount:
While it might be tempting to grab a 50 off – it is highly advised to use the 10 or 20 off coupon as it will be the cheapest in the long run.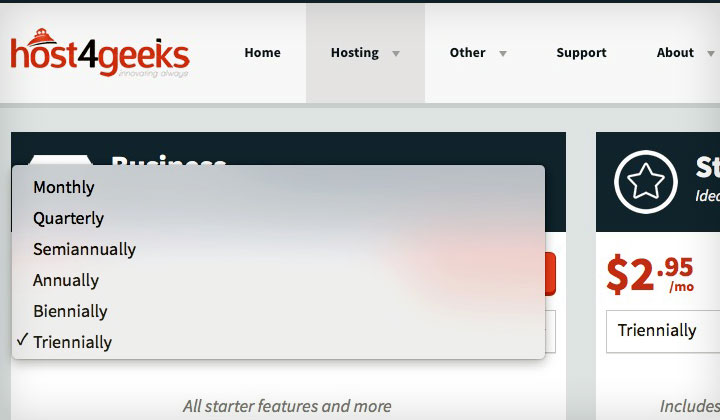 When choosing your hosting plan — you can select billing by Monthly, Quarterly, Semiannually, Annually, Biennially or Triennially.
The basic starter reseller hosting plan is 3.95/month if paid for less than a year. Annual being slightly cheaper at 3.50/month, biennial at 3.25/month and triennial the cheapest at 2.95/month.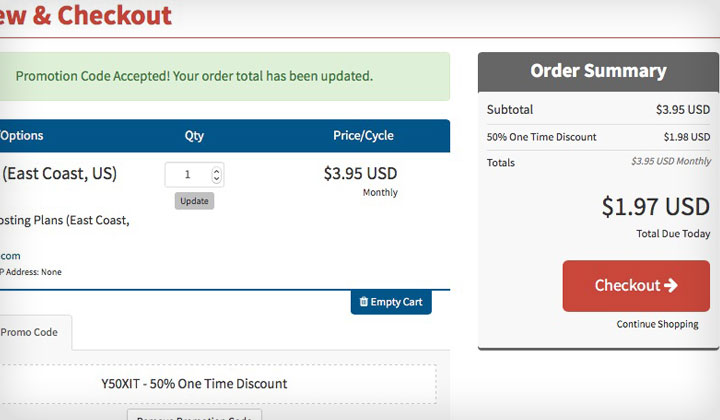 Let's say you wanted to pay monthly and applied the 50 off on first billing discount, you would end up paying 1.9/first month and 3.95 for consecutive months. In a year that adds up to 45.35/year.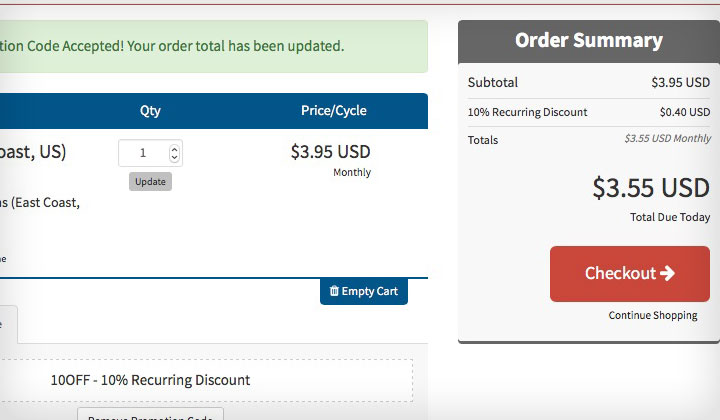 While using the 10 off lifetime discount, each monthly payment would be reduced to 3.5/month which adds up to 42/year. Which is a substantially larger saving that will only increase over time. Naturally the benefit will be much larger on more expensive plans.
(4) Available hosting plans:
You will find coupons across the whole range of plans.
Shared Hosting (Starter, Business)
Semi Dedicated Server Hosting (Basic, Plus)
Reseller Hosting (S, M, XL, XXL)
Managed VPS (1,2,3,4)
Unmanaged VPS (1,2,3,4,5)
Managed Dedicated Server (4 cores, 8 cores)
Domains can only be purchased for their regular prices.
SSL is completely free through "Let's Encrypt" hosting.
Available premium SSL certificates include: Comodo Instant SSL, RapidSSL Standard, Comodo PositiveSSL, Comodo PositiveSSL Wildcard, Comodo Premium SSL Wildcard, RapidSSL Wildcard, Comodo Multi-Domain EV SSL and Comodo EV SSL.
Datacenters are located in North Carolina (East Coast), Los Angeles (West Coast) and Maidenhead, UK.
Hope this guide helps to find the best possible offer.
Any questions? Please, don't hesitate to ask!