BigWetFish or BWF hosting has global data center locations at five high-end server facilities. Here is a complete list of server locations and their specifications.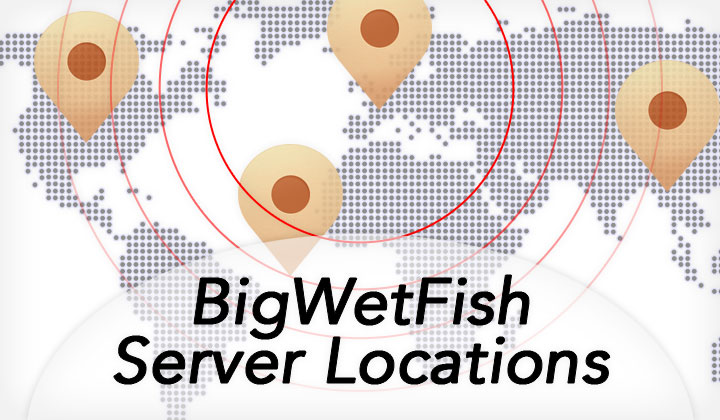 Read: Find out essential BigWetFish server features
BigWetFish Data Center List
The UK based "Big Wet Fish" is known for it's hosting expertise, much thanks to their impressive server portfolio providing realibility and stability since 2003.
London, UK
Orlando, USA
Chicago, USA
Dublin, Ireland
Germany, Europe
Server Specifications
London, UK
The main server facility in London is one of the most advanced and well connected data centers in the whole of United Kingdom. Located at Maidenhead, UK which is in the South Eastern county of Berkshire near London, England.
Thanks to it's carrier neutrality, the data center is interconnected between multiple tier 1 service providers to bring optimal diversity, speeds and connectivity through fiber optic lines. Backed up with two independent power supplies, bringing uninterrupted operation and 100% network up times. Maximum security and 24h/7 on site engineers guarantee full emergency rediness and fast hardware adjustment capabilities.
This is an optimal location for companies with high performance requirements and visitor base focused on the European market.
Orlando, USA
Servers located at DimeNOC Data Center just outside Orlando, Florida.
Hosting Services
Read: See all the available hosting plans and specs
BigWetFish provides a range of hosting plans such as "Weebly Sitebuilder", "Web Hosting", "Multi Site or Reseller Hosting", "Virtual Solutions or VPS", "Dedicated Servers" as well as "Domain Registration".
Please note: No service locations are provided for the Asian, Australian, African or South American continents. For global reach CDN is the best used in combination with their quality server infrastructure for optimal reach.
What's your experience with the "Big Wet Fish"? Questions and comments in the box below please and I'll get back to you. Thanks!