In this post I'll explain the different file count (or inode) limits for each hosting plan, how they work and if it affects you — now with updated info.
Must read before signing up with Bluehost!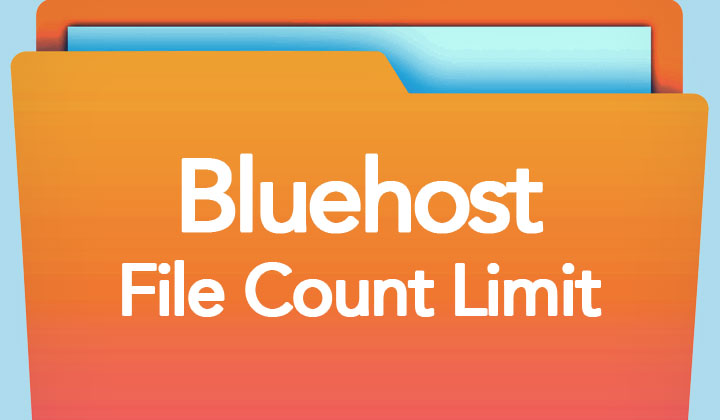 While Bluehost brings unlimited bandwidth and website space on their affordable hosting plans — they do have a file count limit (or so called inode limit). This is not very clearly explained on their site; some information can even be misleading. So I decided to contact them to get the facts straight. Now here in plain English!
What is a File Count or Inode Limit?
The file count is the number of files hosted on your website; or basically under the public_html folder where the website is located. And it also includes the number of emails stored across all your email accounts.
Depending on the Bluehost's shared hosting plan you are on, the limit is different (see below). With hosting plans that have storage limits; such as WordPress Hosting, VPS & Cloud Hosting, there are no limits in place.
If you cross your maximum allowed limit; the account in question will become disabled and the website is taken down — that is until you remove enough files/emails from your account.
They will send warning emails as a first consequence.
You can read "Unlimited Hosting Space; excessive MySQL files." under shared hosting resource usage to understand the possible consequences.
How Much is Bluehost's File Count Limit?
These are the latest file count and inode limits on each hosting plan:
| | |
| --- | --- |
| Basic Shared Hosting | 100,000 inode limit |
| Plus Shared Hosting | 200,000 inode limit |
| Prime Shared Hosting | 300,000 inode limit |
| WordPress Hosting | No limit |
| Virtual Private Server | No limit |
| Cloud Hosting | No Limit |
What's the Math?
Let's say for example if you install WordPress (1480 files), and set up a shop with WooCommerce (703 files), plus install Piwik Analytics software (7368 files) — you would still be at 9551 files.
Even if during the course of the website's life the file count size would become 5 times bigger — you would have used just half of the limit on the cheapest basic shared hosting plan. Therefore unless you have specific needs for a huge number of files (and emails), it is unlikely that this limitation will affect you much in any way.
Zip or archived files count as one file
Each email counts as one file until completely removed (not in trash)
Check file count in SSH/Shell with command: "find . -type f -print | wc -l"
It's obvious that for the most part these limitations are in place to prevent abuse, and to protect other customers website performance — which makes a lot of sense with unmetered hosting plans.
Naturally this also means that heavy users should subscribe to higher level plans like "plus", or "prime" if on shared hosting.
What is an Inode?
Inode is a Linux term that describes the servers data structure that consists of objects such as files and directories. Because the majority of Bluehost's websites are hosted on a Linux server; hence the term Inode is being used. Each inode can store the information of a file and therefore one inode constitutes as a one block of data, which fits in all of the contents of a single file.
In other words — nothing to worry about!
Find out more about inodes from BlueHost here.
Always here to answer all your questions below, thank you!
Notice: This post carries potential monetary benefit through affiliation with some of the compaines mentioned within; via clicks that track sales through cookies.