Obviously, Bluehost likes to sell their hosting plans in 12, 24, 36 or even 60 month hosting subscriptions! Here's how to get a one month hosting plan.
See this link for Bluehost's monthly term pricing options.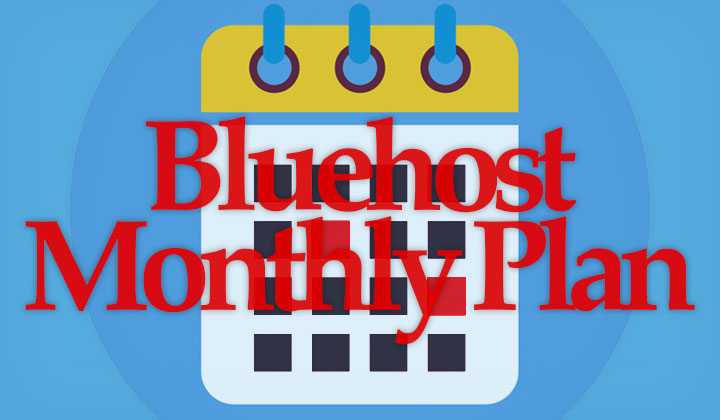 Good news for those interested in fast WordPress hosting, and paying monthly hosting fees. This offer is covered by their 30-day money-back guarantee, and therefore it's also the cheapest way to trial Bluehost services for free.
Bluehost Monthly Plan Pricing
Subscribe to the monthly paid hosting here which is designed for WordPress, by providing a ready optimized environment, premium speeds and tools.
With Bluehost WordPress Hosting you get;
Extreme speeds through their high-performance VPS (server) architecture, not available for regular shared hosting plans.
Custom designed control panel, for easy management of WordPress.
Included security tool for scanning WordPress malware.
Free TrueSpeed CDN (Content Delivery Network) included from SiteLock for blazing fast content distribution to anywhere in the world.
Free and automated backups to keep your website data safe.
Better resources with custom technology to get the best performance.
The 1 month subscription of the "WP Standard" plan is $39.99/month. For those who prefer long yearly subscriptions instead of the monthly one, and want the best offer, you can reduce the price up to $19.99/month.
However, price reductions are for first term only, and eventually you end up paying the same  fee as those on a monthly hosting plan.
The plan also includes a free, domain validated SSL certificate "Comodo PositiveSSL" (worth $39.99/year or $3.33 per month) amongst other goodies without cost.
One month Bluehost shared hosting & alternatives;
For other hosting plans, such as shared hosting, cloud hosting and WooCommerce hosting, they are provided for a minimum 1 year or 12 month pricing term only. There is simply no other way around this for these Bluehost plans.
However, there are alternatives worth considering!
HostGator Hosting — Same company as Bluehost, they provide quality hosting, with the same features on the exact same data center. And monthly plan pricing!
FastComet — All inclusive hosting provider, with flat pricing! Same low fee for the first month, and each month from thereafter. Also free domain & SSL for life.
You can also consider Bluehost VPS Hosting which provides the 1 month term for the same price as WordPress hosting. This is largely the same deal, without any of the WordPress optimization and easy-to-use management features.
And that was the monthly pricing guide for Bluehost!
Any questions about Bluehost.com services, fees, pricing and plans?
I'm most happy to answer all of your questions!
Also, I would like to briefly note that these hosting reviews and other posts are occasionally affiliated through monetary programs to support the blog.
Big thank you for your visit! Tim.