Getting your site on board a quality cloud hosting provider that's managed and easy to use has become an essential for many; so why not CDNs too?
Designed to automatically integrate top cloud hosting infrastructure with CDN service — the folks at Cloudways have come up with CloudwaysCDN.
This is my CloudwaysCDN review of 2023, read on for more..!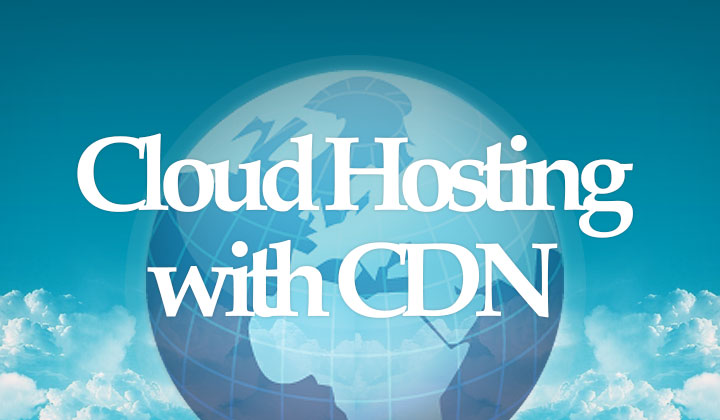 For those who don't know; Cloudways has long been on the forefront of managed cloud hosting through it's easy hosting portal. Giving you quick access to industry leading cloud infrastructure like Google Cloud, Amazon, DigitalOcean & more.
The latest step to complement their feature rich web hosting is one-click CDN deployment that works with the cloud provider of your choice.
CloudwaysCDN Review Highlights
CDN from Cloudways hosting is provided in collaboration with the modern StackPath network built on safety and speed.
Affordable pay-as-you-go pricing (billed at the end of monthly hosting period); $1 for the first 25GB and $0.04 per GB thereafter.
Global CDN network with 29 server locations (7 planned) in North & South America, Europe & Asia Pacific.
One-click deployment for each web application with free SSL support.
Use any web application, including WordPress and any CMS.
Currently supported cloud servers from Amazon AWS, Google Compute Engine, DigitalOcean, Vultr, Kyup & more planned.
How Cloud Hosting with CDN Works
While enabling your web applications with their CDN is a piece of cake, let me just quickly demonstrate an example of how easy it is from square one.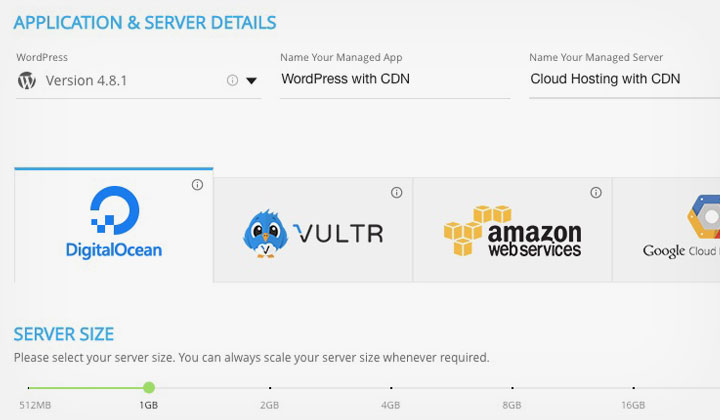 Once you have registered a trial with Cloudways you can start adding servers to your account — you can choose specifics like:
Web Application: Ready WordPress or PHP Stack Environment
Name of Managed App: ex. WordPress with CDN
Name of Managed Server: ex. Cloud Hosting with CDN
Cloud Hosting Provider: DigitalOcean, Amazon AWS, Google Cloud, etc.
Server Size: For example start with 1GB and scale as needed
Server Location: Cloud deployment around the world
And hit on "Launch Now" to deploy your cloud in a few minutes.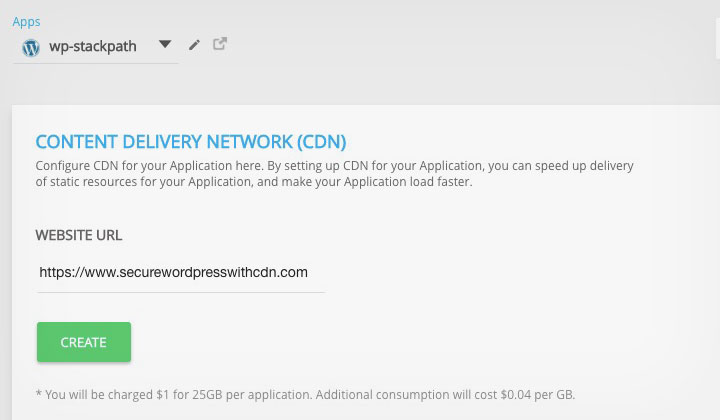 Now that the website is up and running on the cloud; you need to enable the Content Delivery Network (CDN) through the hosting management platform.
Simply include the website URL such as 'https://www.securewordpresswithcdn.com' and click on Create; and deployment is ready.
Please note that Cloudways provides free SSL through the Let's Encrypt certificate authority and it is highly recommend to use CDN in combination with it.
And that's pretty much all there is to it!
StackPath Global CDN Network
The CDN provided consists of a growing network of high-end PoPs (points-of-interest) around the world and most continents except Africa; which are:
Sao Paulo (Brazil), Brussels (Belgium), Melbourne (Australia), Los Angeles (USA), Hong Kong (HK), Milan (Italy), Sydney (Australia), London (UK), Chicago (USA), Miami (USA), Manila (Philippines), Warsaw (Poland), Seoul (South Korea), Phoenix (USA), Paris (France), Atlanta (USA), Madrid (Spain), Dallas (USA), Seattle (USA), San Jose (USA), Frankfurt (Germany), Rio De Janeiro (Brazil), Singapore (SG), Amsterdam (Holland), New York (USA), Toronto (USA), Tokyo (Japan), Stockholm (Sweden), Ashburn (USA).
Total PoPs is at 29 (now all planned PoPs are live)
All questions about enabling CDN with Cloudways are welcome.
Hopefully I've covered most of the essentials in this CloudwaysCDN review.
Thank you for stopping by and best of luck with your business!
Worth noting: My website; WebHostWhat at times contains affiliate links which does include this post to help my blogging efforts. This should not affect with your experience with such referred third-party websites and is even mandatory. Either way; my biggest thanks for your readership and support of any kind! Regards, Tim.