Some think, that cheap and best are incompatible when it comes to web hosting.
I think different! For shared plans you can get very high quality hosting with the best value possible, for lifetime! Here's my guide to cheapest hosting in 2023.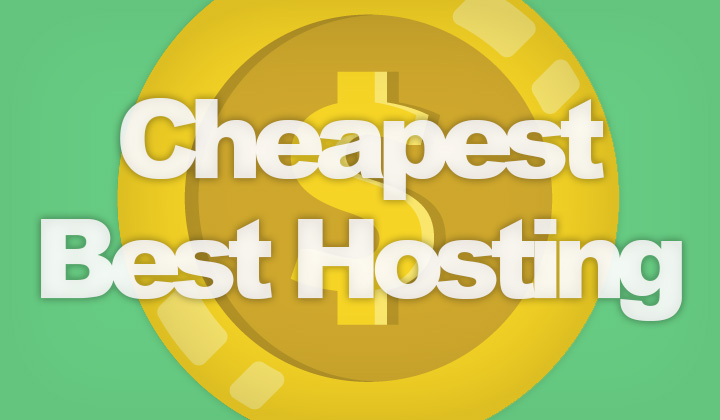 Don't settle for "cheap service", instead, get the cheapest and best quality web hosting provider. Not some bull one-term offer, but a real lifetime deal.
FastComet Hosting is from $2.95/month and there's a lot more..!
So what makes them my pick as the best ever deal?
1. Flat Pricing for Life
Most web hosting plans are cheap for the first year or two, and expensive when it's time to renew the plan, especially when looking for cheap hosting offers.
Who wants to host their website for a year? With FastComet you get hosting for a lifetime, for the same low price.
No  up-charging, just transparent, flat & cheap pricing.
2. Free domain for Life
Another way how hosting companies get you to pay more, is to offer a free domain for the first year and then renewal at expensive rates.
FastComet free domain is free, for ever.
3. All Inclusive Hosting
Last but not least, unlike with other hosting companies that use clever up-selling techniques when you need additional features… with FastComet you get everything on the same plan, for free. Like for example;
Free SSL certificates to host your site on HTTPS
Free, daily website backups
Free site migration for WordPress and others
Free content delivery network for fast global access
Free website malware detection and removal, firewalls, etc.
Free website caching and speed accelerator
Oh, and did I mention they have 8 data center locations around the world, so you can pick the fastest geographic for your website visitors..?
Anyway, you get the point.
Even if not counting the cheap price of hosting, simply getting all this stuff included for free is what adds up as (a) the cheapest possible option and (b) best quality because of everything you get from all these features.
How FastComet compares with other cheap web hosts?
From these advantages, I would say that the (1) (2) first two, cheap flat pricing and lifetime free domain are the most difficult to find in the hosting industry. There are other companies that are willing to offer (3) all inclusive hosting with stuff like free SSL certificates, and other features. However, when comparing to others, I've never found another web host that has them all three.
And it's exactly that (1) (2) (3) combination which makes them both, the cheapest and best hosting service I have ever seen. And from experience can recommend them as a quality company, that stands behind their excellent 24/7 live support.
Data center hosting locations with FastComet;
While ordinary hosting has service in one or two data centers in the US, UK, etc. FastComet can be considered as the provider of best service in 9 locations;
USA (Chicago, Dallas, Newark)
UK (London)
Germany (Frankfurt)
Netherlands (Amsterdam)
Japan (Tokyo)
Singapore
Or just use the free, and easy to set up Cloudflare CDN to get your site running with optimum speed on all corners of the world..!
Click here to start a 14-day free trial with the FastComet company.
Questions on obtaining the cheapest and best possible hosting service?
I'm at your service in the comments section below.
Also in the name of transparency towards my readers, I want to be absolutely clear that some of these posts, reviews contain affiliate links. It's a great way to support me without having to do or pay anything extra. Much thanks, Tim.