In this review; I will explain what are Suitable Monthly Visits, CPU Seconds — compare speed and resource benefits of each SiteGround shared hosting plan.
Recommended reading so you don't overpay for your hosting!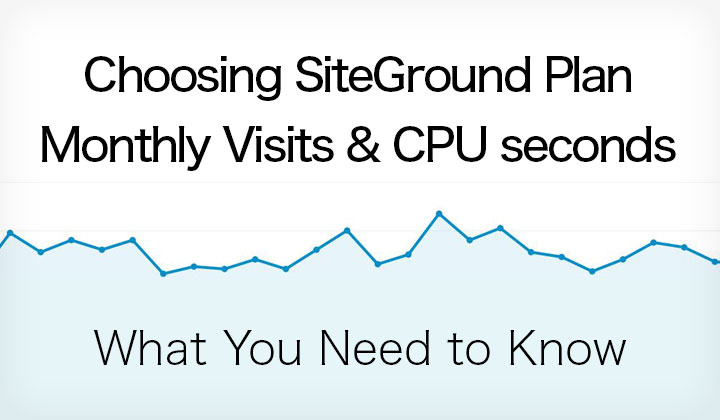 All SiteGround hosting plans have unlimited bandwidth, fast SSD storage, 24/7 tech support, free SSL, daily backups, etc. — with only a few key differences.
Choosing a plan mostly boils down to three things:
1. How resource intensive your website is?
(a) All hosting plans support different levels of daily server resources, known as CPU seconds. To make life easier, SiteGround recommends a number of monthly unique visitors that each plan's CPU seconds limit is suitable for.
(b) Without enough CPU seconds your website won't work but don't worry! Save your money by starting with the basic StartUp plan; with few simple tricks most websites will handle much more than the recommended visitor amount.
(c) If used website resources go over the line, SiteGround will contact you and ask you to upgrade. Without website downtime!
---
2. Do you need increased site speeds?
(a) Amount of CPU seconds has nothing to do with speed — there's more to consider if you want to supercharge your website with an upgraded SiteGround plan; recommended for businesses and affiliate marketers running WordPress.
(b) The performance benefit of GrowBig plan is a convenient in-house caching solution which will boost website speeds. Or save money by using your own on the StartUp plan– free & commercial WordPress plugins can do the same job.
(c) With GoGeek plan you will have additional increased processing power (resources). The more monthly visitors, the bigger the benefit.
---
3. How many websites & how much web space?
(a) Go with StartUp plan for single sites; GrowBig & GoGeek for multiple.
(b) Choose web space as needed; 10GB/20GB/30GB– simple!
---
SiteGround Hosting Plans
Now that you know the essentials — here are the specs to make up your mind.
StartUp: "Crafted for a Great Web Start" [compare]
Suitable for 10,000 Visits Monthly
Comes with 10,000 CPU Seconds
One Website
10GB Web Space
GrowBig: "Crafted for Your Web Growth" [compare]
Suitable for 25,000 Visits Monthly
Comes with 20,000 CPU Seconds
SuperCacher (In-house Caching)
Multiple Websites
20GB Web Space
GoGeek: "Crafted for Real Web Geeks" [compare]
Suitable for 100,000 Visits Monthly
Comes with 40,000 cpu seconds
Increased processing power & SuperCacher (In-house Caching)
Multiple Websites
30GB Web Space
Did you know SiteGround offers free HTTPS on all plans through the Let's Encrypt SSL certificate authority — read more here!
SiteGround Hosting Tips & Tricks
Still not sure which plan to choose? Read the following points to learn more; or leave a comment and I'll do my best to explain. Good questions will be explained thoroughly in this review.
What are CPU Seconds?
The daily CPU second limit is the amount of process execution time that is divided between all users on the same, shared hosting server. Every time someone loads a page on your website, it consumes a certain level of CPU Seconds.
Every file that the page loads consumes CPU; for example a page that executes a lot of JavaScript, CSS and image files is going to consume more CPU seconds — test your website with Pingdom Tools. If you run out, the server will not be able to load the pages as there will not be any resources left.
Note that SiteGround will not shutdown your site without warning; but contact you to upgrade you plan if you run out of CPU seconds — if you refuse to upgrade, it's also possible to wait for the next day to have your website activated again since it is a daily limit.
Using Less CPU Seconds for Reliability & Speed
The benefit of reducing website executions is two-fold. Significant increase in page load times and reduced consumption of CPU seconds which increases reliability.
You may either opt-in for the GrowBig, or GoGeek plan to get access to SiteGround's own, easy to use caching solution or use WordPress plugins; most popular commercial plugin is WP Rocket and there are also good free ones such as Cache Enabler. You should also minimize your CSS and JavaScript code into one file with Autoptimize for example.
Be Wary of SiteGround's Promises
Just like any other hosting company, SiteGround is in the business of selling hosting; and preferably the most expensive plan with tempting upgrade perks. Therefore although their customer service is of high industry standards, and friendly — it's normal that they are going to teach you the juicy side of the deal. As I have demonstrated in this review — if you are unsure or want to save your money; just go with StartUp and upgrade later if needed.
The cheapest StartUp plan is their most popular and suitable for most users. If you are a business, or hungry affiliate blogger — it's always worth to invest more.
Note: This is info is applicable to all SiteGround Shared Hosting plans: including WordPress Hosting and Joomla Hosting.
Monetary notice: If you purchase hosting from SiteGround after having clicked on some of the links on this post, I may be applicable to a commission from the sale. This is to support my blogging and internet addiction — no cost to you. Thank you.