Both Cloudways and SiteGround have advantages & disadvantages; on top of their high-speed WordPress hosting. This review however should help to choose a suitable plan for your needs — based on my own experience with both companies.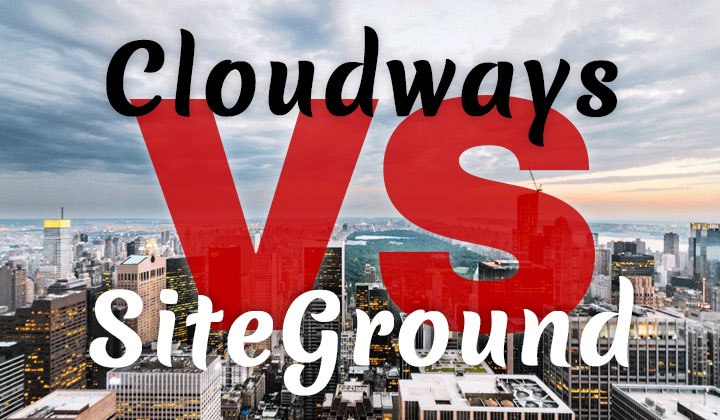 For me the choice between CloudWays and SiteGround boils down to three (1-2-3) main factors. I'll get into further details later, along with the pros & cons.
(1) Cloudways only offers cloud hosting — but if you are looking for the most affordable hosting option and have less than 400 daily visitors; SiteGround is cheaper with one of the best quality shared hosting plans in the industry.
(2) If you have a high volume of visitors or you are simply looking for excellent speeds & performance for hosting WordPress — then Cloudways offers a cost-effective turn key solution that is cheaper and more simple.
(3) If you have a highly demanding website infrastructure — looking for high-end cloud hosting that has it all; SiteGround wins as the most feature rich solution.
Cloudways Pros & Cons
Without a doubt Cloudways has taken quality cloud hosting to a whole new price level — offering affordable access to highly reputable data centers around the world. While third-party managed server locations are sometimes frowned upon within the industry — it's a whole different ball game knowing that your site is in the hands of Vultr (this one is amazing value), Google Cloud, Amazon, DigitalOcean or Kyup; any of which should put you at ease for all kinds of content delivery needs.
The catch is not in customer support either; which is highly responsive and average in quality. There have only been a few instances where I felt that I knew more than the person I was talking to — but they are always willing to take their time to solve any problems you may have.
Some may however be put off by the simplicity of the interface. Instead of feature rich WHM & cPanel offered by Siteground; they have created their own custom backend which while basic in functionality is easy and intuitive enough to use. Despite the lack of cPanel's Softaculous Autoinstaller; it's even easier to deploy a ready installed WordPress website in an instant.
Working within the designed framework everything works great and they have an easy to use WordPress migration plugin to easily transfer your site over.
In theory you can run pretty much anything on the cloud without restrictions — such as deploying your own web applications and managing MySQL; with SSH access included. However without access to root you are limited in the range of terminal commands; but I would imagine that most clients are happy with the backend GUI only. What I found annoying was the lack of suPHP meaning that you need to ask support to fix file permissions for custom web apps.
Tip! Cloudways as well as SiteGround offer one-click install of the free Let's Encrypt SSL certificate — so that's a great benefit for both hosting companies!
SiteGround Pros & Cons
SiteGround is an above the average host in all areas and doesn't really lack in any feature or aspect of it's service. Thus the biggest con is their up-scale pricing; Cloud Hosting plans start from 80/month and for good reason.
However just in terms of resources even the smallest plans are meant for big sites with 2 CPU Cores, 4GB Memory, dedicated IP, free domain — with Cloudways you can scale much lower which can still handle plenty of traffic depending on web infrastructure.
While with SiteGround you get your hands on the good old WHM & cPanel which can handle everything from the most simple to advanced tasks; neither will they provide root access but SSH will work of course and they do use suPHP.
Free CDN, Custom Optimized SuperCacher and other bells and whistles will be provided. Not to mention quality 24h support of course; which is quicker and above average in comparison with other big hosting companies.
I'm interested in questions about hosting on SiteGround or Cloudhosting in 2023! Please, leave your inquiries below; I'll do my best to answer them.
[Monetary notice] Please be advised that a portion of the hyperlinks contained with this page and the website are monetized through affiliated links that track purchases made on third-party websites. This has not affected any review or opinion stated in these posts.