This post is my ongoing effort to maintain a complete list of all the WordPress theme affiliate programs with a small review on each; easily find the best affiliates with big one time payouts, recurring commissions or even both.
Please, leave a comment if an affiliate program is missing!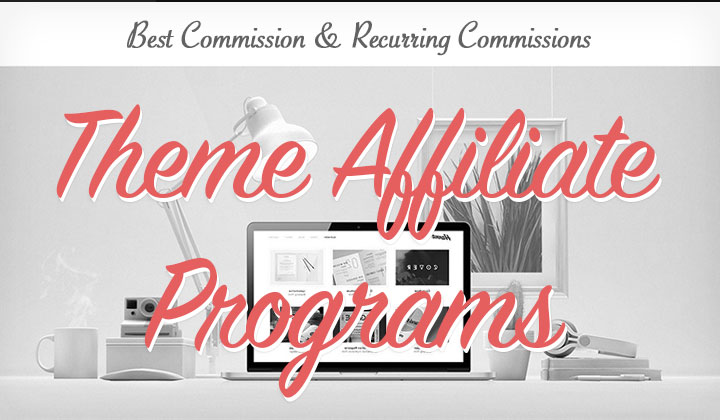 Some of these sites also offer themes for other Content Management Systems. But considering that more than 25% of world's websites are running WordPress and new ones are created at an amazing pace; the WordPress themes niche is a lucrative one with endless, not worth missing possibilities to penetrate the market.
So enjoy and good luck with your venture.
The Good
These affiliate programs are some of the best I've found — their good monetizing opportunity comes through a combination of high commissions, an attractive brand and publisher friendliness; all important for success.
US based company MyThemeShop has gained firm ground on the themes market since 2011; with perfected quality themes, easy to use attractive website and superior customer service. It's a company that's great to do business with. Also they have many popular WordPress plugins under their belt which are valid for commissions.
There is no minimum payment threshold; anything you make is paid out monthly. Also if you make over $1000/month you can create your own custom coupons!
Single product commission: 70% first purchase
Membership commission: $244.30
108 WordPress themes (Categories: Blog, Business, eCommerce, Free, Magazine)
27 WordPress Plugins
Custom links to all inner pages
2 month cookie life
Instant approval & coupon sites allowed
One of the most lucrative, recurring commissions on the market is offered by CyberChimps. You will need a ShareASale account which is their affiliate network; but approval is instant. Founded in 2010; this is another US company based in San Francisco, California. They run an awesome WordPress community with a customer oriented and professional attitude.
100% commission for first two sales and 40% after that
extra 25% commission for bigger sales
45 WordPress Themes (Categories: Blog, Business, Multi Purpose)
Hosted on ShareASale — instant approval!
3 month cookie life
Exclusive coupons for affiliates!
Custom links to all inner pages
Custom landing pages
Friendly and helpful affiliate manager support team
Updated commission structure!
They have removed the 100 % commission on first 2 sales. Now for each sale you get 40% commission & for over 20 sales in a month, you get additional 35% commission besides your 40% regular commission.
These guys stand out with their impressive, unique looking themes, founded in 2013. You get a steady 50% recurring commission of all the purchases made by the user. Also these guys are more category friendly, so there is a lot to offer for specific sub niches.
50% lifetime commission
68 WordPress Themes (Categories: Blog, Business, Church, Coming Soon, Construction, Creative, Ecommerce, Event, Fitness, Food, Gaming, Hotel, Landing Page, Lawyer, Magazine, Medical, Music, Photography, Popular, Portfolio, Real Estate, Responsive, Restaurant, Resume, Travel, Video, Visual Composer, Wedding & WooCommerce)
Custom links to all inner pages
Coupon sites are not allowed
Instant activation
The Rest
Here are more affiliate programs worth considering.
Founded 2007; & US based. Founders of Genesis Framework.
35% commissions for all theme sales
Categories: Business, Enterprise, Real Estate, Photography, Magazine Style, eCommerce
ShareASale network — Site needs approval (usually within a day)
Coupon sites not allowed
Can link to inner pages
Cookie life 2 months
Based in Spain, Madrid & founded in 2008. They enforce rules that all reviews and claims related to their products and themes must be based on real and truthful experience.
50% per membership (recurring for renewals)
87 WordPress themes & few plugins
6 months cookie life
IP tracking
Application is manually reviewed, usually within one day.
Inner page linking
Originally founded in 2006-2007, changed ownership 2008.
35% commission on new sales
15% commission on recurring payments
70 WordPress themes (Categories: Multipurpose, Business, News/Media, Blog, eCommerce, Portfolio)
Instant approval — initially had some problems with registration
Founded in 2013. Great minimal themes.
30% commission per sale
Categories: Premiums, Hand-Crafted, Free Themes
4 month cookie life
Promo codes available
Inner page linking (for pre-selected pages)
Promo codes can be used to track referrals
Approval takes time, usually within a day or two
Big, old company; founded in 2002. They have a whole range of templates for WordPress, Joomla, Drupal and much more.
From 30% to 50% for every template sold
1388 WordPress Themes (Categories: Arts & Culture, Animals & Pets, Design & Photography, Education & Books, Business & Services, Cars & Motorcycles, Computers &Internet, Electronics Templates, Entertainment, Games & Nightlife, Home & Family, Fashion & Beauty, Food & Restaurant, Holidays, Gifts & Flowers, Medical Templates, Real Estate Templates, Society & People, Sports, Outdoors & Travel)
Website languages: Spanish, German, French, Italian, Russian, Portuguese, Turkish, and Polish.
Cookie life one year
Instant activation
Single universal theme for multiple options for design & layout, easily customizable. Owned by original founder of SoloStreams.
25% commission on the sale
No inner linking, just one affiliate link
Uses an outdated and confusing e-junkie platform
Instant activation
Based in Bucharest, Romania.
Up to 70% commission (whatever that means)
More than 45 WordPress themes (Categories: Automotive, Blogging, Business, Children, E-Commerce, Events, Food, Free, Health & Beauty, Magazine, Non-Profit, Photography, Portfolio, Real Estate, Religion, Sport, Core Themes, Travel, Unyson Framework)
You need to communicate with them by email to get an account — it will usually take a day or two.
Affiliate links to main page & all theme pages
Founded in 2013; based in Bucharest, Romania. Additional 10+ plugins.
55% commission on all sales
Categories: Free, Responsive, Blog, Business, Ecommerce, Magazine, Photography, Portfolio, All
Need to wait for site approval, can take a few days
One year cookie life
No coupon sites accepted
Inner page linking available
Founded in 2010; based in Toronto, Canada. Theme club or individual sales.
30% commission on all purchase
Categories: Blog, Corporate, Ecommerce, Featured, Free, Magazine, Multimedia, Portfolio, Post Formats, Responsive, Restaurant
2 month cookie life
Links to inner pages available
Coupon, discount, or deal promotions require special permission
Founded in 2010; based in Riga, Lavia.
45% commission per sale
More than 50 WordPress Themes (Categories: Blog, Business, eCommerce, Magazine, Multimedia, Personal, Portfolio)
Program Hosted on the ShareASale network — site is reviewed for approval, usually takes a day
2 months cookie life
Linking to inner pages available
Coupon sites not allowed
Pretty & cute themes company founded in 2010.
25% commission of the sale price
15 WordPress Themes — all pretty feminine
Inner page linking available
Instant approval
The Avoid
These affiliate programs are perhaps better avoided for having an approval process ranging from difficult to impossible — or just affiliate terms that are not fair and profitable to publishers. Judge for yourself though!
Pretty darn cute design company which is pretty darn difficult to get approved to (can be great for those who fit their requirements). According to the owner: "We're narrowing our program down to specific types of bloggers and want to really focus on building community". I suggest contacting them first.
Took more than 10 days to wait for approval which was denied
Hosted on the ShareASale network
25% commissions
2 months cookie life
I've dedicated a whole article on ThemeForest's affiliate unfriendly practices — in short you only receive commission for customers who have never visited their website before (or don't have cookies in their browser). As it is the biggest theme site, chances are pretty slim to get properly awarded for your efforts.
Carries templates for pretty much any CMS and platform imaginable. Also the Envato Marketplace has a wide range of products for web designers and creatives a like.
Very poor percentage of sales convert to commission
30% of first purchase  or deposit (for new accounts, new visitors only)
Categories: Blog / Magazine, BuddyPress, Corporate, Creative, Directory & Listings, eCommerce, Education, Entertainment, Layers WP, Mobile, Nonprofit, Real Estate, Retail, Technology, Wedding, Miscellaneous, WordPress Plugins
Biggest theme seller portal with good quality standards, more than 33,000 various  templates available.
Custom links to inner pages
Founded in 2010; dedicated to premium magazine style themes. You will need to get in touch with them through the contact form to discuss about possible affiliate partnership first.
Approval is complicated but could be worth it if you must
No commission structure or other details enclosed
Founded in 2009; headquartered in Cape Town, South Africa.
Site needs approval — but have never heard back from them (wasted my time on this)
From 25% to 35% on each sale depending on amount of sales (tiered commission structure)
Renewal Commission for memberships

Nepal based team; founded 2014.
Site needs approval but never heard back from them
30% on each sale
Categories: University Theme, Construction company, Sports Magazine, Custom Design, Fashion, Store, Education Theme, College Theme, School Theme, Minimal Theme, Horizontal Scrolling, Coming Soon Theme, Editorial Store theme, Landing Page Theme, Unique Design, News, WooCommerce, Modern Design, Parallax, Magazine, Photography, Agency, Multipurpose, Portfolio, One Page, E-commerce, Blog, Business.
30 day cookie life
Founded in 2013; focused on conversions.
Just too strict and not publisher friendly
50% commission per purchase & 25% recurring commission
A curious range of WordPress products
You need to make 10 sales on first month or you are out
See this link for a questionnaire that you have to pass to get approved
Hawaii based company.
Difficult application process and then never even answers back — what a waste of time
30% commission on any sale
Coupon code advertising not allowed
Must submit W-8BEN or W-9 tax for upon registration, and wait for approval, forever?
So there you have it for now — if you know of any other affiliate programs or want to share your experience with us please do so in the comments section below so we can all benefit! Thank you.