Perhaps you're considering the shift to CDN; but what is DreamSpeed CDN and is Cloudflare any good? In this review I'll explain the big picture on DreamHost CDNs & what are the choices as well as the pros and cons to look out for in 2023.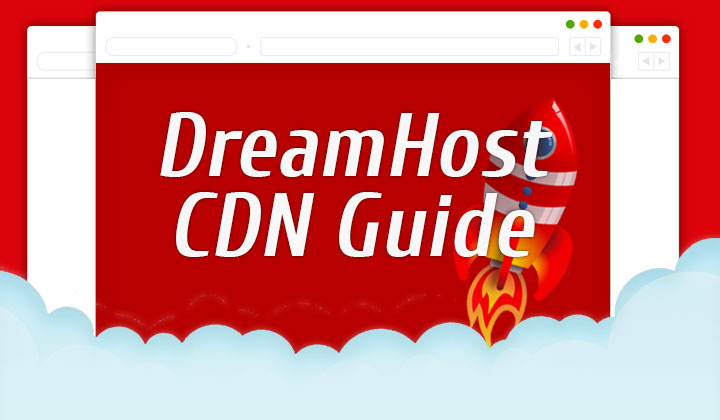 With two different CDN solutions offered by DreamHost; there are also other alternatives that are worth considering. Here's my review on each.
DreamSpeed CDN
Only available for DreamObjects; DreamHost's advanced cloud storage service. With DreamSpeed CDN you can take secure cloud storage hosting to the next level and access your data with blazing speeds from pretty much anywhere in the world.
The content is delivered using Fastly; which normally delivers expensive business to enterprise solutions — but thanks to DreamHost your storage space is using all that blazing fastness with affordable pay-as-you-go pricing.
The cost is based on the amount and location of transferred data at the end of each billing period. Bandwidth for North to South America & Europe is at 12cents per GB; while the Asia-Pacific, Australia & New Zealand regions go at 19cents per GB.
CloudFlair
One of the most known names in CDN services; CloudFlair is supported by DreamHost as their "optimized partner". The benefit is that on the free CloudFlair account you get access to Railgun; technology that improves page load times by compressing dynamic content that cannot be cached. Normally railgun is only available on the highest level Business & Enterprise level accounts.
You will need to set up your own account through the CloudFlair website before you can use the DreamHost panel to enable CDN. This is a complicated process in comparison to A2 Hosting, where you can quickly and easily enable CloudFlair through their cPanel plugin that creates & configures the account automatically.
Content delivery with CloudFlair is supported for all hosting plans, including shared hosting, managed WordPress hosting, VPS hosting & dedicated solutions.
Pros:
Extensive network — data center locations in 100 cities across 49 countries and 5 continents. Note that location amount does not directly correlate with CDN quality.
Always Online — some static content stays online even if DreamHost goes down; but this will show only old versions of the pages on free version.
Free version available — but limited accounts & pro plan upgrade is recommended.
Cons:
No free SSL — They have finally introduced what is called "universal SSL" to bring free HTTPS but this is not secure for free accounts and therefore not recommended.
Complicated to set up — in comparison with competing CDNs the setup process is far more complicated with a lot of steps.
Expensive — pro plans start at 20/month per domain, but there are many much cheaper competing services.
BunnyCDN
You are not limited to CloudFlair with DreamHost; a simpler way to optimize your content delivery is the easy to use BunnyCDN that can be enabled in a matter of minutes. The way this is done depends on the type of website but for example all WordPress caching plugins (which is a must for all websites) such as WP Rocket have a very simple way of enabling it.
Check out my review on BunnyCDN for easy installation steps.
Pros:
Easy to use — probably the easiest CDN to setup with a free trial.
Inexpensive — cheapest with pay-as-you pricing from 0.01USD per GB.
Free SSL — easy one click install to HTTPS secure your website.
Cons:
Pure CDN — content delivery is all you get. So you will need a separate caching & content optimization solution for optimal speeds. Various plugins from free to paid are readily available for WordPress & other CMS.
Fewer servers — smaller network of 13 locations in 5 continents.
So that was my review on the most important factors to consider for CDN solutions with DreamHost; go to DreamHost to find out more.
I'm happy to get back to your for any questions; comments below!
CloudFlair data center locations: North America (New York, Seattle, Toronto, Los Angeles, Atlanta, Denver, Miami, Minneapolis MN, Dallas, Ashburn, Chicago, Boston, Montreal, San Jose) ,South America (São Paulo), Europe (Stockholm, Singapore, Frankfurt, Amsterdam, London, Madrid, Osaka, Dubai, Paris), Asia (Tokyo, Hong Kong), Australia & New Zealand (Melbourne, Perth, Sydney, Wellington, Auckland, Brisbane), Coming Soon (Chennai, Columbus OH, Mumbai, South Africa, Tel Aviv).
BunnyCDN data center locations: London, Paris, Falkenstein, Bucharest, Stockholm, Madrid (Europe); New York City, Los Angeles, Atlanta, Chicago, Dallas, Seattle (United States); Singapore, Tokyo, Sydney (Asia & Oceania), Sao Paulo (South America).
Content notice: This post amongst others may contain affiliate links that store cookies on your browser, tracking sales made within a certain period of time. I may be eligible for monetary compensation for such purchases. Support is much appreciated!