In this post I maintain up-to-date DreamHost server location & data center specs, and also a speed test with other useful information.
Generally server locations are undisclosed so this is based on my own research.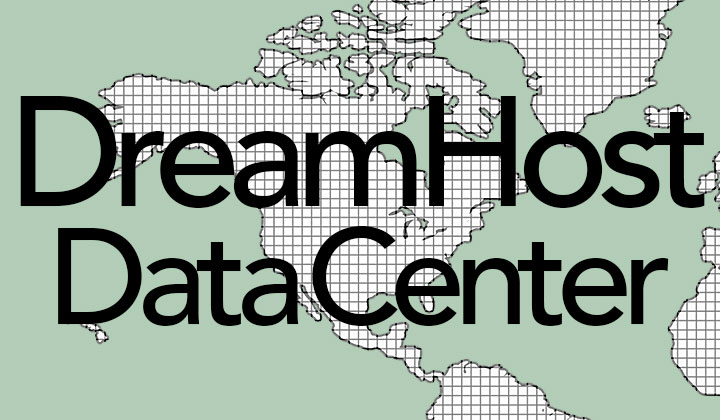 Tip! Read What Makes DreamHost "#1 for reliable web hosting"
DreamHost is an experienced web hosting provider founded in 1997; dedicated to remaining a privately held company with it's own redundant Linux powered data center. They are connected to multiple service providers for optimized connectivity and guarantee a 100% uptime for all their customers.
Data Center Location
DreamHost has one server location in the city of Ashburn, in Virginia
Data Center 1: Virginia, United States
Read here for more about "Data Center Alley" on DreamHost.com
It's run by DreamHost's New Dream Network, LLC; headquartered in Los Angeles — which is also the heart of the hosting company's management operations.
DreamHost Speed Test
I've conducted a speed test of the Weatherhead East Asian Institute's DreamHost hosted website at Columbia University by using Pingdom Tools.
Read: DreamHost's 100% uptime guarantee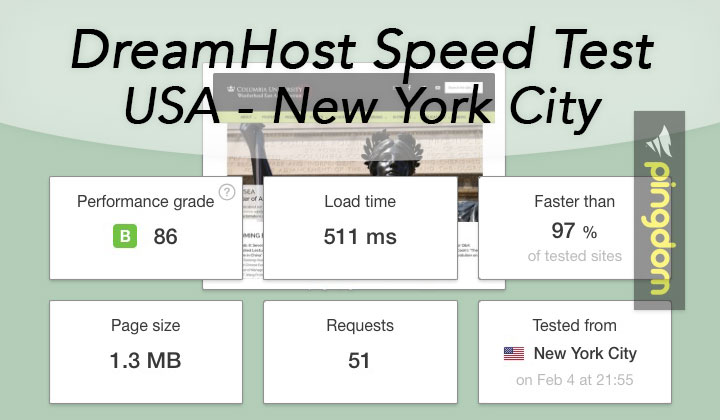 Their website uses the WordPress CMS; and despite a page size of more than 1MB and excessive amount of requests, a brief test result shows that they are managing to reach page loads of up-to just 511 ms from New York — also other US based testing locations were giving out similar speeds results.
This would suggest to rank DreamHost as a high-end hosting provider, despite the lack of released specifications about their server infrastructure and hardware.
Page load speeds of half a second or less measure a time that it roughly takes to blink ones eyes. However to reach such potential outside the US one would need to utilize CDN services (read more about that below).
About DreamHost
This is one of the most classic and well known web hosting companies that stand out from the crowd with personalized service. Contrary to a large part of existing big hosting services in the USA and other countries, they have not sold their souls to the corporate takeover by Endurance International Group (known as EIG).
With operations since 1997, they have managed to gather a big customer base — now attempting to reach half a million customers. They reconfigured their servers from the Debian architecture to Ubuntu OS in 2013. The company itself is located in Los Angeles and amount of staff is at around more than 100 personnel.
They offer a wide variety of hosting, cloud and domain registration services. Despite one single data center location, they boast as a global hosting company through their strategic US location — and DreamSpeed CDN services which brings fast worldwide connectivity to DreamHost customers on the Fastly network.
The global CDN network covers extensive locations in North America, South America, Europe, Asia and Australasia — Ashburn, San Jose, Los Angeles, Seattle, Boston, New York, Dallas, Minneapolis MN, Atlanta, Denver, Miami, Chicago, Columbus (USA); Montreal, Toronto (Canada); São Paulo (Brazil); Osaka (Japan); Hong Kong (HK); Dubai (United Arab Emirates); Tokyo (Japan); Madrid (Spain); Amsterdam (Holland); Singapore (SP); London (UK); Paris (France); Stockholm (Sweden); Frankfurt (Germany); Auckland, Wellington (New Zealand); Brisbane, Melbourne, Perth, Sydney (Australia); Chennai, Mumbai (India); South Africa; Tel Aviv (Israel).
Available Hosting Plans:
Managed WordPress Hosting
Domain Names
Shared Hosting
VPS Hosting
Dedicated Hosting
Info: Details on DreamHost's Hosting Plans
Please, leave your questions/experience with DreamHost in comments below!