Warning! Nulled EasyAzon 4 Pro plugin downloads circulating the web are known to contain maliciously loaded script. Please, beware of free download sites.
At the time of writing; the security threat has NOT been identified and listed as known threats in the WordPress Anti-Malware Security plugin's database. Tips for removal of the infection in 2023 has been included in this post.
You may get EasyAzon 4 Pro safely — under this link.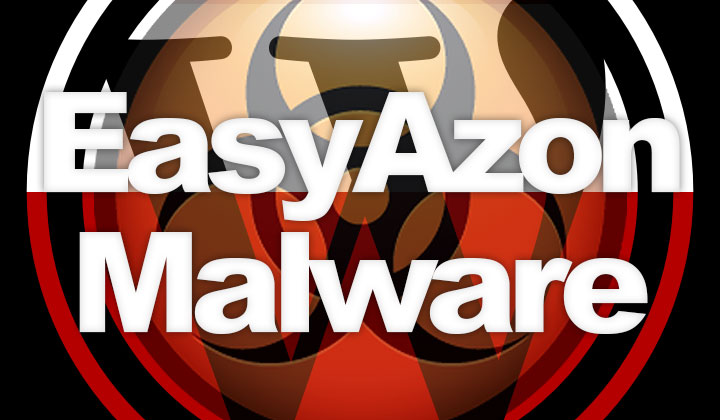 Many of the nulled free download sites, or so called warez sites provide ad revenue through automatically generated pages with little to no value.
However according to talk on online security forums; in the case of EasyAzon some of these websites have been circulating a free download of the popular Amazon affiliate plugin (especially the 4 pro version) that at first seems to be a working version but includes malware script or virus that is later activated trying to:
Contact to outside servers and send private information about your WordPress website to unknown third-parties.
Add massive amounts of spam posts and pages to your WordPress website which are not visible through the dashboard.
Obviously leaving your website in a big mess and venerable to further security threats. Many web hosting companies carry detection software that proceed to ban and isolate your hosting account to protect other users.
If your WordPress get infected from malware or other threats from nulled EasyAzon 4 Pro you may do a fresh install or try recovery with the following:
Steps to Attempt Malware Removal
Scan your own computer for viruses with anti-virus software to make sure that you are not spreading the infection.
Change all your WordPress admin and hosting control panel passwords
The safest method is to manually upload all websites contents to a newly installed WordPress or continue with steps below for attempt at recovery.
Download latest WordPress package and replace all files.
Reconfigure your wp-config.php file (look for an example from old version).
Login to WordPress and install all plugins and themes again — you will also need to reconfigure them as necessary.
Search for and remove all instances of "EasyAzon" from MySQL database.
Go to Google Search Console to request a review of your site health to have the "malware threat" message removed from search results
Hope that covers the basics. Don't download from any unreliable sources and be aware of any downloads with "free" or "nulled" claims.
Thanks for reading and good luck making money with EasyAzon!
Side note: The website WebHostWhat occasionally contains links that are affiliated with third-party websites; providing commission and better content for the blog.
Thanks for your understanding and stay safe!