In this post I'm sharing my insight based on years of experience in outsourcing article writing on Fiverr – Freelance Services Marketplace.
Follow these tips for best Fiverr writer & blog post gigs!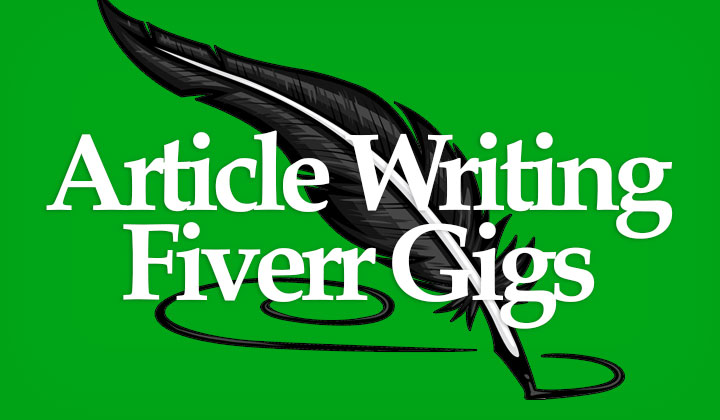 Note; the following advice is meant to give guidance in finding your way to outsource article writing with Fiverr gigs. So please, take it with a grain of salt.
Paying more yields better results;
Over the years the price of quality blog posts, and articles has gone up on Fiverr. So generally it's better to pay more than $5, likely resulting in better quality.
See here for the best article & post writing gigs on Fiverr.
Subject specific article gigs are better;
Obviously someone who is passionate about video games will write a better blog article about it than someone who is passionate about knitting.
Fiverr is filled with general article writing gigs that can research and write almost any kind of content. But if possible, try to avoid them and search for gigs from sellers that have ready knowledge on the subject. Do a search for "keyword article".
This can also be a way to find both cheaper and better quality articles.
Seller country location does matter;
Going with a writer who is a native speaker of a language is usually advised. And on Fiverr this means a seller from a country where the language is primarily spoken. So for example for English, namely USA, UK & Australia.
It is very rare, but of course not impossible that a foreigner will possess excellent language skills. And because many buyers know this, it's also why some sellers fake their country location. But usually you can read through the description for grammar, spelling mistakes to spot them.
Also I like to search for parts of the gig description in quotation marks on Google. In this way you can see if the seller just copied other gigs — a big warning sign!
Many buyers are hiring English writers because of their own poor language and writing skills, and therefore are necessarily not the best people to review the work. So please be warned, that an article writing gig from India, Pakistan, etc. even with hundreds of positive Fiverr reviews can still be of poor quality.
Use Grammarly, if you're not good in English;
If you have no way of knowing the quality of work that you are getting, the best online tool to check the content is Grammarly. It can also check plagiarism.
Don't hesitate to get a refund;
It's a simple fact that Fiverr works with reviews. And for any seller to stay in business, they need to provide a writer gig that can sustain positive reviews.
Because sellers know that, most of them will be happy to accept a refund instead of risking a negative review for their gig. So if the quality is not good enough to use for your project or blog, it's fine to ask for a refund.
Some sellers will offer a complimentary revision of their work. This works only if there is a problem with what the article contains. If the quality is poor, it is most likely a waste of time. Keep insisting, and you will get a refund in 99% of cases.
Contact seller and ask for a writing sample;
It's always a good idea to get in touch with sellers if you have the time. It's a very good sign, if they are responsive and articulate well. Someone who is not motivated to respond to pre-sale requests is unlikely to be motivated in writing great content.
You can ask for writing samples, or an address to their own blog posts.
And that should get you started with outsourcing!
Still unsure about which writer gigs are the best?
There's one way you can never go wrong — find pro article gigs here.
Questions, comments in the comments field below, please.
And suggestions on good article writer gigs on Fiverr are welcome too!
Also worth noting, that some of these blog posts contain affiliate links which support the work put into them. This is of course completely voluntary, won't cost you anything additional and makes me happy. Huge thanks for popping by! Tim.