Having backlinks indexed is important, and online indexing tools can help getting that vital link juice running to your website — if only it would be as simple as that. Free tools have the potential to hurt your website rankings.
In this post I will explain why, – and show you the reason Link Centaur is one of the few online indexers that's smart and can be used for free in September of 2023.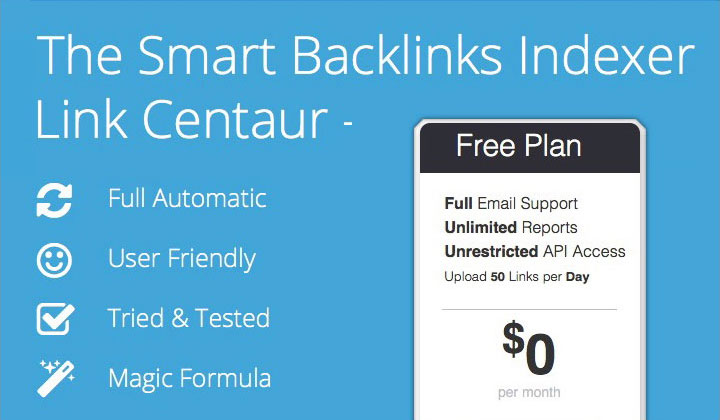 The bad way
Having a look at the variety of free indexers out there such as Ninja SEO Tools, IndexKings, etc. there is little to trust. You simply submit your links into a form, which then will add those links to a huge amount of web pages and ping them. If you think this is a good way to get indexed, think again.
Not only is it potentially a waste of time with very limited indexing power, but this is extremely spammy. Having a webpage URL simply indexed has no indication to what kind of effect it will have on your website. Or how trusted that link will be.
And you can be sure that these free for all submit boxes are spammed and abused to oblivion. Putting you in a neat line with the other spammers.
The good way
Of course the best way to get indexed, are quality, authoritative links pointing to that backlink. Or even better, have real people click on the links.
But if you want to use an indexer to do the job, luckily many paid services have quite intelligent techniques that don't create spammy backlinks. One of those services is Link Centaur, except they have a free plan where you can submit 50 links every day, totally free, per account, which is very decent to start with.
All services will keep their secrets on the exact techniques used. But what makes Link Centaur perhaps smarter than many others, is that they monitor crawling activity of search engines bots such as Googlebot and can verify when your backlink has been crawled.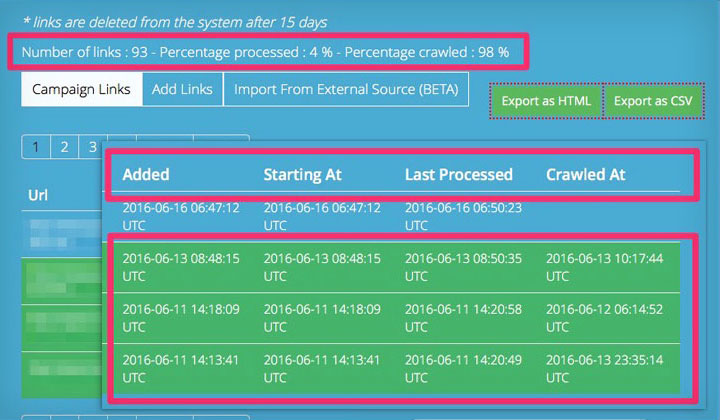 Link Centaur Campaign View (Above).
Crawling simply means that the bot of Google that goes through websites and decides if and when to index them has visited and read your backlink contents. If it actually indexes your backlink or not depends on a huge number of factors.
But if your site doesn't get indexed as wanted, it means that either:
Backlink was left unindexed on purpose by Google
It is waiting to be indexed at a later time
Instead of pointlessly spamming the web, it will provide the opportunity for Google to simply find your backlink. There is also a drip feed feature, to make sure that you are not too aggressive and look spammy there either.
Reasons why your link could be left unindexed are:
Spammy or not quality content
Duplicate content
Backlink is on untrusted/spammy website
Webpage points to untrusted/spammy website
Too agressive indexing methods
Poor or slow access to website
Google and other search engines want us to think that we are not in control. They test our patience and operate in ways that deliberately make it difficult to find patterns that work. That's why indexer tools, free or not, are best used in combination with a wide variety of other SEO techniques. Best results come to those who don't rely on a single source, – a common mistake for those who don't succeed.
I'm happy to answer any questions.
Tim.