I wrote this guide on how to get a free domain from Bluehost with all the available options when choosing a domain name with your hosting plan in 2023
Click here to check available domain TLDs and fees.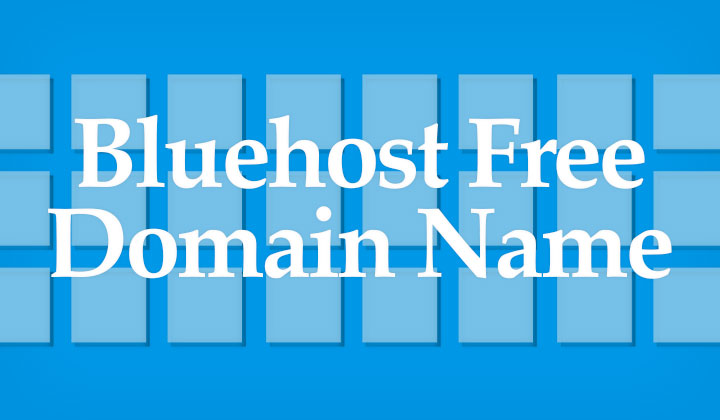 Ordinarily Bluehost's free domain offer is for one year only and subject to renewal fees (see price here); no matter what the length of your hosting subscription is.
Get your domain cheaper or totally free in September of 2023 with these options;
Register Domain Cheaper Elsewhere
While first year of registration is free with Bluehost, renewal fees thereafter are not the cheapest but comes with convenience as domains are ready-configured.
Alternatively use a cheaper domain registrar company to register your domain. Once you have it registered elsewhere, select the option "i already have a domain name" during the hosting sign up to assign your own domain with your website.
My favorite cheap domain registrar is Namesilo — for example;
Bluehost .com renewal is $15.99/year
Bluehost domain privacy is $11.88/year
Namesilo .com renewal is $8.99/year
Namesilo domain privacy is lifetime free
You will then need to configure name servers for your domain to get it working.
Transfer to Cheaper Domain Registrar
It's also possible to take advantage of the one year free domain and transfer it over to another cheaper registrar such as Namesilo for cheaper renewal fees.
According to ICANN guidelines you can transfer out domains after 60 days from registration. Any leftover time of validity for your domain when transferring will be carried over to the new registrar company.
See Bluehost domain transfer instructions for more information.
For Life Free Domain Trick
If you are looking for lifetime free domain with Bluehost hosting; likely your only reliable option is to obtain a 100% free .tk domain with free renewals as well.
The procedure is the same as you would purchase a regular .com domain for example elsewhere. Difference is the cost of course and lack of options for known top-level domain endings. And it will function the same.
PS! Try Fastcomet for a good hosting company that offers lifetime free domains.
Continue reading for important information about domains on Bluehost..
About Bluehost Domains
Domains and money back guarantee
Bluehost has a 30 day money back guarantee, according to which you can receive a full refund of basic hosting fees if you are not satisfied with their service or change your mind. And domains are not usually included in the guarantee.
But! If you cancel your hosting plan within 3 days from the first day of registration you have the option to either keep the domain in your ownership or terminate the domain in which case it's price is fully refunded.
If you cancel after 3 days or choose to keep the domain name — price deducted from the total refund is $15.99. Even if you cancel the hosting plan; the domain can be used with another hosting company or transferred out to another registrar.
Free SSL certificate for your domain
You can host WordPress websites securely with a completely free SSL certificate on all Bluehost hosting plans. This means that when visiting your website the domain will be prefixed with the secure HTTPS protocol address.
For example: https://www.yourdomain.com — which shows your website visitors (WordPress only) that the connection is encrypted.
Domain Privacy
The feature to protect domain contact information known as "domain privacy protection" is available for $0.99 per month or $11.88 per year for Basic and Plus shared hosting plans. With higher Prime and Pro levels domain privacy is free.
Other ways to get the feature for free is to obtain a Business to Pro level Cloud Hosting plan or Plus/Pro level WooCommerce hosting plan.
With all WordPress Hosting, VPS Hosting and Dedicated hosting solutions complementary domain privacy is not available.
And there you have it;
Questions on domain names or more free-ish tricks for Bluehost?
Leave your message below please!
Btw: This amongst other posts, reviews and other pieces of content at times contain affiliate links. Therefore I could potentially benefit from purchases made from third-party services after clicking on such links. This is voluntary and makes my day. I promise to work hard & write quality, beneficial content. Your support is appreciated.
Thank you and please share this post with others if you enjoyed it!