If you are looking for a cheap Plesk Onyx license offers; my pricing guide should help you out — all about code coupons, promo codes and other discounts.
Click here current info on Plesk.com; pricing and discount offers.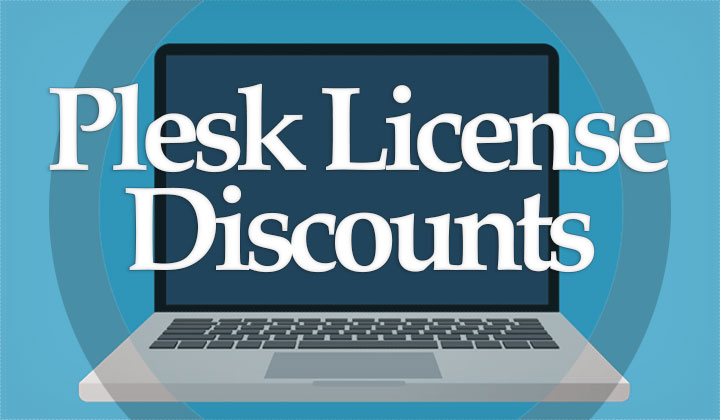 See below for more details on available discount options and pricing of different Plesk licenses; as well as the cost of available extra features.
Plesk License Discounts
Web Admin Edition
Regular cost: 8€/month
Discounted yearly price: 7.33€/month
This edition is built for server admins with no need for reseller and account management features; valid for 10 domains & cheapest license.
One month free promo available (more info).
Web Pro Edition
Regular cost: 12€/month
Discounted yearly price: 11€/month
The pro edition is a complete Plesk solution which also includes the developer pack as well as subscription & account management features; for 30 domains.
One month free promo available (more info).
Web Host Edition
Regular cost: 36€/month
Discounted yearly price: 33€/month
For those looking to build their on hosting business with Plesk reseller management features are further included; unlimited domains are supported.
One month free promo available (more info).
Plesk Promo Coupon Codes
They do not use coupons or codes for their licenses or other products. The best possible offers are available directly through the Plesk pricing page here.
Alternatively you may have a look at these sources;
See above for more information on edition specific discounts.
Plesk Extensions
You can extend your order with the following;
Power Pack
The extension package for Plesk 12 and upwards includes:
Apache Tomcat
Kaspersky Antivirus 5 mailboxes
PostgreSQL & MSSQL management modules
Smarter Mail Remote Control
DNSSEC
WordPress Toolkit
Web Presence Builder for 10 websites
Docker Remote Node Management
Cost: €14.99/month or €164.89/year
Additional Languages Pack
Feature to install more than one language for Plesk 11 and  upwards.
Cost: €4.99/month or €54.89/year
WordPress Toolkit
This feature rich tool allows for easy management of WordPress instances; suitable from beginning to pro. Only for Plesk 17.0.16 and upwards.
Cost: €5.00/month or €55.00/year
Developer Pack
This pack for Plesk developers is a paid option for the Web Admin edition — for Web Pro & Web Host edition licenses it is included free of charge and contains;
Apache Tomcat
MSSQL management module
PostgreSQL management module
Cost: €5.00/month or €55.00/year
Premium Server Antivirus
Award winning software for virus scanning and filtering by Dr. Web for your mailboxes. Protects from viruses, malware, trojans, etc.
Cost: €29.99/month or €329.89/year
Kaspersky Server Antivirus
Advanced server protection solution from Kaspersky. Scan mails and automatically remove malicious or potentially dangerous threats from e-mails messages.
Cost: €29.99/month or €359.88/year
MagicSpam
Feature rich spam protection for all your mailboxes with MagicSpam on Plesk 12 and upwards. Spam database is updated regularly for blocking known spam sources and fast detection of emails with spam content.
Cost: €12.99/month or €155.90/year
CloudFlare ServerShield Plus Advanced
Combine high availability worldwide and great secure features of CloudFlare CDN. Web firewall, reputation monitoring and free SSL is a unique offer available for Plesk server owners only (version 12 and up).
Cost: €18.90/month or €226.80/year
Please note;
VAT of 24% will be added to final cost of all Plesk products
Discount coupon and code promotions do not exist..!
Good luck on finding a discount & getting your Plesk license for cheap.
For questions or tips of your own; please get back to me in the comments.
Notice; A significant portion of the website contains links that are affiliated with third party services and products. This has the potential for financial aid towards my blogging efforts and wont cost you a dime. Plus it's completely voluntary in cookie form.
Thank you for reading, supporting; and please share!