This is a guide to the cost of domains with HostGator and complete domain price list along with everything you need to know about domain coupon codes — enjoy!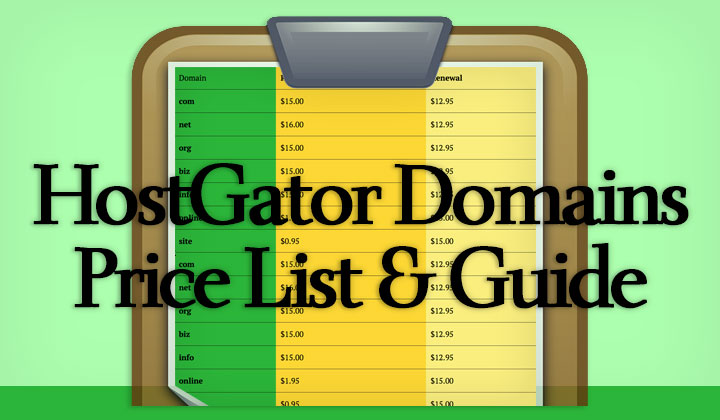 Note! See HostGator's official coupons page for the latest domain coupon of December 2023 — for registration & transfer (excluding renewal).
Quick links for HostGator listed domain fees:
Complete HostGator Domain Price List
There are currently 16 available TLDs. This is the complete list including the price of first term registration & price of additional years and renewal.
For information on transfer pricing — please, see below this list!
| | | |
| --- | --- | --- |
| Domain | Registration | Renewal |
| com | $15.00 | $12.95 |
| net | $16.00 | $12.95 |
| org | $15.00 | $12.95 |
| biz | $15.00 | $12.95 |
| info | $15.00 | $12.95 |
| online | $1.95 | $15.00 |
| site | $0.95 | $15.00 |
| store | $6.99 | $35.00 |
| website | $0.95 | $15.00 |
| tech | $3.95 | $30.00 |
| space | $0.95 | $15.00 |
| host | $6.95 | $45.00 |
| club | $9.95 | $15.00 |
| co | $12.95 | $35.00 |
| us | $5.95 | $15.00 |
| me | $15.00 | $19.95 |
Total 16 top-level domain names; club, store, biz, tech, website, space, site, com, co, online, host, us, org, info, me & net.
Please note that pricing is subject to changes; while the latest price will be mended as needed you are advised to check the latest cost of top-level domains.
Other HostGator Domain Costs
Privacy Protection from $12.95/year
According to ICANN policy; each domain name is assigned with a valid name, address and phone contact details of the owner. This is publicly visible information and can cause some security concerns for security minded website owners.
Paying the HostGator's privacy protection fee you can hide this information and have their own company details shown instead.
Cheaper Transfer Pricing
The pricing of domain transfers is often cheaper than the price of registration; with HostGator offering a low domain charge in exchange for more expensive renewal fees. Either way here is the transfer price list for some popular domains:
.net transfer — $7.95
.com transfer — $7.95
.org transfer — $7.95
.info transfer — $7.95
.online transfer— $9.95
.site transfer— $9.95
.biz transfer — $7.06
.club transfer — $9.95
.space transfer— $12.95
.host transfer — $34.9.5
.website transfer — $12.95
.tech transfer— $19.95
The listed price is per year and subject to first term only.
Domain Coupon Codes and Discounts
There's little point in using up your time; searching for the ultimate coupon code online. This is because HostGator already lists of all of their hosting and domain coupons & charges right on their own website — see domain coupons here.
Basically there are two options:
Register domain during hosting check-out with full price only:
(a) hosting or other discount coupons do not apply to domains or add-ons
(b) domain privacy is slightly more expensive at $14.95/year
Register the domain through HostGator Domains (here):
(a) you can get 20% off for all TLD registrations
(b) domain privacy is cheaper at $12.95/year.
Please note; registering during hosting checkout will automatically set the correct nameservers and thus the easiest option for those hosting with HostGator.
About HostGator Domains
Here I've put together pretty much all the details you need to know about the cost of HostGator domains and domain hosting in general.
HostGator is not an ICANN accredited domain name registrar; they are third-party mostly using Enom for the actual purchases.
Enom is world's second largest registrar with more than nearly 11 million actively registered names in their domain portfolio.
When HostGator refers to "First Term" pricing it simply means that each term is divided in years of registration; therefore the first one is the first year.
In collaboration with Domain.com; Hostgator offers additional top-level domain names such as guru, tips, ninja and many more.
There are currently 310 new domain names available on Domain.com — however registration is separate and an affiliation between the companies.
And that's pretty much all the information I could find about HostGator's domain hosting and their pricing — if you see any incorrect information in the pricing list or know of other fees; please don't hesitate to get in touch.
Other queries about domains and hosting as well as HostGator welcome.
And thank you for stopping by WebHostWhat.
Additionally note that there are affiliate links on this and other pages of the blog. This is a great way to mutually benefit if you found this post helpful. And whatever voluntary path you may choose after reading this — huge thanks for your visit!
Peace, love and light. Tim.