Good news! With HostGator it's possible to use a lifetime free domain with hosting; or a premium domain name for 20% off in 2023 — without a coupon.
To Check Now — Click here for available domain names.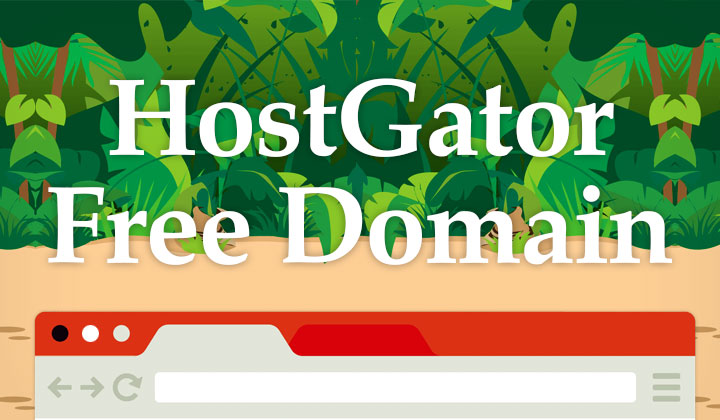 In this post I've done my best to explain all of your options & coupons — go through the list for the most suitable one for your HostGator hosting needs in November of 2023..!
Getting Domain Name from HostGator
The most "hassle free" way is to register your domain name directly from HostGator. The company itself is not an ICANN-accredited registrar and they are using Enom (the second biggest domain registrar in the world) for domain purchases.
This is the easiest way to setup the domain to work with all HostGator hosting products — and there are two options if you want to save:
Purchase a full priced domain during checkout and name servers will be configured automatically — $15/year for a .com for example.
First purchase the domain separately through HostGator Domains & during a hosting purchase checkout choose "I already own this domain" — 

to receive 20% off.
Unfortunately — HostGator does not provide a free domain service.
Lifetime Free Domain with HostGator
Getting a free domain name will work just the same as a premium one with the lack of choice in top-level domain (TLD) endings.
Another benefit of going free is if you choose to cancel your hosting plan within the 45-day money-back guarantee period; you will get a full refund. Domain names purchased from HostGator cannot be refunded. Also you can always change your domain name later to anything you want if needed.
You can get one from Dot TK — the only reliable registrar to give out lifetime free top-level domains which you need to renew once per year (also for free).
The TLD will be in the format yourdomain.tk; and it's easy to change your name servers to the ones provided by HostGator and it will work straight away. I would recommend to first register your free domain and then purchase a hosting plan by entering the new domain during the checkout process.
Alternative Cheap Domains with HostGator
As you are not restricted to registering your domain name from HostGator — there are plenty of other companies to choose from. Just like with the free option; a name server change will automatically enable your domain to work with hosting.
Here are my recommendations:
Godaddy; Grab a $0.99 .com from Godaddy
NameSilo; cheap with constant pricing (& no renewal upcharge)
And this covers pretty much every option there is. For good results — I would suggest evaluating both hosting quality and pricing; not being too judgmental if a company is giving out free stuff or not to focus on quality.
HostGator reviews pretty much speak for themselves!
Any questions about getting your (free) domains working with HostGator?
The comments section below is exactly for that!
This how to guide applies to all available HostGator hosting plans; Web Hosting (Hatchling Plan, Baby Plan & Business Plan), Cloud Hosting (Hatchling Cloud, Baby Cloud & Business Cloud), WordPress Cloud Hosting (Starter Plan, Standard Plan & Business Plan), Reseller Hosting (Aluminum, Copper & Silver), VPS (Snappy 2000, 4000 & 8000), Dedicated Server (Value, Power & Enterprise).
Thanks for reading and please note; there may be affiliate links in this and other posts of this website. This is just to keep me writing valuable posts and useful guides for my dear readers. Your supports is extremely important to me. Love, Tim.