If you have no experience in building and hosting websites, I highly recommend the HostGator Website Builder. Here's an easy tutorial with essentials.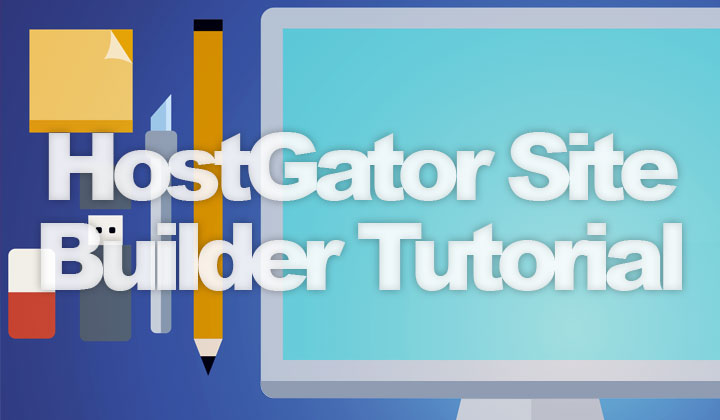 Although website builder's are an extremely easy and convenient way of building blogs, websites and even online stores, without any knowledge..
Here's what you should know first..!
If you want to challenge yourself and you are willing to learn about the technical details of building websites, check out HostGator WordPress Hosting.
With a website builder, you are stuck with HostGator and their website builder. While WordPress has a learning curve, it's the easiest and most popular "advanced" website builder that gives you all the possibilities for the future.
You can move between hosting companies, and expand features for life.
But if you just want to create a worry-free website as easily as possible, then a website builder is the best option. If you are willing to commit to HostGator.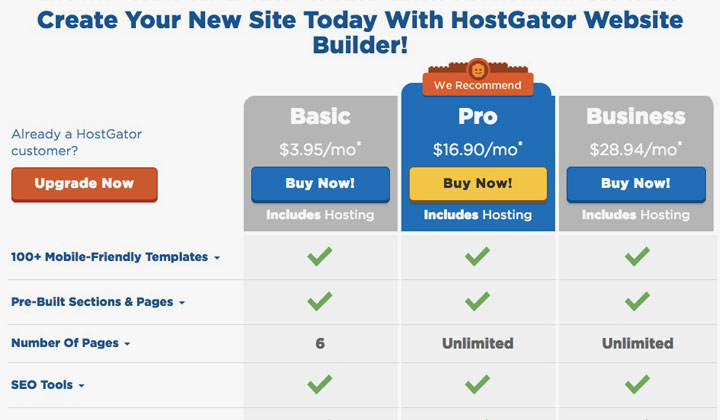 Important about pricing!
While HostGator offers the basic version of the website builder included free, for the price of their cheapest hosting plan. It is not a realistic option in any way.
Even if you have a small website, 6 pages is not the only limit, using the basic version is a nuisance and you will have a headache trying to use it for free.
Want a completely free website builder? I recommend FastComet Hosting.
With FastComet, you not only get a fully featured website builder included free, but also a free domain name for a lifetime, flat affordable pricing & free HTTPS security.
Cheapest HostGator Website Builder!
If you choose HostGator, please note that purchasing the pro, or business website builder directly in conjunction with hosting is more expensive.
This is because only one month plans are available upon registration.
If you first register a regular shared web hosting plan together with the basic website builder, later you can upgrade to pro or business with an option between 12, 24 & 36month billing terms for the best, cheapest price!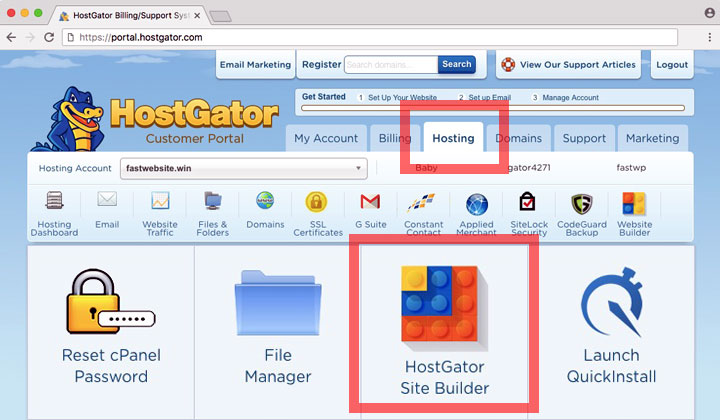 Once you have your account ready, go to "Hosting" in your Customer Portal. Look for the "HostGator Site Builder" icon to get started.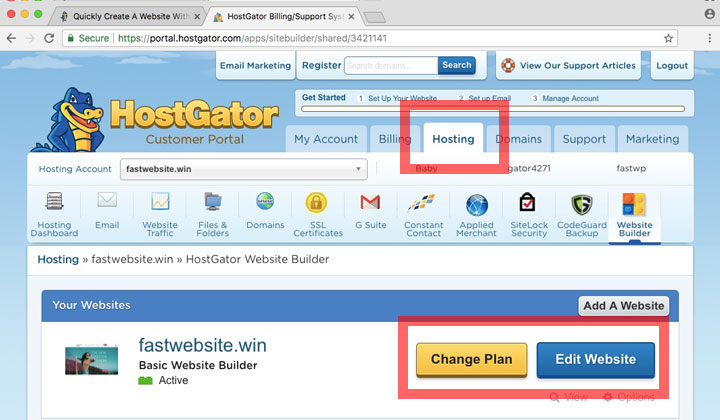 There you can start editing your website to test it out a little bit. But note that if you are even a little serious about building a website, you'll need to click on the "Change Plan" icon and upgrade to pro or business website builder version.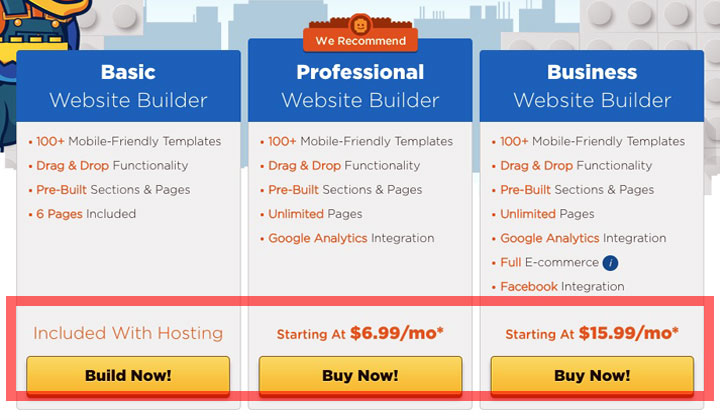 This is the screen you will see if you haven't purchased the basic version of website builder first, which I recommend for a smoother set up.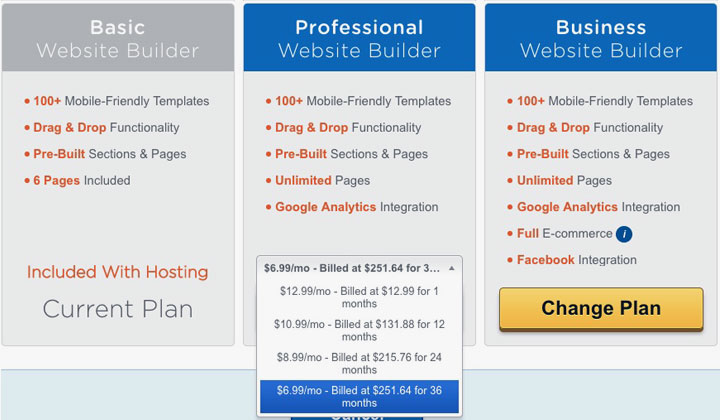 And here's how to change and upgrade the plan once the basic website builder is ready. These are the cheapest prices and available billing terms;
Professional Website Builder;
$12.99/month, billed at $12.99 for 1 month
$10.99/month, billed at $131.88 for 12 months
$8.99/month, billed at $215.76 for 24 months
$6.99/month, billed at $251.64 for 36 months
Business Website Builder;
$24.99/month, billed at $24.99 for 1 month
$20.99/month, billed at $251.88 for 12 months
$17.99/month, billed at $431.76 for 24 months
$15.99/month, billed at $575.64 for 36 months
I recommend business for those planning to build an e-commerce website, and professional is enough for others, like bloggers, small business, etc.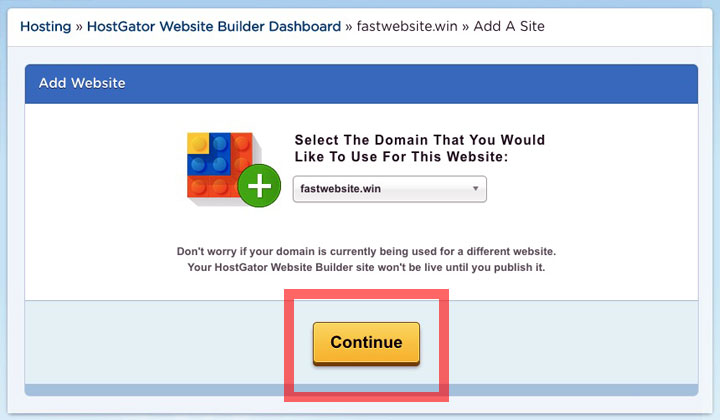 Once you've selected your plan, select your domain and "Continue".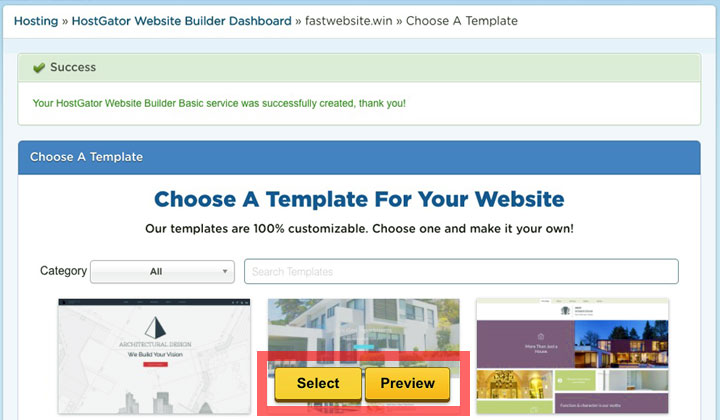 You'll get a list of ready templates to choose from (these can be changed at a later time too). Click on the "Preview" button and an example website will popup.
The available categories are; Architecture & Real Estate, beauty & fasion, business & consultant, computers & technology, design & creative, restaurants & eateries, hotels & travels, lifestyle, music & entertainment, night life, one pagers, wedding, sport & leisure, online store, photography, professional services, construction and trade, pets & animals, blog, portfolio, themes, new.
I recommend the "new" category for the latest & modern templates.
Just click on "Select" to start working on your website!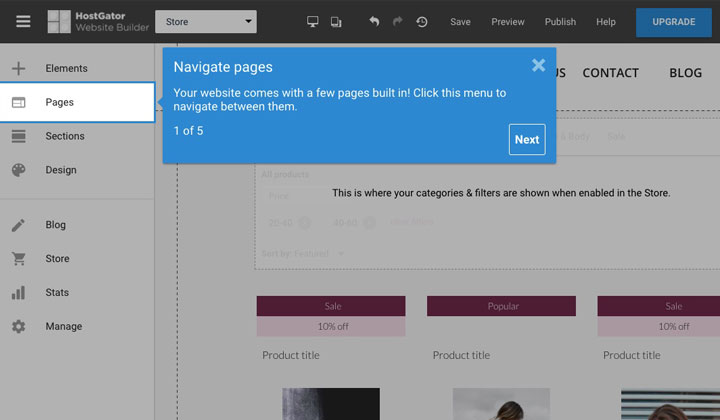 You will be introduced with a short tutorial to kick things off. Here are the screenshots for your convenience but you can see the same in the website builder.
Navigate pages;
Click this menu to navigate between built in pages for your website.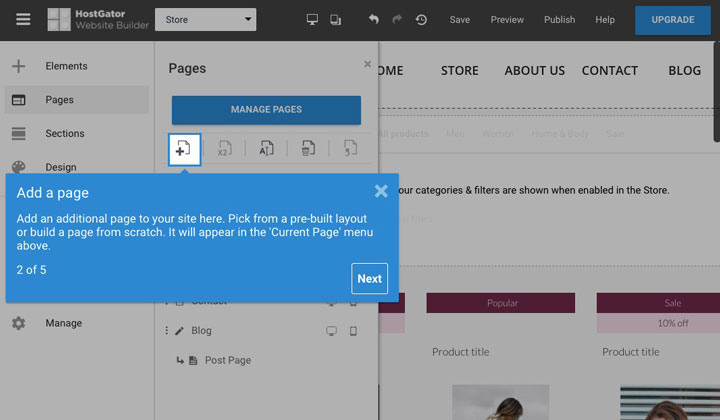 Add a page;
Add an additional page to your site here. Pick from a pre-built layout or build a page from scratch. it will appear in the 'Current Page' menu above.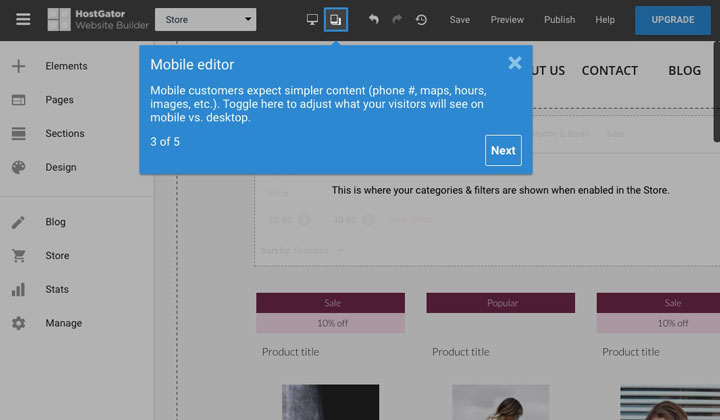 Mobile editor;
Mobile customers expect simpler content (phone number, maps, hours, images, etc.). Toggle here to adjust what your visitors will see on mobile vs. desktop.
Add elements;
Elements are awesome add-ons (images, text, social feeds, etc.) you can put on your site. Drag one anywhere you like.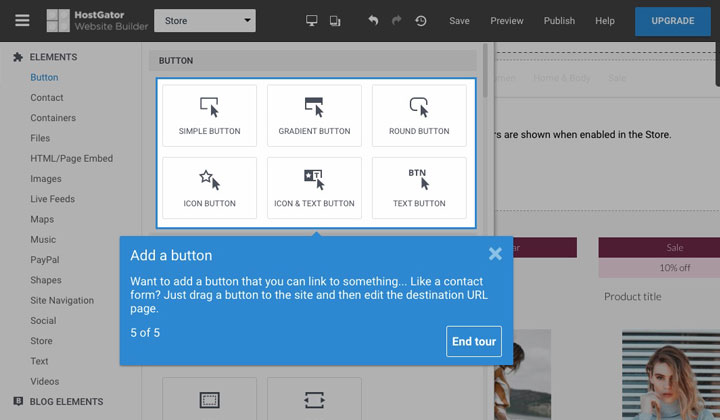 Add a button;
Want to add a button that you can link to something… Like a contact form? Just drag a button to the site and then edit the destination URL page.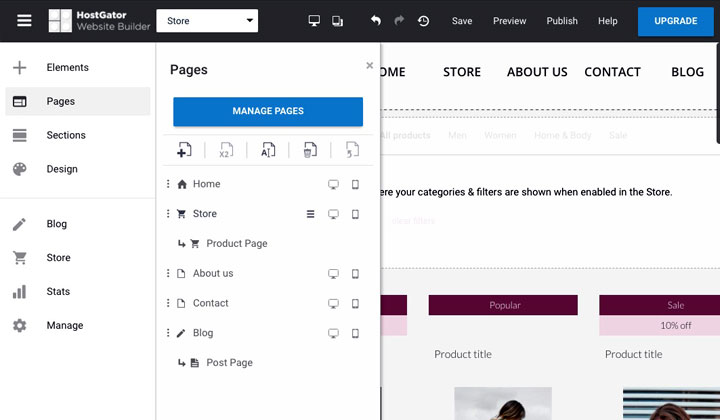 Manage pages;
Create new pages that are ready formatted for use with the template you are using. Just edit the contents with pictures, and text to suit your needs.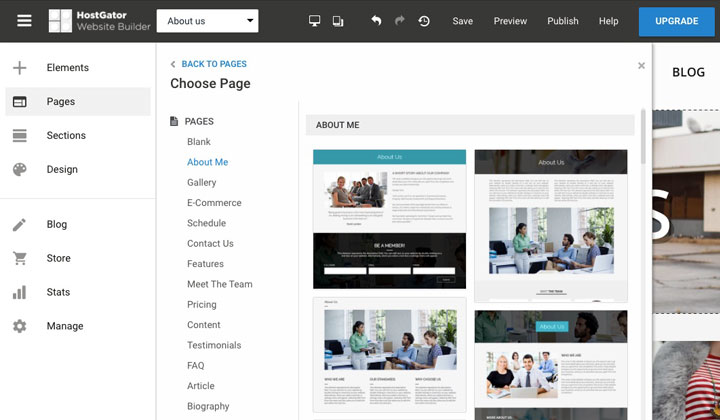 Page types;
Available page types are About me, Gallery, E-commerce, Schedule, Contact us, Features, Meet the team, pricing, content, testimonials, FAQ, article, biography, front page, services, restaurant menu, video, etc.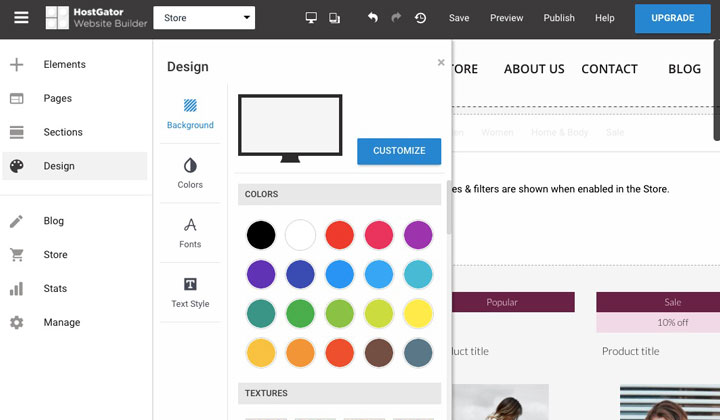 Page design;
You can change colors, backgrounds, fonts, text styles, etc. for all pages in the design section of the website builder.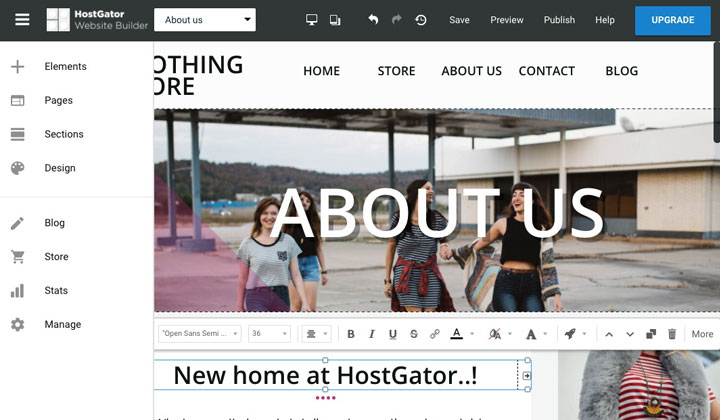 Page editing;
This is what it looks like when you edit the page. No need to know how websites work, just cut, paste, glue, edit just like with a word processor or editor.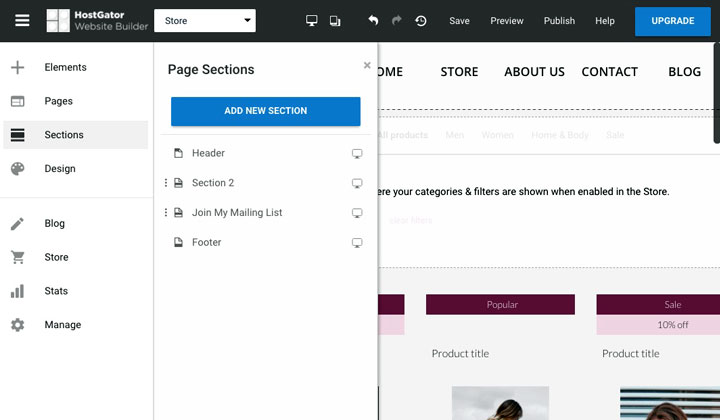 Page Sections;
Add sections to pages, that can be used on all pages of your website. For example, a header section for the menu or Footer with copyright information.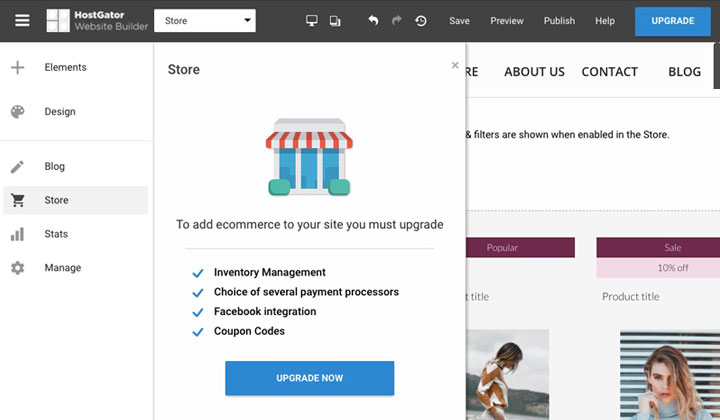 Online store;
See the store section for setting up an e-commerce website with ease. This will require the business level plan of website builder.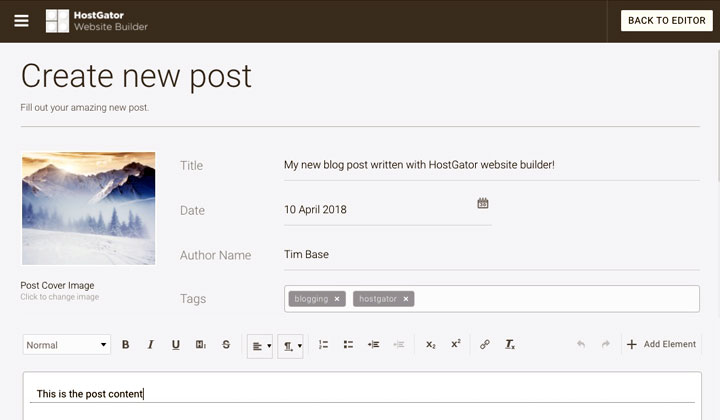 Blogging;
This is what it looks like when submitting blog entries to your website. Select things like title, post date, author, tags, and edit blog content normally.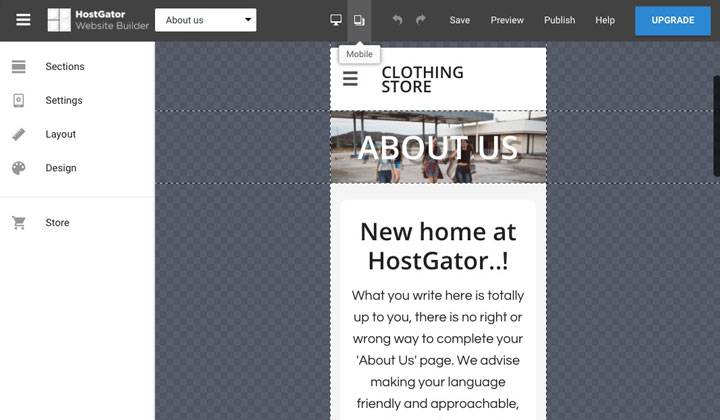 Mobile view;
At any time you can check what your website looks like with mobile phones. If there's something you want to look differently, you can make separate changes.
And that's the end of the tutorial..!
Remember, that the free version included is pretty much for testing purposes only. With the free version you cannot publish your website until elements that are not supported are removed. So really forget about the free version on HostGator.
Read more about the HostGator Website Builder under this link.
See the alternative above, or info on pricing for the cheapest website builder.
Any questions about the website builder tutorial?
Comments welcome below, on WordPress, HostGator, anything!
Lastly, I want to communicate to my readership that not all of course, but some links are affiliate links to help out with the website. Huge thanks for visiting and I hope that any such potential benefit is mutual. Warmest regards, Tim.