Headquartered in Canada; HostPapa now operates in 13 countries and 4 continents — it's web hosting services are targeted for fast global reach.
In this post I manage up-to-date data center specs and server locations.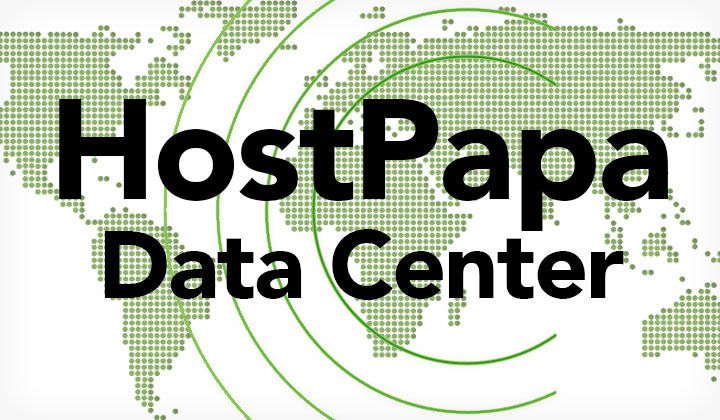 Looking for a specific data center location?
Select your desired locations in the list below for more info!
Content Delivery Network (CDN)
To meet the global demands of HostPapa's extensive customer base, they provide websites with free and easy to set-up Content Delivery Network services; Utilizing Cloudflare CDN data centers in 102 locations around the world.
It means that your website data is cached world-wide; so that every visitor will automatically load the website from the nearest possible location. Therefore eliminating the distance between the actual main data center and website visitor. Websites will run fast for everyone with a low latency connection as a result — HostPapa is focused on performance to reliably deliver content to the CDN.
To enable CDN for your hosting account — use the one-click activation feature through HostPapa's cPanel (web hosting control panel). Simply click on the Cloudflare icon which will prompt you to create an account by using your email address; after which you can individually enable CDN for each hosted website domain by clicking on the cloud icon besides the corresponding domain.
Data Center Locations
Currently HostPapa has two main server locations. The one in Canada is being used for Canadian customers, and the one in USA is used by most other plans.
Data center placement is subject to change; however the strategy of the company has long been to focus on few locations to concentrate on high-end connectivity which extends through CDN technology.
Server Specifications
All the servers adhere to strict server specifications, using world class server technology brands such as supermicro and HP. All servers include 8 cores, ultra fast SSD drives and a minimum of 32GB of RAM. The facility is designed for immediate emergency response and scalability capabilities.
HostPapa has a 99.9% uptime guarantee for all customers.
Speed Test
Even with CDN disabled — the performance of HostPapa's servers has been fast and reliable which is why there are plenty of websites (mainly within US/North American customers) which suffice without the use of CDN. Here's one I tested!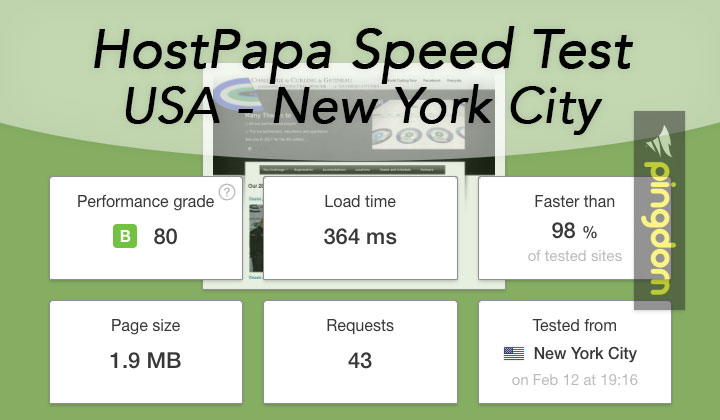 Obviously different websites give different results; server quality and data center connections are just one factor in the whole equation. However, the website of Challenge de Curling de Gatineau (a world curling tour in Gatineau-Ottawa) in this example is performing extremely well considering it's lack of optimization and unnecessarily large 2MB page load size.
Page load time of 364ms is faster than one can blink your eyes.
About HostPapa
Privately owned since it's founding year 2002; HostPapa is a prominent cloud service company based in (Burlington) Ontario, Canada and to extend it's success as a global hosting provider partnered with Cloudflare in 2012.
They are focused on high-end hosting infrastructure, 24 hour customer service and ease of use. Also their data centers are powered by green "renewable" energy sources. They continue to expand, now with more than half a million customers and one of the most popular hosting services for US based small businesses.
CloudFlare CDN Data Centers
The Cloudflare Global Anycast Network consists of 102 global data centers in all continents for fast delivery of content to your website visitors no matter where they are located in the world. The service is provided for free without the need to go through the complicated set-up process on Cloudflare's website.
Here is a list of locations of their PoPs (Point of Presence).
North America — Miami, Phoenix, Los Angeles, San Jose, Tampa, Ashburn, Omaha, Dallas, Denver, St. Louis, Minneapolis, Seattle, Boston, Chicago, Atlanta, Nashville, Las Vegas, Newark, Philadelphia (USA); Panama City (Panama); Montréal, Toronto, Vancouver (Canada);
South America — Buenos Aires (Argentina); Lima (Peru); Medellín (Colombia); São Paulo (Brazil); Valparaíso (Chile);
Oceania — Auckland (New Zealand); Brisbane, Melbourne, Perth, Sydney (Australia);
Middle East — Doha (Qatar); Dubai (United Arab Emirates); Kuwait City (Kuwait); Muscat (Oman);
Europe — Amsterdam (Netherlands); Athens (Greece); Barcelona, Madrid (Spain); Berlin, Düsseldorf, Frankfurt, Hamburg (Germany); Brussels (Belgium); Bucharest (Romania); Copenhagen (Denmark); Dublin (Ireland); Helsinki (Finland); Kiev (Ukraine); Lisbon (Portugal); London, Manchester (Great Britain/UK); Marseille, Paris (France); Milan (Italy); Moscow (Russia); Oslo (Norway); Prague (Czech Republic); Sofia (Bulgaria); Stockholm (Sweden); Vienna (Austria); Warsaw (Poland); Zürich (Switzerland);
Africa — Cairo (Egypt); Johannesburg (South Africa); Luanda (Angola); Mombasa (Kenya);
Asia Pacific — Bangkok (Thailand); Chennai, Mumbai, New Delhi (India); Hong Kong (HK); Kuala Lumpur (Malaysia); Manila (Philippines); Osaka, Tokyo (Japan); Seoul (South Korea); Singapore (SG); Taipei (Taiwan);
China Mainland — Hengyang, Guangzhou, Shijiazhuang, Wuhan, Hangzhou, Shenyang, Fuzhou, Luoyang, Dongguan, Xian, Jinan, Chengdu, Nanning, Qingdao, Shanghai, Zhuzhou, Suzhou, Foshan, Zhengzhou, Wuxi (China);
Total: 102 cities (PoPs or data centers), 50 Countries
HostPapa SiteLock Security
Another alternative for a fast Content Network Delivery (CDN) is HostPapa's SiteLock security feature. A service targeted at businesses to apply an extra layer of security that prevents website hacking, dangerous malware and other online threats through advanced firewall technology. Also you will be provided with a "SiteLock Seal" that can be presented on your website for increased trust for companies engaged in online retail (e-commerce).
It uses TrueSpeed CDN Data Centers for it's delivery network — a more robust and full featured service than free Cloudflare.
There are 27 strategically located high-end PoPs, much less than Cloudflare however the mount of locations is only one factor to consider and does not make TrueSpeed enferior. It also provides end-to-end encryption for SSL so you can encrypt your website for free.
List of TrueSpeed CDN PoPs
US & Canada: Seattle, WA – San Jose, CA – Los Angeles, CA – Chicago, IL – Dallas, TX – Toronto, Canada – New York, NY – Ashburn, VA – Atlanta, GA – Miami, FL.
Europe: Amsterdam, Netherlands – London, England – Paris, France – Madrid, Spain – Stockholm, Sweden – Warsaw, Poland – Frankfurt, Germany – Vienna, Austria – Milan, Italy
Others: Sao Paulo, Brazil – Tel Aviv, Israel – Seoul, South Korea – Tokyo, Japan – Hong Kong, China – Singapore, Singapore – Sydney, Australia – Auckland, New Zealand
Questions & Answers
How does CloudFlare CDN work on VPS plans?
Unfortunately VPS customers cannot enable CDN through cPanel and instead have to go through cloudflare.com to register an account and go through the regurlar process of setting it up by yourself.
Click here to read more on HostPapa's hosting plans!
More questions? Please, leave a message below & feedback also welcome!
Notice: WebHostWhat is affiliated with HostPapa and may gain financial benefit from hosting plans and other services bought by visitors referrer through some of the links on this page. Thank you for your kind, voluntary support!