Backlink research has become absolutely essential for anyone who wants to host a website that can be found on Google. And finding out your competitors backlinks, you can learn about their link building methods. Best of all, some of these links can be easily replicated, giving you a huge step ahead in rankings.
Click here for the cheap & easy 'Monitor Backlinks' tool.
It's a popular backlink research tool, that's free for the first 30 days — and uses Majestic SEO data. Except that it's a whole lot cheaper of course!
The planet's largest Link Index database
Needless to say, getting a hold of a list of competitors backlinks is golden. With only two existing services that are able to crawl a substantial amount of links on the world wide web: Majestic SEO & Ahrefs. Of which Majestic SEO debatably claims to be the biggest in the world.
These two companies know how valuable this information is, and charge accordingly. Starting at $40 per month, it's not an affordable option for someone who just needs a onetime list of links.
Unbeatable fiverr.com offer for 10 domains
Luckily, now you can get a list of the back links of up to 10 domains or URLs for only $5 from fiverr.com! You can have a look at this amazing gig here:
https://www.fiverr.com/s/62jj9d
But the incredible offer doesn't end there. Besides the usual CSV files, you get an easy to read HTML formatted list of the links with sortable columns. So it's easy to sort the links by Citation Flow or Trust Flow, two very powerful Majestic SEO link metrics. Also you can just click on the links and they will pop-up in a new window.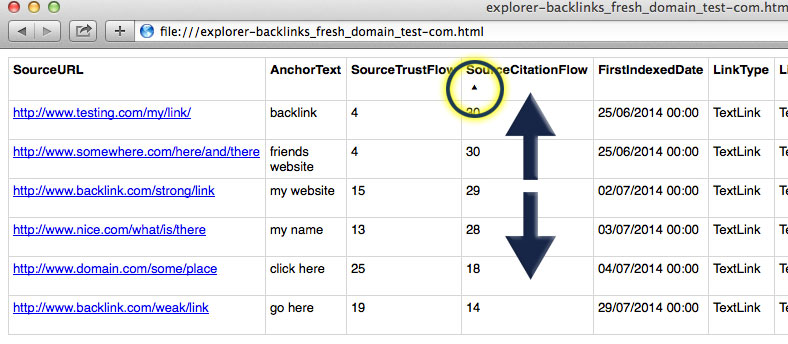 Not even Majestic SEO themselves provide this level of convenience. Now available with the magic of fiverr.com 🙂
Questions about backlink research in general?
Comments, suggestions and so on.. most welcome below!
Notice; Some of these posts on my blog contain means to support the work, called affiliate links. I may be eligible for commission for any third-party services bought after clicks on such links, but it won't cost extra. Huge thanks for your voluntary support & visit. Tim.