Looking for a Name.com promo code or coupon in December, 2023?
This is how discount offers work!
[1] Frequent flash sales are announced on Name.com's blog; where new top-level domains are promoted with a "scarcity technique", offering just few hours of cheap first-year registration. There are no generic promo codes.
[2] New users can use a referral link to get a free domain discount of "5 bearglecoins" (equal to $5) it can be used for free privacy or discounted domain.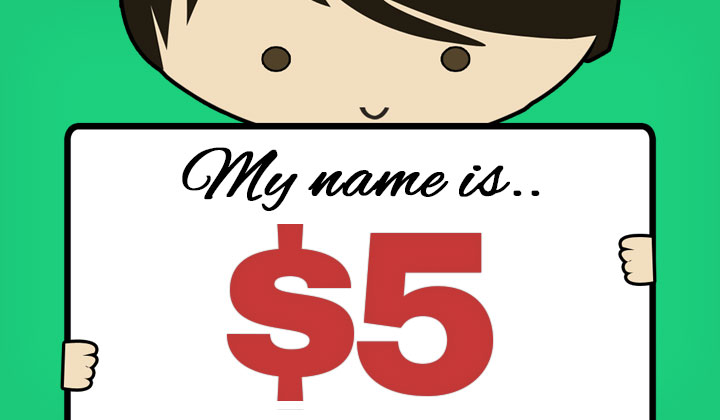 Name.com is an active promoter of new top-level domains like .work, .club, .link, etc. by offering promo codes for a very short period of time. The more common TLDs like .com, .net, .org, .info, etc. also get discounted but it's more rare.
Unfortunately these offers are short because they are not intended for intentional buyers. It's a clever promotional technique to make you believe in a unique chance to get a domain name that you probably weren't planning on getting.
Many are searching for discount coupons because Name.com displays a "promo code" box when making domain purchases. But it's mainly to facilitate these flash promos, so your chances of finding a coupon is pretty grim.
Also there are no "generic promo codes" which give you a percentage off from any domain purchase, renewal or transfer. The only way is to use the referral link promo for $5 free account credit, available for new customers with no account yet.
Name.com $5 Free Domain Credit; Step-by-Step
Here's how you can get your $5 USD off as a new customer.
Step 1. Make sure you are not logged into any name.com account
Step 2. Open up the referral link on your browser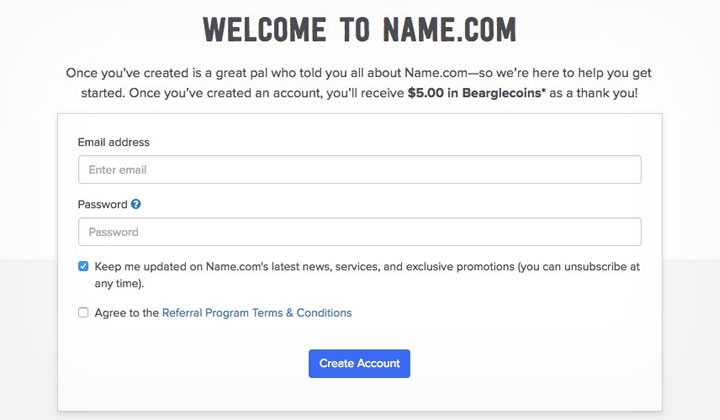 Step 3. Fill in email & password to create a new account
Voila. You have a new account with an extra $5 USD deposited in Bearglecoins usable for any future purchase on Name.com — enjoy the best offer available.
Good to know;
You could potentially grab a free domain name if the TLD is less than $5.
Since WHOIS privacy is $4.99 this is also a great way to get it for free.
Is the link above not working to get a discount? Try clearing your cookies and trying again; or just try it out with another web browser.
Promo codes are available for flash promotions only, so looking for a discount coupon for intentional purchases is most likely futile.
Hope this helped on getting a discounted domain. Comments, questions?
Please, leave your feedback on Name.com in the field below.
Also note; various posts on WebHostWhat.com contain affiliate links where suitable. This is a complementary way to support my blogging efforts. Thank you! Tim.