In this transfer guide, read the essentials on moving and migrating WordPress, websites, emails, domains, cPanel, etc. free of cost to HostGator Hosting.
Please be advised that not all transfers are free and depending on your website, it can be very expensive to migrate over to HostGator!
Read what qualifies for free site migration before you sign up here.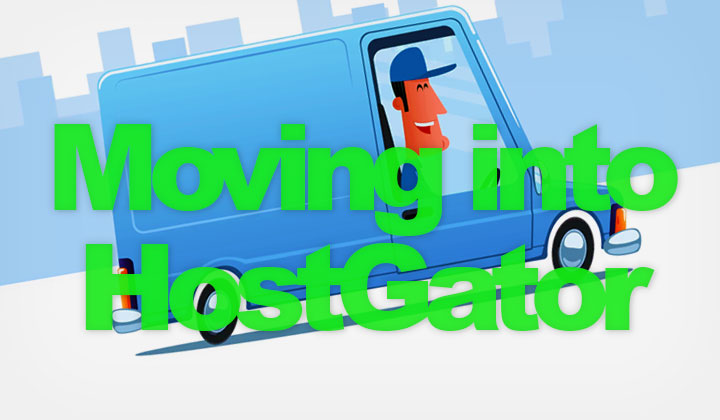 Tip! See FastComet Hosting if you need a more extensive migration service and to move more websites for free, with domain transfer included, free for life!
Moving Websites to HostGator
Transferring websites to a new hosting is called migration, which can be done manually by yourself or by using the free website transfer service from HostGator.
Depending on the amount of work, there can be a significant cost added to the transfer service, however most basic WordPress sites are usually free.
I suggest the following before you sign up!
Prepare following; (a) domain name of website, (b) name of hosting company, (c) name of hosting control panel (likely cPanel), (d) SSL certificate in use.
Proceed to help section for "New Customers".
Select "New Account" as your support issue.
Tell HostGator that you are interested in signing up a new hosting account, and want to know if your website can be transferred over for free.
Give a list of prepared details (a-b-c-d) for quicker assessment!
Also, check this list of hosting companies supported for HostGator migration.
Restrictions Migrating Websites to HostGator;
Those who have WordPress websites on cPanel hosting, usually have it the easiest. The biggest restriction, is that changing to a new domain name is not supported on the free version of transfer service (contact them for cost assessment).
And, that transfers are limited to one free migration per account!
What they will do, is obtain the login credentials of your current hosting account and copy over the files, databases and if possible, your emails and cPanel settings as well.
They will not go as far as to make edits to your files to resolve compatibility issues and problems with the new hosting environment. But your WordPress configurations are edited, so that it will connect to the new database created on HostGator.
This is all that's needed for most WordPress migrations.
If you wish to transfer your domain name over to HostGator, which is not included free, you'll need to pay the cost of one year domain transfer. This has the added benefit of having the domain set up to work with the new hosting plan.
Click here to check domain transfer fee for your domain on HostGator.
Otherwise, you'll need to go over to your separate domain registrar service, and change the DNS settings, (known as name servers) manually.
How the HostGator Migration Request Works;
This is how you actually move your old website into HostGator. Please note, that you need to sign up for a hosting plan before you can start!
In your personal "HostGator Customer Portal", first navigate to the "Support" section and then to "Request Migration".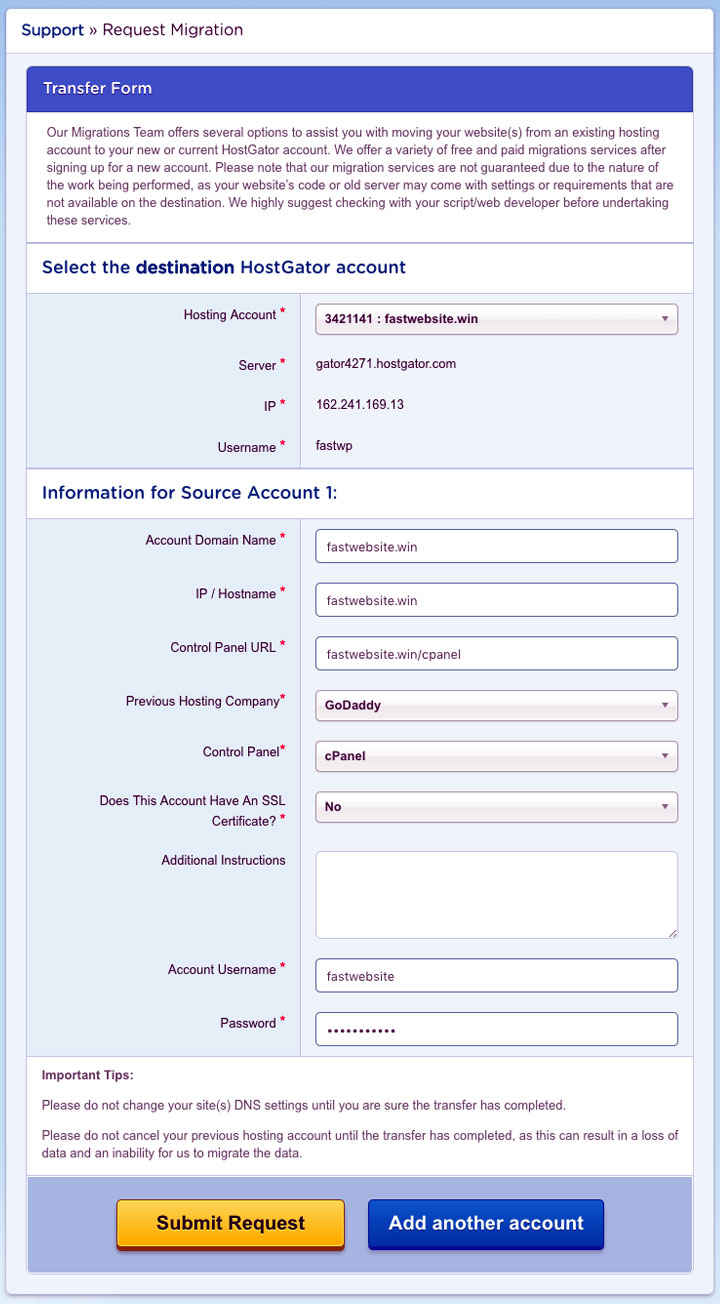 You will be presented with a form to fill out to submit the migration request.
Fill in the following details and HostGator will get back to you on details, if they can transfer the emails, cPanel settings and information on domain transfer.
Destination HostGator account;
This is the active hosting plan where the site will be moved to.
Information for source Account;
Account Domain Name — Your domain name which can be either transferred over to HostGator or you can keep it with your current registrar.
IP / Hostname — This is usually the same as the domain name above. Unless you want to specify the IP or are using a subdomain for the website.
Control Panel URL — The address for accessing the control panel (most likely cPanel) of your old hosting account.
Previous Hosting Company — Choose from GoDaddy, BlueHost, JustHost, iPage, WordPress, MediaTemple, Site5 or select the last option if other.
Control Panel — Available options are cPanel, Plesk and Other.
Does this account have an SSL certificate? — Choose YES or NO. If you do have one installed, likely the best option is to purchase a new one from HostGator.
Additional Instructions — If there is anything that you want specifically preserved. For example, folders or files. This is the time to mention specific details.
Account Username & Password — These are the login credentials to your old hosting account so that HostGator support can access it.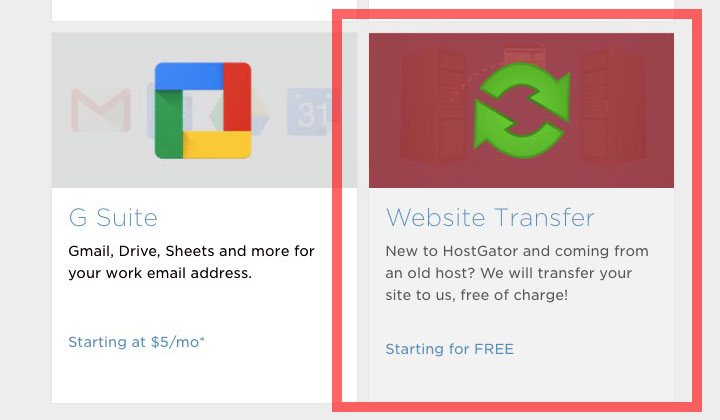 You can also find the Website Transfer feature directly from cPanel (the hosting management panel used by HostGator) under "Website Essentials".
Want to migrate your website, or WordPress for free and have questions?
I'm experienced with HostGator, and happy to help with transfer problems below!
Some readers might also be interested, that these posts sometimes contain affiliate links which are harmless, however Tim (the author if this blog), may benefit from them. Biggest thanks for your kind (as well as voluntary) support. Cheers to all!