Incapsula isn't exactly clear-cut on their bandwidth limits and other limits of their CDN & DDos protection plans; thus I have come to the rescue — enjoy.
Must know Incapsula limits of 2023, explained in simple layman terms.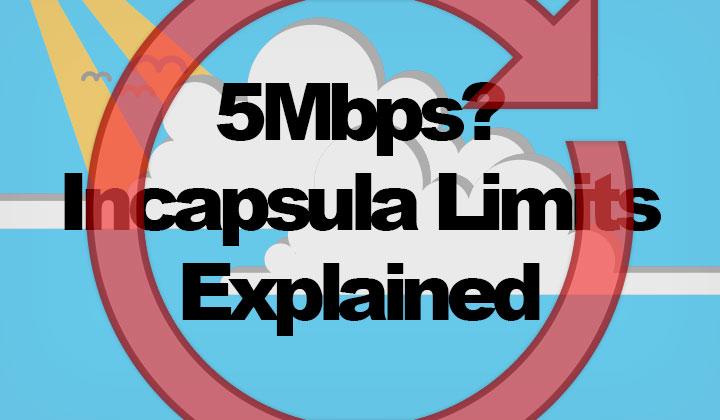 Did you know — Incapsula has an extremely useful blog on all topics related to secure website content delivery; recommended reading.
Incapsula Bandwidth Limits
Ever heard of the burstable billing model where bandwidth is calculated in 5 minute buckets according to the 95th percentile? Me neither & you can forget all that..
All you need to know about the 5Mbps bandwidth limit is this;
Each account; pro and business is limited to about 1.62TB/month
The limit is calculated from all website traffic between visitor and the middle man; Incapsula. Excluding all other traffic such as blocked attacks.
The complicated bandwidth calculation is designed for flexibility; contrary to just counting accumulated traffic. Excluding 5% of peak traffic hours from total.
But if you insist; I've also included a more detailed explanation below.
SSL Certificate Limits
Assuming you want to be running your sites securely with SSL and preferably free of charge. Watch this one minute video to see how it's enabled.
Pro Plans;
The Incapsula Pro plan uses a shared certificate which is yes, shared amongst all other pro level customers. Currently it automatically serves either a SNI or non-SNI certificate depending on which type the visitor browser supports.
But they have plans to limit this to SNI only in the future; so that your site will not work without support for SNI requests.
After the change is implemented (no ETA as of yet) — it will be applied to new pro customers only. So now is the time to sign up to pro if you are planning to.
See the end of this article for Incapsula's explanation on SNI support.
Business plans;
Support for both SNI and non-SNI certification will remain for business plans; plus the certificate is not shared. Meaning that you get one personal certificate which is then used amongst all the websites you have under the account (recommended).
For business to enterprise plans you can also upload your own custom SSL certificate which will be limited to SNI only.
All SSL certificates are provisioned by GlobalSign.
Free Account Limits
You might have noticed that Incapsula offers free but limited accounts with complementary CDN — lacking other features such as DDos protection, firewalls, load balancing, support for SSL and other additional security measures.
However this comes with the cost of a Imperva Incapsula logo that floats visibly on the lower right corner of each and every page of your website.
This hovering ad also contains a backlink to their website. Making this free plan totally unusable for most customers.
Probably the best thing about the free account is that the bandwidth limit is the same 5Mbps as pro and business level Incapsula accounts.
5Mbps Bandwidth Calculation
Here's a more detailed explanation of how bandwidth is calculated & limited;
First of all the system constantly collects the traffic between the client and Incapsula proxies (incoming and outgoing).
Every 5 minutes it aggregates the total number and keeps it aside in "buckets".
At the end of the billing cycle, 5% of the buckets with the most traffic are dropped so we're left with the 95th percentile of "buckets".
Then total traffic in each bucket gets converted to bits per second (bps) and all the buckets are accumulated together.
This gives them the bandwidth used by each account.
The bandwidth for all account except enterprise which is a negotiated limit is 5Mbps. And 5Mbps is about 1.62 Terabytes a month of allowed bandwidth use.
You can use this tool to calculate it.
Any questions left on Incapsula bandwidth & other plan limits?
Just leave a message for me below in the comments.
Site note; all content within this blog is subject to so called affiliate links which help to monetize the website through your voluntary purchases and support.
My humble thanks to all readers! Sincerely, Tim.