InMotion Hosting decided to jump onto the Free SSL bandwagon; now customers enjoy benefits of HTTPS complementary on most hosting plans in 2023.
Here's what you need to know on how the free SSL certificates work.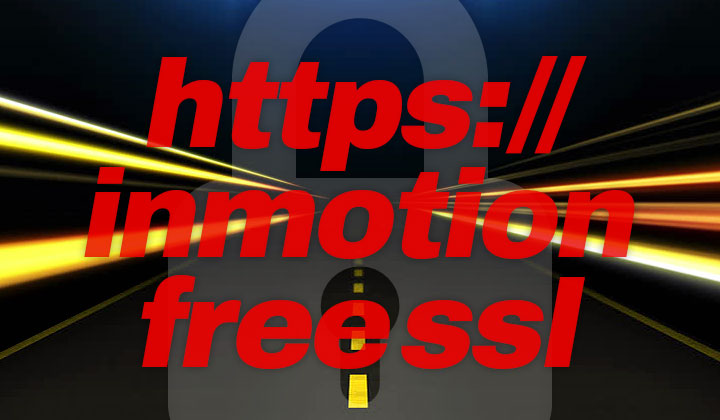 Partnered with the Comodo Group — InMotion Hosting is providing free domain validated certificates through the Comodo CA Limited certificate authority; one of the biggest issuers of SSL certificates in the world.
These certificates are available here (select Free SSL for further information) and can be quickly enabled through cPanel; an easy to use hosting control panel.
With domain validation there is no need to fill in contact information; simply select the right domain and an automatic 1-click install will complete the installation. Also renewal of the certificates is handled completely automatically.
Incase there are any issues with re-certification you will be sent a warning email and further attempts to issue the certificate will be made.
This is NOT the shared SSL previously offered with less widespread support.
While the current trend of companies trusting on the new Let's Encrypt initiative to deliver their free SSL certificates; Comodo remains as the high-end option.
Please note! After the certificate is enabled; you can force the use of HTTPS for your website with these instructions (recommended for SEO).
Read the official announcement from July of 2017:
InMotion Hosting Introducing FREE Private SSL
InMotion Hosting proudly announces the introduction of FREE private SSLs on all Shared Business Hosting, VPS Hosting, and Dedicated Server plans. We constantly seek new ways to improve our services while promoting a safer and more secure web.
Our customers can easily secure their websites for safe browsing with a single click. Perfect for eCommerce and more, these free SSL certs allow our customers' websites to accept payments and complete online transactions worry-free.
Features:
Domain Validated SSL
256-bit Encryption
Powered by Comodo and cPanel
Free Automatic SSL Renewal
Widely supported HTTPS
Find out more about InMotion Hosting; and their top-rated services.
If you have any questions; please don't hesitate to ask me! Thanks!
Notice: These pages may contain affiliate links which may convert to commission to the author made through successful sales on such affiliated third party websites.
This has not influenced my opinions and views posted on this article and should not affect your user experience, with InMotion Hosting or any other partner.