This is a list I've compiled of Finnish blogging sites; where you can start a free blog or host WordPress. All major services in Finland are covered.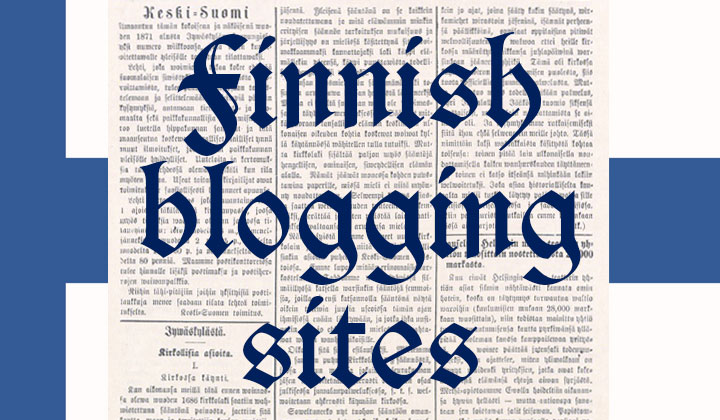 Alright? — Please, leave comments & questions below!
Finland Blog Hosting
When it comes to hosting a blog aimed towards a Finnish reader base or market; I cannot really recommend any reliable, easy to use company with servers in Finland. The market lacks growth and is relatively small; with some potential money wasting opportunities, most people turn towards European hosting to get your money's worth (know any that can beat my claim? — leave a comment).
Connectivity to Finland is great from many European centrally linked cities. I've been using A2 Hosting with servers in Amsterdam; it's a good combination of speed optimization with ridiculously easy WordPress blog install & management.
Note that some the free Finnish blogging services are known to have closed; even some of the very old ones.. sending huge junks of text straight to bit heaven. So if you are serious about this — I would considering using a hosting company.
Finland Blogging Sites
This is the actual list of free blogging sites available in the country with a small review on each. Enjoy and please, use them for something good (else than spamming obviously). Also note that hardly any of these are actually hosted within Finland.
The free website portal "Suntuubi" has been around 2006 and by the looks of it hasn't changed their website design or system much since. Basic, old-school drop & drag site builder interface with a very basic blogging feature.
Ads: yes
Links: Footer
Blogging: poor
URL: subdomain.suntuubi.com
An old blogging portal for cartoonists and still an active community for comic lovers alike. Blogs are hosted on pure WordPress for easy blogging; but you will need to get in contact with the admins and state your intent to get approved.
Ads: no
Other links: Footer
Blogging: WordPress bliss
URL: subdomain.sarjakuvablogit.com
Very basic site for hosting free WordPress blogs without ads or other distractions. They've been around for long.
Ads: no
Other links: no
Blogging: WordPress bliss
URL: subdomain.omablogi.fi
Another free (old) site for creating your WordPress blog.
Ads: no
Other links: no
Blogging: WordPress bliss
URL: subdomain.munblogi.fi
This one has actually received a face lift after being online for years; free WordPress blogging with minimal distractions.
Ads: no
Other links: Green top bar, footer links
Blogging: WordPress bliss
URL: subdomain.blogaaja.fi
This site has it's own customized blogging interface; despite being based on WordPress. Self proclaimed "biggest and the most useful" Finnish blogging service.
Ads: no
Other links: Top & bottom link bars
Blogging: Custom WordPress
URL: subdomain.vuodatus.net
A Finnish travel agency has a free "travel blogging service" and travel-minded community based on WordPress.
Ads: no
Other links: Top link bar
Blogging: Custom WordPress
URL: www.rantapallo.fi/username/
This post is to be updated over time with new sites!
Discontinued Blogging Sites
Kotisivuja
Free website offerings at "Kotisivuja.org" have come to a sudden close.
Omasivu
Free WordPress blogging came to an end at "Omasivu.fi" after years of activity. They were known to block many foreign country IPs from accessing the website.