Name.com has announced free TLS/SSL certification to challenge the hosting business — now you can supercharge your website free with HTTPS using Symantec's Encryption Everywhere certificates; supported on all Name.com hosting plans!
In this review, I'll explain how everything exactly works.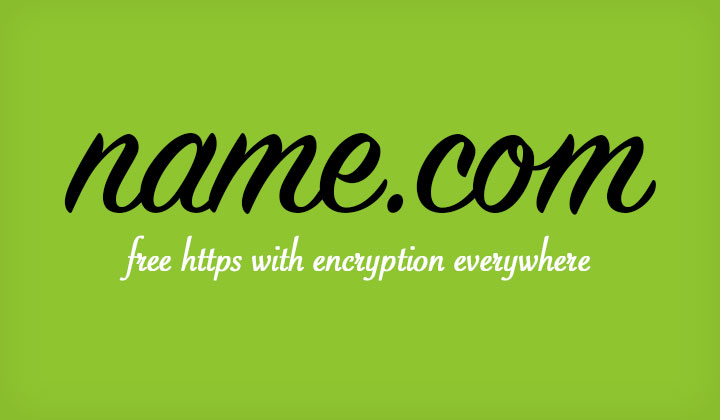 One of the biggest goals of free SSL website encryption is to bring HTTPS to individuals and smaller businesses, as well as to bridge the gap between commercial and personal use. Spiced with increased Google rankings it's benefits are undisputed.
The move to partner with Symantec has shifted name.com's business model to reduced commercial SSL certificate sales and a highly competitive service.
How it Works
Best of all Encryption Everywhere SSL certificates are easier to use than conventional ones; in fact they are ready installed, ready for use on all new Name.com hosting accounts. All you need to do is enable HTTPS for your website.
So let's say you are using the one-click WordPress installation software; it asks for your website URL — simply enter the address in the format https://www.yourdomain.com and everything will be automatic from there.
Other CMS and e-commerce software will have similar easy methods of enabling https. If you have any questions, just leave a comment below.
Commercial Certificate Comparison
Going free is not just complementary but a huge save in cost, when comparing with other options from commercial SSL certificate authorities offered by Name.com — while gaining the same 256-bit level of encryption. Here's the broader deal and what you could be missing out on with "Encryption Everywhere".
RapidSSL by GeoTrust
Probably the most popular low-cost certificate authority RapidSSL (previously known as Freessl.com) has a focus on small businesses and e-commerce startups. The certificates are domain validated, so the main benefit is the encryption along with a green lock icon next to your domain — so it's fair to say there is no significant benefit over the free Name.com equivalent.
RapidSSL $8.49/year
RapidSSL Wildcard $110.49/year
Secure Site SSL by Symantec
For companies and corporations looking for the best possible security brand recognition, it's also one of the most expensive TLS/SSL certificates on the market. There are several premium options such as "Dynamic site seal", and a "Green address bar". But it's main benefit, unavailable with the free name.com certificate and the main reason while bigger companies are ready to invest such big amounts to website, and user security is "Organizational Validation". It enables a company or other official entity to prove that they are who they say they are on an organizational level; including registered name and contact details.
Secure Site $259.99/year
Secure Site Wildcard Extended Validation (EV) $637.49/year
True BusinessID SSL by GeoTrust
A slightly more affordable authority with organizational validation for businesses, also wildcard certificates are supported. In common use there is no big difference to the more expensive Symantec equivalent. This is the biggest competitor for Name.com's free option; most likely attractive to well established businesses or those who can afford to start with a bang.
True BusinessID $84.99/year
True BusinessID Wildcard $297.49/year
True BusinessID Wildcard Extended Validation (EV) $149.99
So there you have it. Latest info on this, from 2023.
Read more from Name.com to get up and going!
Please, note that Encryption Everywhere is not to be confused with the competing Let's Encrypt free certificate authority, which is not supported by Name.com!
Questions and all comments are very welcome.
I'll be happy to help! Tim.