NameSilo is one of my favorite registrars because their pricing policy is cheap and transparent. No Bullshit, just straightforward great service, without renewal up-charges and aggressive up-selling. Ehem — I'm looking at you GoDaddy!
Seeing all the dodgy coupon code sites, I contacted NameSilo to clarify their discount/promo policy. This is what I found out — a complete guide on discounts!
Fact 1: First time users can get $1 off with the code "smartdom1"
Fact 2: Most coupon code sites are useless
Fact 3: NameSilo has a promotions and coupons announcement page and all  active promo coupons are announced on that page. Period.
Fact 4: Coupons are rare (see below). NameSilo's approach is to offer the best price for everyone instead of hunting for coupons.
Fact 5: You can join the NameSilo Discount Program for free if you make payments through account funds.


---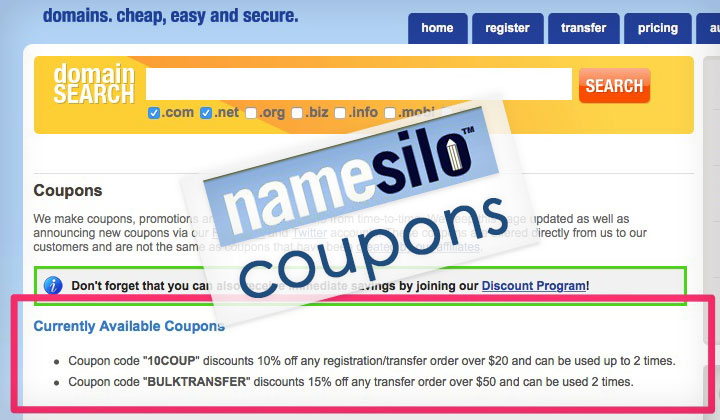 Index of Contents:
NameSilo Promo Code History
This is the list of all past promotional codes that have ever been available. Any active ones will go straight to the top of this article.
November 2015 (Code: CYBERMONDAY2015REG) — 10% off all .com domains.
November 2015 — Black Friday coupons for all domain registrations.
December 2014 (Code: 33OFF2014) — .com and .net registrations 33% off.
November 2014 (Code: ThxVets) — Transfer and registration of any domain $2 off.
August 2013 (Code: 5COUP) — 5% off discount from all registrations.
November 2012 (Code: BLACKFRIDAY2012REG) — Black Friday deal for $2 off from any domain and (Code: BLACKFRIDAY2012TRANS) for $3 off any transfer.
July 2012 (Code: JULY4TH2012) — 17.76% off all domain registrations on July 4th. Limited to five uses per customer.
September 2011 (Code: LIKENAMESILO) — One year .com registration for $4.99. One per customer – available for the first 1000 only.
NameSilo Coupon Codes Explained
Basically, NameSilo is not a company that has much focus on giving offers through coupons. They have an impressive 300,000 registered domains under their belt since July of 2016. Because they provide constant, low-cost pricing with great functionality.
But still they manage the effort to provide us with the occasional rewards. All active promo coupons are released directly on their website (see below) so all "activate campaign here" links and coupon sites are a waste of time. Also some generic TLD names enjoy special discounts, but those are just temporary adjustments to their list price and can be spotted through their Facebook — and Twitter page.
And did you know that NameSilo has the cheapest domain names — a whole bunch of generic TLDs from as low as $1.89/year (or less). And that's the price for transfers, as well as renewals for as many years as you want. Cheep.
If you haven't registered or made any purchases yet — use the "smartdom1" coupon (on first orders only!) to get $1 off. And of course join the free discount program (see below) for added savings.
Other than that, the best opportunity is to wait and see if they have anything on offer for Black Friday or some other lucky day. Otherwise just enjoy the great price and service! Here's a log from a discussion I had with NameSilo about their offers.
Me (Question):
Dear NameSilo, – and my favorite registrar,

Could you please be so kind and clear up something for us once and for all.

I've seen all kinds of Namesilo discount coupon codes on the internet, claiming 15% off to cheaper registrations for specific TLDs. Are any of these real? Do publicly available coupon codes exist? What is the best discount possible?

Also, what is the difference between "coupon code" and "promotion code" as stated on your website? If there are any kinds of promotions or public coupons, where can we find out about them?

Thank you very much, – I hope you have the time to give a comprehensive answer to this.
NameSilo Support (Answer):
It is very rare that we offer coupon codes as our approach is to offer our best pricing upfront and not make our customers have to constantly hunt for coupons.

That being said, and you will find many $1 coupons from our affiliates online. Every customer can use one $1 coupon.

There are times other promotions are run, such as we are currently running for a few TLDs for first-year registrations like .online, .site, etc.

I should note we also have a Discount Program which offers discounts on all registrations and renewals. Discount percentages are based upon domains in your account.
NameSilo Discount Program
The discount program is a way to reward loyal customers who wish to make frequent purchases through account funds. Once you join the program, you can no longer pay individually for each domain but have to add funds to your account balance through 'Account Funds Manager', from where payments will be made.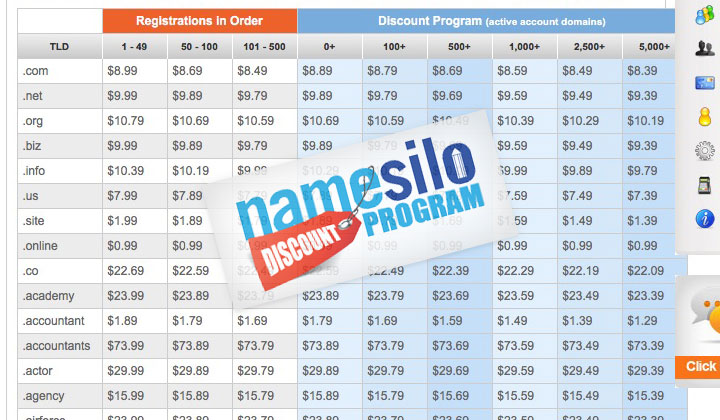 When topping up your account, there is a minimum deposit of 50 USD each time. Payments can be made with All major credit and debit cards, Paypal, Bitcoin, Alipay, Skrill, Dwolla and Wired transfer.
All methods are free except wired which will reduce a $15.00 usage fee and takes 1-3days to process after payment has reached NameSilo.
Discount usually starts from 10cents off the regular domain price and is cheaper depending on how many active domains you have in your account. See the links below for detailed price list!

Useful links
What's your experience with NameSilo in 2023? Any questions?
Let me know in the comments, thanks!
Tim.