Instead of just adding more to the flood of positive reviews; I will share the problems and issues with SiteGround hosting based on real experience in 2023.
Here's my negative take on the hugely popular hosting provider.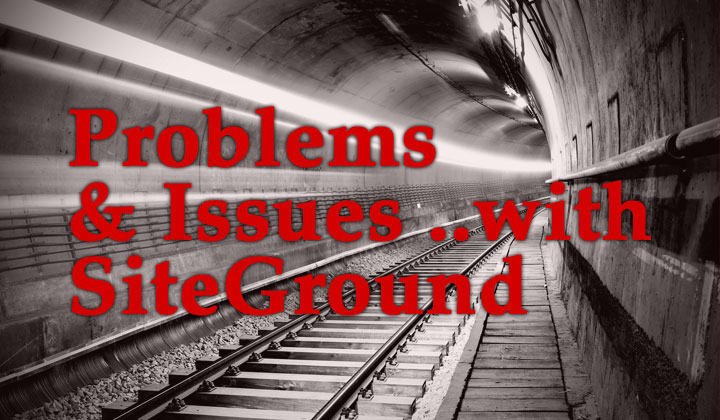 Index of SiteGround Problems
Please be advised
When reading online reviews and comments about how terrible SiteGround is (yes; they exist for every single hosting company on this planet).
Many of these bad experiences are actually a fault of the customer not the hosting company; being displeased (a) without consideration of how hosting works or what they actually signed up for (b) being unable to see their own mistakes.
Understanding this; I can still tell you the negative side of SiteGround.
Careless Support
Quoting their own website; SiteGround takes "pride" in their "amazing technical support" and it's one of the things it's being most praised for on their reviews.
While I respect their genuine approach to offer high quality support which it still is in most cases — they have problems that are typical for big companies.
Conveyor belt effect
If your issue is general in nature and resolved on first attempt, you will probably join in with the rest of the praise on how good support is. All of the staff speaks good English, they are courteous and they are smart guys.
But when your issue is not resolved immediately; obviously you can't have the same guy sitting down all day tackling on your problems. So you will be bounced from one customer representative to the next.
This conveyor belt style support is prone to mistakes just when you need support the most with more specific problems; the root of the problem.
A good example is when I was having problems with installing the free SSL certificate for my website. Because my problem was more specific in nature, they forwarded my issue to a specialized representative.
But my issue was not given the individual attention it needed, although I had taken time and care to try and explain the specifics related to the case. Instead the issue was just categories as "this customer wants X" and forwarded on.
To make the story short; support were just thrown at the problem, being bounced from one customer rep to another. So everyone just went and blindly tried to enable the SSL certificate until the feature was locked down for a week.
Worst of all I was simply informed that my website will have to do without an SSL certificate for a week — initially without an apology as no one really could see the big picture of what had happened. Not surprising when things get messy.
Moral of the story
From experience of running a small business focused on customer service; I know that customers want to be heard and feel significant more than anything else.
But every time you contact SiteGround you get in touch with a new member of support staff. Which can make you feel insignificant lost in the hurdles of a system that is prioritized to serve collective solutions. Also this problem could have been avoided if they would have taken the time to try and understand and communicate amongst each other what my problem really was.
But still SiteGround has more than above average support and I guess they are doing pretty well in comparison for the large size they are dealing with.

Poor Uptime Policy
Few uptime policies are super customer friendly and neither SiteGround has been willing to shine in this area. While on their front page they boast with 99.99% uptimes; I would suggest reading their uptime policy terms for a closer look.
It's actually 99.9% NOT 99.99%
Uptime is counted from yearly NOT monthly uptime (easier to abide)
You get 1 month free hosting for every 3.65days of downtime in a year
If emergency maintenance is resolved in less than an hour it's not counted as downtime and other non-abiding scenarios
Only their own internal records serve as proof of downtime
Do I even need to continue…? Needless to say their TOS is not something that would make me excited or rely on their uptimes.
But in comparison SiteGround is still far from the worst; as the hosting industry is loaded with poor uptime policies that shift away nearly all responsibility.
One area that SiteGround does shine in.. is the server architecture itself and they do a pretty good job at explaining the perks. In my year-long experience I've had two downtimes, one lasted 1 minutes 41 seconds and the other was 13 minutes 42 seconds. Without cloud hosting architecture; there will always a little downtime.

Renewal Upcharges
Hosting at 3.95/month for three years is more than generous, obviously they consider you as a long time investment. This comes with the cost of a big upcharge on renewals; more than double the initial cost of hosting.
Trying to enter the market of cheap hosting is part of business I guess; but SiteGround is far from a low-cost host. While this could potentially be misleading — I don't consider this a problem if you are looking for quality hosting services.
They are pretty open about the pricing policy for increased transparency.

Resource Limits
Ever wondered why even the cheapest shared hosting plan is so damn fast? Which btw. is pretty rare for a hosting company and for most customers there's even no need to upgrade to their expensive cloud hosting solution because of it.
It's because each shared hosting plan is limited in resources; making sure that each and every website gets it's fair share of the pie with optimum performance.
Inode Usage Issue
So there's something called Inodes; which is a way to measure the use of server resources by each hosting account. Counted from things like how heavy your website load is, how many visitors and how long and what they do on your site, etc.
If you cross a designated daily resource limit; support will ask you to upgrade to a higher hosting plan or they could disable your website for that day.
The point is that when ordinary hosting would simply slow down your & everyone elses site on the server; all SiteGround knows is how to host websites fast.
Monthly recommended website visitors
StartUp — Suitable for 10,000 monthly visitors
GrowBig — Suitable for 25,000 monthly visitors
GoGeek — Suitable for 100,000 monthly visitors
But good news is coming; I've tried but never have I managed to use even half of the inode limit with more than double the said limit on the cheapest StartUp plan.
Also besides upgrading your account; there's a lot you can do to make your website lighter and reduce resource consumption. Which you should be doing anyway to optimize page load speeds. There's also a whole knowledge base article dedicated to the subject which is recommended reading.
When you go to your hosting control panel (cPanel); there's a Stats sidebar where you can see the Inode Usage data in a neat bar which you will likely stop checking once you start to gain confidence that your site will do just fine.
Have you had a negative experience with SiteGround hosting?
I will be glad to hear out your articulated & sensible comments below.
Notice: A portion of the links contained within the review are affiliated with third parties and may potentially result in monetary benefit to the owner of the blog.
I've done my best to stay sincere; thank you for reading and your support!