List of the best organic crowd search platforms meant for boosting search engine rankings and increased traffic in 2023; alongside backlinks & other SEO practices.
Here you'll find alternatives to PandaBot, Crowd Search Me & others.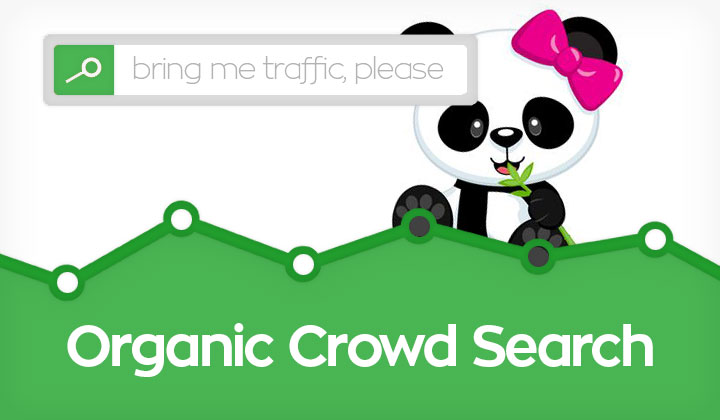 In recent years; there has been a surge in services for buying organic search engine traffic or to get it for free through traffic exchange bots. After varying success the scene has somewhat calmed down and left us with fewer viable choices.
Mainly the idea is to take advantage of manipulated CTR (Click Through Rate) signals and other natural user metrics to boost Google SERP rankings. Also it's a great way to get non-bouncing visitors from different IPs & user-agents.
Here's the list (in no particular oder) with a review on each.
Unfortunately their user base counters are nothing but lead bait; the Serpify never gained any significant popularity despite having good potential for a working traffic exchange service. They have some of their own bots doing the clicking on SERPs & without real users traffic campaigns have so far been a waste of time.
Pros:
Easy interface
Free plan available
Cons:
By far the most advanced service is with PandaBot; which actively continues it's development to this day. Yet it's downfall is in it's brilliance as with so many features there is also a significant learning curve. It seems to have crowd sourced not just the most effective traffic search & browsing tool today but a crowd of complainers that don't know how to use it; which subsequently has lead to a small user-base.
There are still the faithful bunch using it and it still brings the good results for low-traffic search campaigns — learn the three golden rules before starting out.
Pros:
Most advanced tool with best results
Can be used for free
Cons:
Difficult to use with learning curve
Not so many active users
The "smart crowdsourcing rank technology" platform at crowdsearch.me has managed to gain quite a bit of popularity with their simple, easy to use platform.
In fact their strongest points remains an active user base; which however has likely somewhat declined in 2017. Their completely automated tool has other users search for your URL or YouTube video on Google, click on the SERP link to visit your website and use up paid credits to visit and browse the site so the visitor doesn't bounce.
If you are looking for an alternative to PandaBot; this should be able to produce bigger amounts of traffic but you will need to pay for it.
Pros:
Active user base
Easy to use
Cons:
Paid plans only
Less features
While not exactly a crowd-search tool; HitLeap is worth mentioning in this list as it is undoubtedly the most popular automated traffic exchange solution on the web. They have a massive user-base which is able to deliver large amounts of traffic from different IPs, even on their free subscription.
This will not search for traffic through Google; however you can set a custom referrer so it looks like the traffic is coming from Google or any other URL.
Pros:
Most popular traffic exchange tool
Can deliver huge amounts of traffic from varying IPs
Custom referral
Free for up to three websites at a time
Cons:
No Google search function
Traffic will mostly bounce
These were the best alternatives — what's your experience on PandaBot & Crowd Search Me (crowdsearch.me) — or is a service missing from the list? Just let me know in the comments and I'll have a look. Big thanks! Tim.