In this review, and comparison it soon became obvious to me that Payoneer is better overall. Here's the essentials, with the rest of the review to follow.
Receiving & sending money is mostly free or cheaper with Payoneer.
Business transactions are cheaper with Payoneer.
Withdrawing funds is free with PayPal & Payoneer $1.5/withdraw.
Only Payoneer has a $25 sign up bonus (through this referral link).
Question.. "which is better with lower fees?" answered in detail below.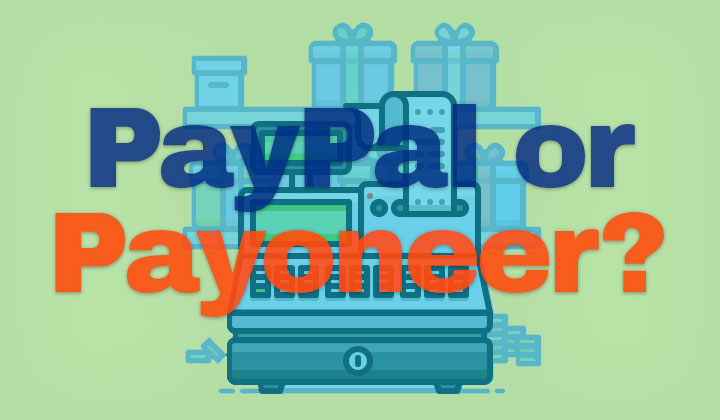 So I put the two competing online payment companies, Payoneer.com vs PayPal.com to the test and scoured their websites in search for answers..
Payoneer vs PayPal Review
[a] New Account Registration
Accounts are free for both online payment systems. And Payoneer has a free sign up bonus of $25 through a "referral link" for new users. PayPal has none.
[b] Receiving & Sending Money
With Payoneer, making payments for purchases etc. will always be free, as well as receiving payments is free for all foreign currencies other than USD.
If both ends have a Payoneer account, receiving USD is also free. The fee for receiving USD from non-Payoneer account holders is fixed at 1%.
For PayPal you can make, or receive free payments only directly from your account balance or a bank account, and both need to be within the same country.
For comparison; if you send or receive money by credit card you end up paying a 2.9% fee, on top of a $0.30 fee for each transfer.
[c] Selling Goods
When you are selling goods or services, PayPal fee is from 4.4% plus $0.30 per transfer — while the Payoneer fee is a fixed 3% for businesses & sellers.
[d] Withdrawing Funds
PayPal only wins the comparison in withdrawing money to your bank account, which is free while Payoneer will charge a flat one-time fee of $1.50 per transaction.
Although for some countries PayPal will ask a much higher fee when withdrawal amounts are (smaller) under a specified limit.
Winner Payoneer
It was easy to figure out which is better, although no one can beat PayPal in terms of market share which it is dominating — like it or not.
However this Payoneer VS PayPal comparison shows that if you can choose it's an obvious choice for those who care about minimizing fees.
Which do you think is better and why?
Let's hear your comments on this review below.
Not forgetting; the posts, reviews and other bits of content presented on my blog are subject to affiliate links. It's a way to monetize the site through your voluntary support (which won't cost you anything of course). My biggest thanks to all readers!
Was the post helpful? Share if you may, please.