It doesn't matter if you're a pro or a total novice.. PeoplesHost provides the two things we all need from web hosting: speed and good support.
And there's more — Free SSL certification to secure your site!
Website owners are increasingly turning to smaller hosting companies like PeoplesHost for better, personalized service. But just like with big companies, choice is crucial — behind the PeoplesHost team, there are experienced industry professionals who decided to go their own way. Now redefining the cheap and slow stigma of shared hosting and beating their competition.
So let's get to the practicalities, shall we — the review.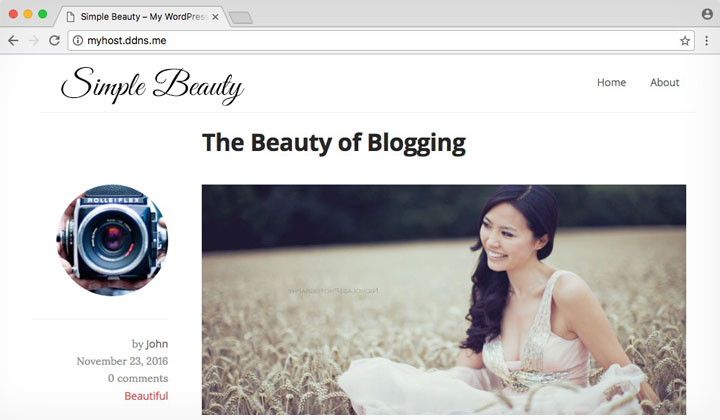 Just like other hosts — PeoplesHost uses cPanel and for good reason; it's the easiest to use, has the best support and provides a one-click WordPress install function (and anything else from beginner to advanced features).
So nothing new there — "easy to use" is no longer a market, it's the default.
What you are getting with PeoplesHost, is essentially a winning combination; everything that Google wants — with fast page loads and a trusted SSL certificate, you'll rank, convert and be trusted more.
Speed Test & Case Study
In this simple case study I have tested how a WordPress blog can achieve top performance by using the cheapest, basic shared hosting plan.
Now that site performance is more important than ever, many are investing on expensive hosting to speed up their site and business. While advanced VPS hosting is still recommended for big companies or the tech-savvy, with PeoplesHost, shared hosting will be adequate for most people as demonstrated below.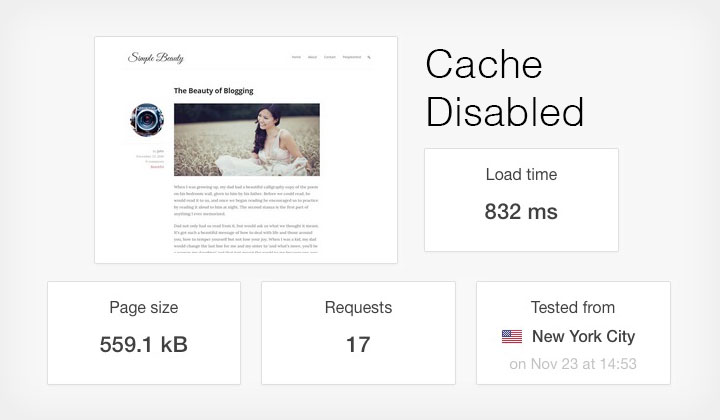 Test Number #1 — 832ms
Every website should be using cache to speed up their websites. But for test purposes, I'm still seeing page loads of less than a second with cache disabled — this is a basic WordPress install, loading many images, fonts and a list of blog posts.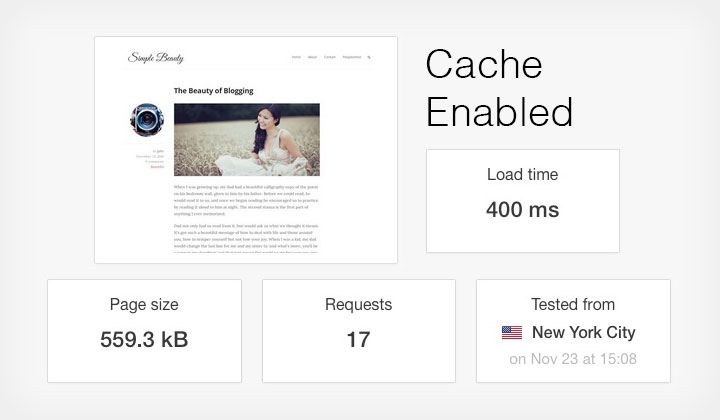 Test Number #2 — 400ms
Second test is more realistic. I've used the free WP Super Cache plugin to enable PHP Caching for the blog. It's all I did and we are down to less than half a second.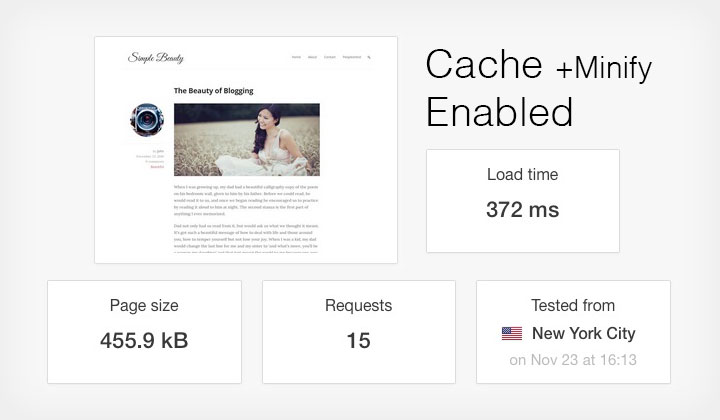 Test Number #3 — 372ms
Next I've minimized the CSS and JavaScript code on the page with Autoptimize — another popular and free WordPress plugin. Minifying is also a really basic trick that most people use, and the load time keeps improving.
I could keep on pushing by removing render-blocking, improving browser caching and compression.. or installing a commercial cache plugin.. but you get the point.
To put this in practice: You barely have time to blink before a page is loaded — given that it takes from 300 to 400 milliseconds to blink your eyes.
Free SSL How to
Traditionally SSL certification has been a significant cost over hosting, used mostly by businesses that mandate protection of secure credit card transactions or other user sensitive information. PeoplesHost is part of a movement to change all that.
Not long after Google announced HTTPS as a new SERP ranking factor, a completely free SSL certificate authority Let's Encrypt was born. Making certification accessible to everyone –– and there is a catch! Your hosting company needs to support it; sacrificing their commercial certificate sales business.
Install
To install the Let's Encrypt certificate for your website, you will need to contact support staff and ask them to enable it for you — and that is all there is to it.
You'll be able to access your site at https://www.yourname.com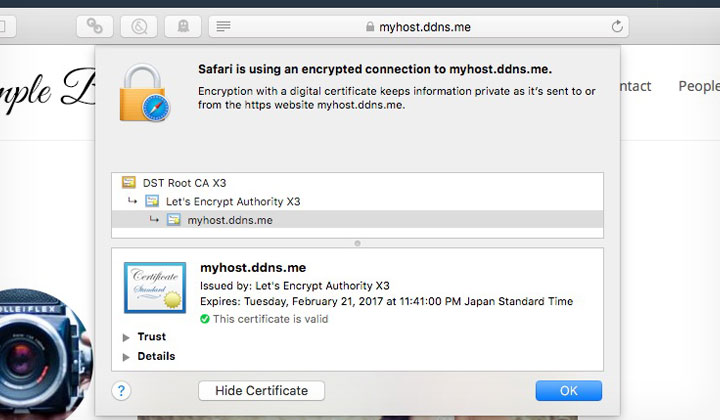 Read: The announcement to support Let's Encrypt
"The way we've got it set up is that a customer must put in a request, we enable it on their account, and they're good to go. There's no module/icon in cPanel that you can see when logged in. We're working on getting an icon/module so customer's can log in and see it themselves as well.", explained Gregg from PeoplesHost.
If you ask me — there's not much point in supporting hosting companies that are not offering free SSL certification, unless you have a big business that wants to profile their company with an expensive certificate authority.
I'm hoping free SSL will be the next industry default after "easy use".
Support & Service
Support is crucial when sudden situations emerge — nothing is worse than congested support and lack of dedication to customer service. Something that troubles many businesses and one of the reasons to read reviews in the first place.
"24/7 support via .. live chat, support tickets, and phone."
Over the course of being in contact with PeoplesHost, I have began to know a competent team that stands behind their words. They know that for them to beat big business, they need to have meticulous support which they have indeed.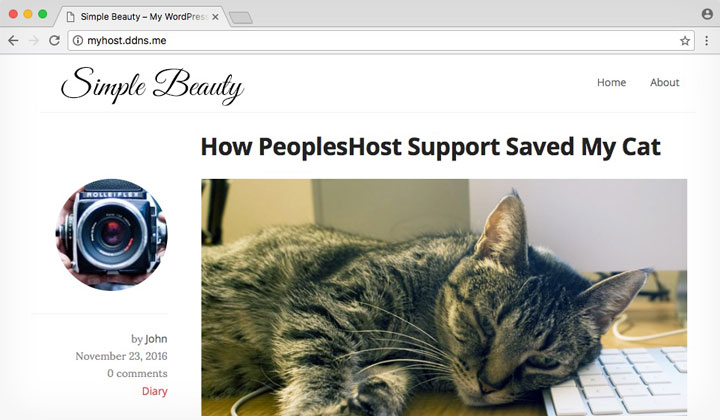 Gregg commented on the issue: "We are a smaller hosting company! Just passed our 1 year in business this October. We offer 24/7 support via our support channels; Live chat, support tickets, and phone."
To which he added: "Additionally, we monitor our servers very closely and are aware when there are any issues. Even though we're a new(er) company, I believe our reviews online speak for themselves. We've focused heavily on providing exceptional support from day 1, which has helped separate us from our competitors as we've built a solid foundation from our support."
Enough said? Get in touch with PeoplesHost.
The Tech Specs
There is plenty of more great features not mentioned in the review — here I've tried to cover the rest of the essential bits. The biggest 'downside' of the service is that storage, and bandwidth is mostly limited. If it fits the resource needs and your budget, then at least you know what you are getting as this is no marketing ploy.
All websites hosted at a "tier 4 data center", which is a technical term, meaning that the server location is equipped with the most reliable uptime technology available. The physical location is in Orlando, Florida. If high performance on a global scale is required, they support CloudFlare CDN and other content delivery networks.
Linux Shared Hosting
Storage: SSD (Starting from 5GB)
Bandwidth: Limited (Starting from 15GB/m)
Free Domain: Yes
Number of Websites: Unlimited
Email: Unlimited
Support: 24/7 (Phone, Chat, Mail)
Uptime: 99.9%
Backups Included: Daily
Server Monitoring: 24h/7
Free SSL: Yes
Money Back Guarantee: 60days
Linux VPS Hosting
CPU Cores: Starting from 4 until 8
Storage: SSD (Starting from 30GB)
Bandwidth: Unlimited
Free Domain: Yes
Operating System: CentOS 7 (64-bit)
Support: 24/7 (Phone, Chat, Mail)
Uptime: 99.9%
Backups Included: Weekly
Server Monitoring: 24h/7
Free SSL: Yes
Money Back Guarantee: 60days
Final words:
If I'm being overly positive, not finding anything wrong with their hosting services — I am still realistic and think that no host is free of mistakes or bad calls. That's why being transparent and effective in responding to problems is one of the most important traits a hosting company can have. I am simply thrilled to see a smaller player like PeoplesHost to excel in so many areas — beating the corporate hosting takeover.
Thanks for reading — if you want me to cover something else in this review or have any questions just let me know. And good luck.