Search for promo coupon codes or a discount for SiteGround – and every website has nothing to offer but an affiliate link for you to click. This guide will show you what's real and what is not – and how to get the best discount in September of 2023.
SiteGround does not use coupon codes. Zero, zip, zilch, nada!
SiteGround doesn't have 'special links' that activate discounts
SiteGround promotions only available through siteground.com
Now that this is clear.
This is trick will get the best 70% off discount, all year round.
There is a way to apply additional discount for all the hosting plans within the site itself. Just follow these simple step-by-step instructions to find the 'secret discount screen', giving you the same offer as 'black friday', except you can get it anytime.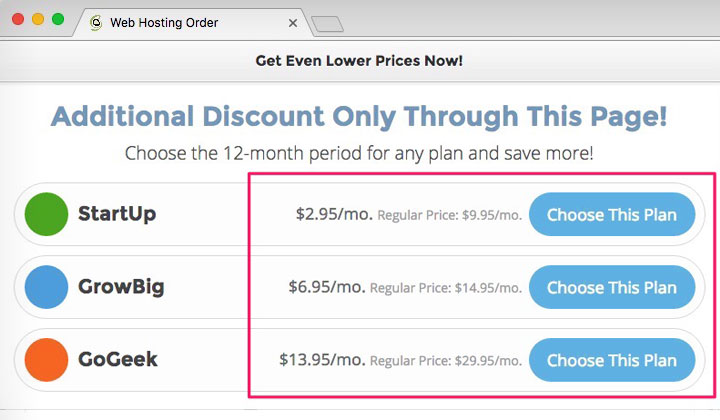 Additional Discount Step-by-step Instructions
Make sure to go through every step – if it works for you, please leave me a comment and share this post to others — verified working September, 2023.
Thanks very much & I hope you enjoy it!
Step 1. – Open up this page.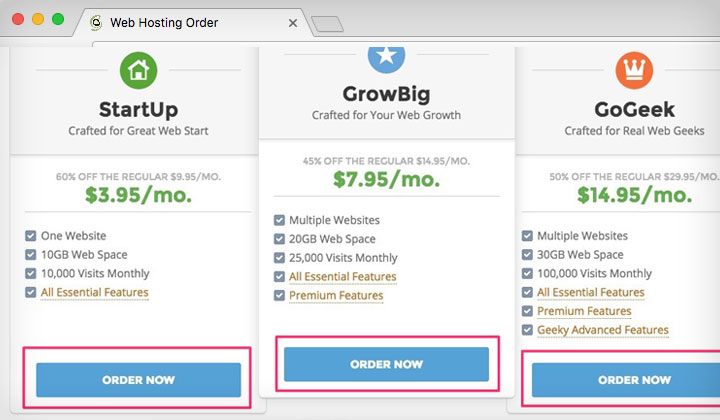 Step 2. – Click on 'Order Now" to choose a plan as normal.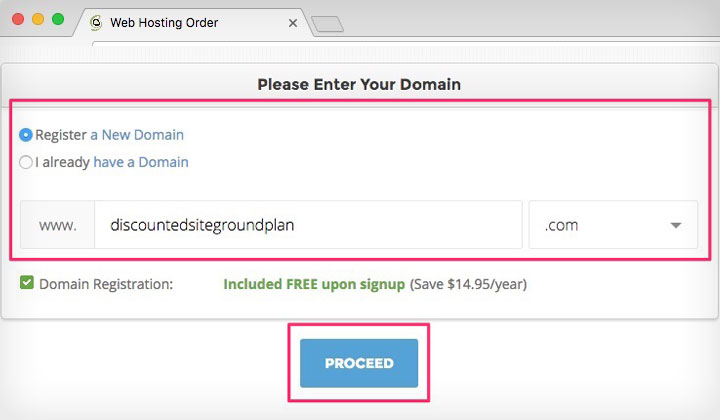 Step 3. – Choose 'Proceed' to go to next step.
Note: You can choose either "register a new domain" or "I already have a domain".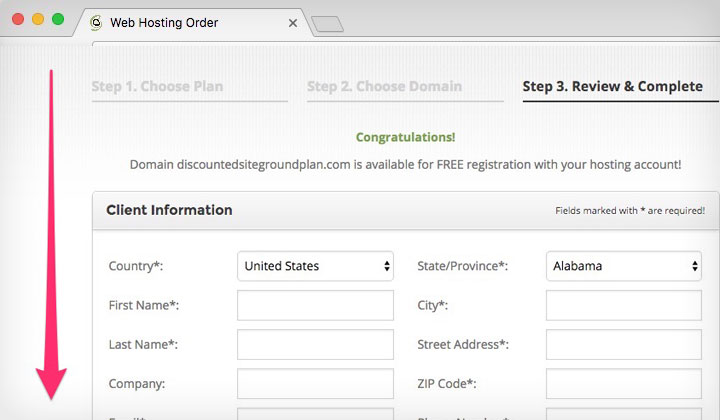 Step 4. – Scroll to bottom of page.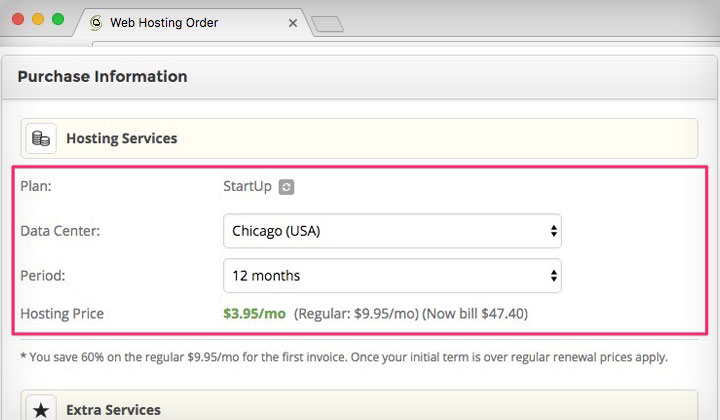 Step 5. – Check price at regular 12 months discount of $3.95/month.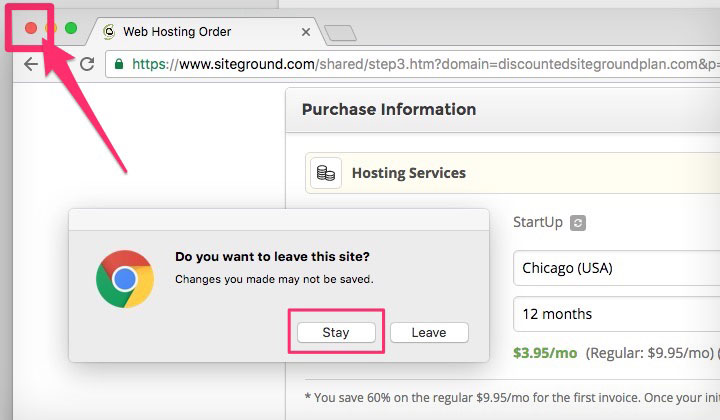 Step 6. – Attempt to close the browser window and answer 'Stay' to question.
Note: It will look different depending on the browser you are using. But the pop-up message "Do you want to leave this site?" should be the same.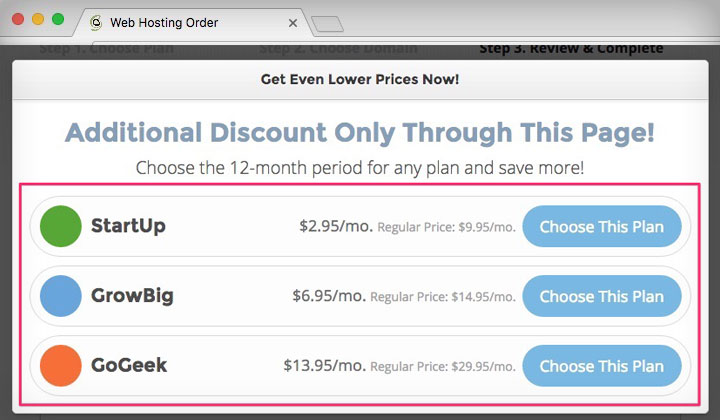 Step 7. – If successful, you will get a pop-up window with an option to lower the price for the biggest discount only through this page.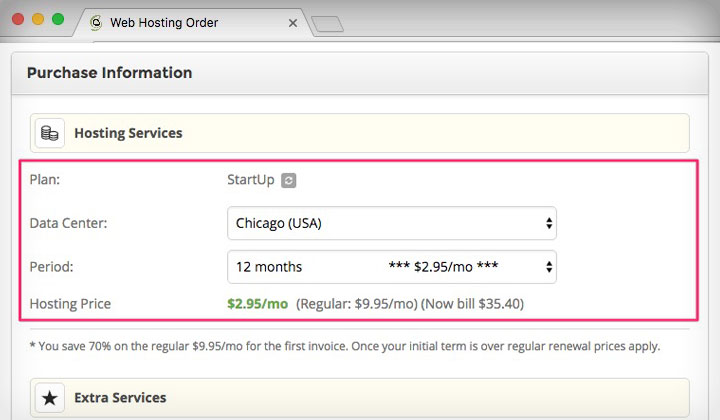 Step 8. – Go through the order process again and the additional discount will be automatically applied to your plan.
Available discount 12 month promo plans:
StartUp: $2.95/month (normal discount: 3.95/month)
GrowBig: $6.95/month (normal discount: 7.95/month)
GoGeek: $13.95/month (normal discount: 14.95/month)
Tip! Cheaper for Multiple Years
The above discount is applied to 1 year plans only. After the initial subscription is over – you will be charged the regular yearly price.
This is why it is much cheaper in the long run to buy a 24 months (2 years) or 36 months (3 years) hosting subscription using the normal discount.
To reset the price to normal discount: use this link.
Example with shared StartUp plan:
StartUp additional discount price for 1 year is $35.4
StartUp next 1 year price is $119.4 – more expensive.
StartUp normal discount 2 years price is $94.8 – much cheaper!
Regular price for shared hosting plans:
StartUp hosting plan: $9.95/month
– After discount end: $119.4/year
GrowBig hosting plan: $14.95/month
– After discount end: $179.4/year
GoGeek hosting plan: $29.95/month
– After discount end: $359.4/year
Did this SiteGround discount method work for you?
Comments, questions, suggestions are extremely welcome!
I would like to dedicate to being transparent and inform my dear readership about the possibility of affiliate links present in these posts. Biggest thank you for the support.
Please, share this on social media if ever possible.