I've been using Reclaim Hosting for almost a year now for a side-project of mine and wanted to share my experience; the good and the bad in this review of 2023.
Their "student hosting" is very cheap but… well judge for yourself.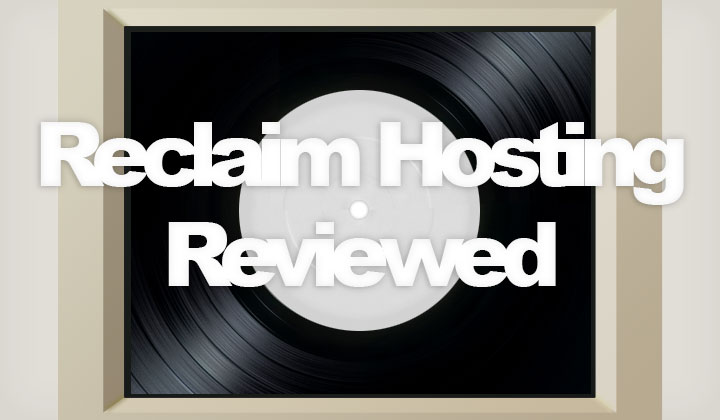 I've listed the pros and cons below but to save your time let's go straight to my conclusions about Reclaim Hosting first — shall we.
So what can you get for $30/year?
I've found the hosting to be quite slow with random server errors on occasion — it's pretty obvious that they are selling over their capacity at this price.
Also this looks like a one man team (or very small at least) but what I do like about Reclaim Hosting is that he is very helpful and active on their support forum.
And they support free SSL to HTTPS secure your website.
I suggest you consider this;
If you are looking for really really cheap hosting and it doesn't matter if some of your visitors leave your website because it's too slow or doesn't work — I can maybe recommend student hosting such as Reclaim Hosting.
My observation is that cost-effective solutions are not in student hosting; the cheapest hosting company that I can recommend is FastComet at 3.95/year.
Considering that Fastcomet offers a free life-time domain worth $15/year with Reclaim Hosting; you are paying just $2.4/year more with Fastcomet.
While getting goodies like — 24h/7 fast support, faster hosting with SSD drives, flat renewal price, free SSL, choice of 7 server locations, free backups and a lot more.
Reclaim Hosting Pros
Small company;
This is a very small and personalized hosting company for a warm, fuzzy feeling if that's your kind of thing. But there are cons to this also.
Cheap for beginners;
If you want to save every penny you have; this can be good place to explore.
Free SSL;
Nowadays many hosting companies offer free SSL which means that you can run your website on HTTPS security for free. This includes Reclaim Hosting.
Reclaim Hosting Cons
Mediocre performance;
Stuffing servers with too many users to cover the cost is by far the biggest downside. This both slows down websites and makes them more prone to errors.
You are likely to be effected by this problem the most when using WordPress which is much heavier than hand-coded HTML websites.
Unlimited bandwidth;
This is actually a con — limiting transfer amounts to sensible figures that are enough for most users would help to reserve more resources making websites run faster.
Small company;
This can be both a pro and con; it can be nice to support a smaller company but this also means no fast support if something goes wrong to name one downside.
Hosting plans bore;
You cannot improve performance with plan upgrades; just more storage.
Final words
The student hosting space has become a huge business for it's image on cheap solutions to run WordPress and other easy to use websites.
However it's a market that has seen unfortunately little progression and looking at other solutions is often much more cost-effective.
Hope you have benefited from my review of Reclaim Hosting.
Comments, questions and other suggestions are always more than welcome!
Further notice; some of the content within the WebHostWhat blog may contain affiliated links which the author can profit from. This is no added cost to readers and is a huge help in running the site — my biggest appreciation and thanks to everyone.