In this review, I've tested the traffic exchange services from Traffic Virals, which has major issues in 2023. Therefore, my suggestion is to consider an alternative.
What's the problem with Trafficvirals.com?
Besides some faults with their interface, seems there's not enough users to actually generate sufficient amounts of traffic. Which can end up wasting your time;
It took 10 hours to receive the first visitor to my website
I received a maximum of 4 visitors per day
The likely best alternative to Traffic Virals is HitLeap.
They are currently the most popular traffic exchange service today, with a huge number of active users for unlimited amounts of unique, natural, traffic.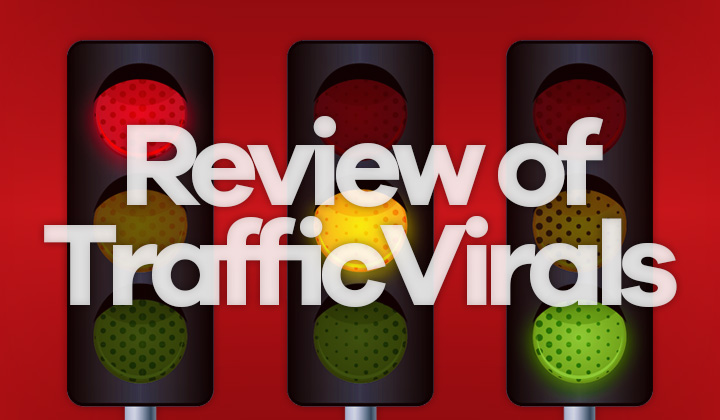 Do note, that actually there are very few sites that can provide large amounts of traffic from wide range of different geographical regions, countries.
Everybody wants to use the site with the most users for the obvious reasons when it comes to traffic exchange, and that's though competition.
But knowing which site is the best alternative, and most popular is not obvious at all. However, I hope that's where I can help out with years of experience.
When testing out Trafficvirals.com, it's pretty obvious that they have been left out from the competition. Perhaps their traffic exchange interface is to blame.
My Trafficvirals.com Review
While "Traffic Virals" has managed to create a sleek, good looking website, the actual system under the hood was not at all as straightforward.
It took some time to figure out where everything is. The "Browsing" link at the top takes you to the traffic exchange page, where you can create "session slots".
By running these slots, one allowed per IP address, you can start collecting free points that are later exchanged for traffic for your own "website slots".
To supposedly start receiving the traffic (which I actually never really got), you have to click on the little hamburger menu icon at the top and go to "My websites".
What can pose a problem for many, is that you have to use your own web browser to start collecting points. Unlike better alternatives, there is no separate app that you can easily lave running in the background while you are using your computer.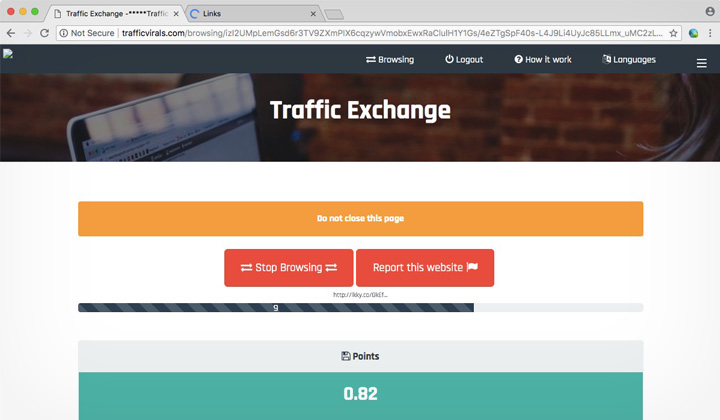 You also need to install their extension for your web browser (Firefox, Chrome and Opera are supported). Which is not something you want to leave enabled at all times.
For Firefox users (second most popular in the world), you have to do advanced configuration and set values. Something that most users will likely turn away from.
Either way, the lack of users that can actually create the traffic which is the whole point with traffic exchange in the first place.. is the most decisive factor.
On the positive side, apparently their interface supports several languages besides English, such as German, French, Japanese, Dutch, Serbian, Turkish, Arabic, Spanish, Italian, Korean, Russian, Swedish as well as Chinese.
The rules for Traffic Virals were not that clear, but as far as I understood, one point gives you 60 seconds of traffic. You can set the duration for each visit, so that could be two visits for one point, when setting the duration at 30 seconds/visit.
You also have other features on Trafficvirals.com such as;
Maximum hits per hour
Limit of total hits
Geotargeting options
User agent setting (random, or otherwise)
Traffic source (custom referrer or no referrer)
And that concludes my test, and experience with Trafficvirals.com traffic services. Hopefully I can review them again in the hopes they have improved.
Traffic Virals Alternative
Looking at similar sites, the only site like Trafficvirals.com but with the biggest amount of users, and most feature advanced system with their own background app..
I highly suggest HitLeap which you can even use for free.
The system is straightforward and simple to use, without loosing features. Which is probably one of the essential clues that has lead to their huge success.
Hope you enjoyed my review.
Any questions, concerns about traffic exchange?
Or let us know what your experience was with Trafficvirals.com!
Your visit is hugely appreciated, Thanks.
Also I want to be absolutely clear, that some of the links you might click on these posts, reviews and other parts of content can be affiliated and support the blog.