Crowd-sourced traffic exchange & user engagement metrics tool: Serpify — launched in 2014 and continues development. Designed to increase your search engine rankings by creating real, natural visitors that find your website on Google SERP, then click on the link and browse your website. The process is completely automated through a program that each user runs in the background, currently available on Windows. Versions for Mac & Linux are to be released in the future.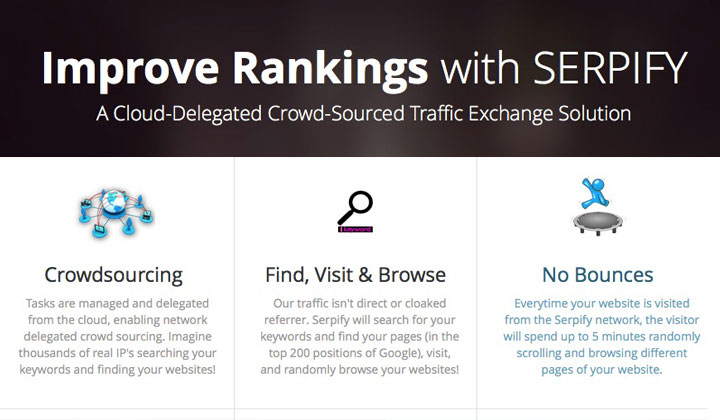 This review and case study is ongoing as we wait for the new 3.0 version expected to be released, currently in June of 2016. I have been in contact with the authors and many new and improved features are expected with this release.
How Serpify Works
Each subscription will give you access to the "Serpify Members Panel", where you can manage and create keyword campaigns as well as monitor keyword rankings.
The program itself can be run in the background, with enough resources and computing power it should not disturb normal usage. It's also possible to run the program on a windows VPS service. Dual processor and 2GB of memory are recommended specs for smooth operation.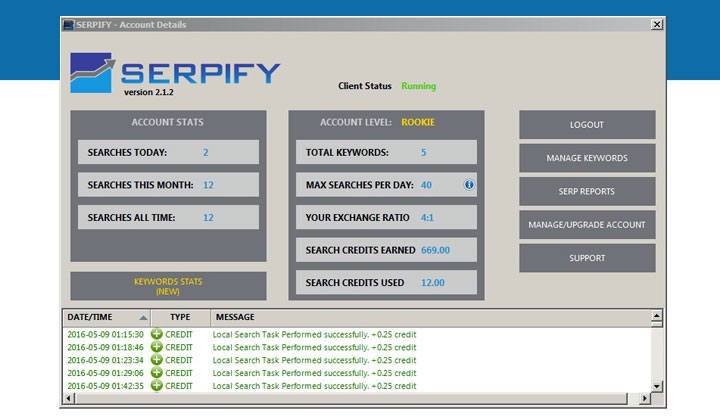 All the activity is hidden, so there is no way to see which websites are being browsed to protect your money site. But what is basically happening in the background, is that between pauses it is searching for the assigned keywords in the top 200 results. Once it has found the target website, it will click on it and browse through the website in a way that has been configured in the campaign settings. Either by going through the same assigned order of pages or by randomizing the visited pages (paying subscriptions only, recommended). The time of length used for each visited page also depends on the subscription level.
These visitors will come from different browsers. Serpify says that it uses thousands of different user agents to create a natural click source profile.
Tips for Setting up Campaign
Undoubtedly you will get the best results by combining keyword campaigns together with other engagement metrics and SEO, such as social media and backlinks.
There are two important factors to consider when setting up your campaign. Keyword variety and search volume. First do your keyword research to know the current search volumes and keywords used for your niche. The idea is to create a realistic volume of searches so that 1) it looks natural 2) you can maintain the level of visitors once you reach good rankings. A lower volume will produce results slower but be more reliable as patience is key here. Without doubt your target page title and quality of content correlates with your chances of actually keeping higher rankings. So if search volume is going to simply spike up and drop down again, this can have a negative impact. For the same reason, it's important not to stop or interrupt your campaign, and keep a steady flow of searches.
As for the variety of keywords, the more there is the more natural it will look under the eyes of Google. However, it is important not to go overboard here either as you need to concentrate on the keywords that you actually want to rank for.
Case Study
I am running a campaign on a test site and will post the results here once ready. Please bookmark or share on social media (links bottom of page) and check back later.
Paid VS Free Account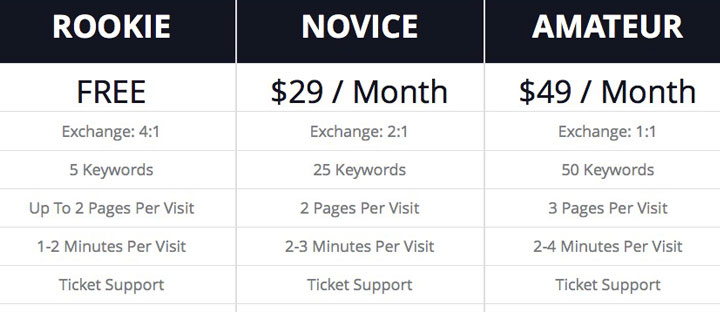 The free account is mostly available for testing purposes as Serpify heavily favors paid subscriptions. The amount of searches you can produce for your website is limited and you cannot randomize the pages that are visited on your website.
For each task that your client completes you will receive credits that are added to your balance. In return, one credit is spent every time someone else visits your website. It is not possible to buy credits separately, so they need to be generated through your client. How much and how fast you can generate depends on the type of account subscription. I would recommend keeping it running 24h/day.
For each successfully completed search task, you get 0.25 credits with the free account, 0.5 credits with the novice account, 1 credit with the amateur account and 2 credits with pro accounts.
Also the free accounts come with a starting balance of 620 credits. And the higher the subscription level, the bigger the starting balance is.
Serpify Discount
Discounts are occasionally available depending on season. Here you can find the latest available promo codes.
You can use this link, and enter "HAPPYNEWYEAR" to get 35% OFF.
This was tested working in 2017.