The Serverpoint company is an interesting find and while some may think it's difficult for web hosting to stand out, they have managed to do just that.
Here's my review on what I think makes Serverpoint.com different in 2023.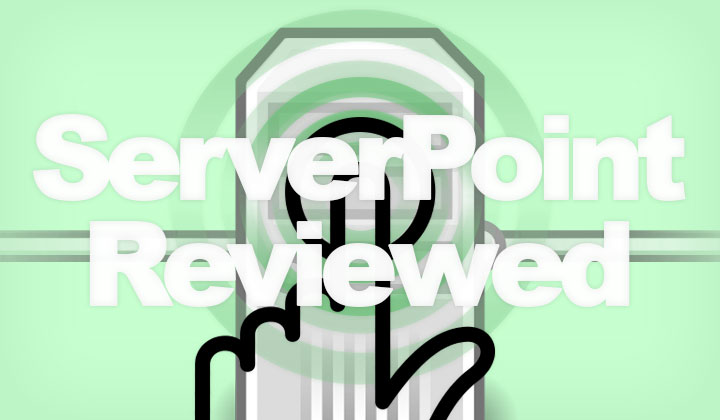 I think their attitude as an outspoken and transparent hosting company speaks volumes about their service, something we don't see often enough.
Just have a look at this about page — getting to know who's taking care of your website matters. Especially when most unexpected and crucial situations arise.
What Makes ServerPoint Different
Private "family" company since 1998. All staff, including support is in-house. The only way to get such a passionate team together, obsessed on perfecting their infrastructure with quality, speed and redundancy at heart.
Experienced support team providing customer dedicated support. And not just through chat, you can contact them by phone any time of the day or night toll-free. You don't get bounced from one support representative to the next.
At the core of hosting; SitePoint completely owns and manages their server infrastructure. Providing direct access to quality of service often used by hosting companies themselves. And when something needs to be fixed, they can act fast.
ServerPoint Hosting Plans
The choice is straight forward — quick review below;
Shared Web Hosting
For blogs, websites & small companies — at the basic web hosting level you are assured plenty of resources to make sure sites run fast at all times (more info).
Cloud Hosting
Most businesses are looking for a cloud but there are huge differences — SitePoint uses dedicated resources to reach the real potential of cloud hosting (more info).
Please note; ServerPoint's cloud is called ColossusCloud.
Data Centers
Global deployment in Singapore, Amsterdam (Netherlands), Silicon Valley (California), Last Vegas (Nevada), Dallas (Texas) & Ashburn (Virginia).
And they are working on more in Europe, Asia & America for 2017.
ServerPoint Introduction
All great ideas need big websites — and thousands of people around the world have created amazing websites using WordPress. With hundreds of websites and blog themes to choose from.. it's easy to find a suitable look for your website. All you need to know is how to drag and drop; WordPress is easily the best option. Making dreams come true by simply starting your website is as easy as ever.
To learn more, please visit serverpoint.com.
How to Get Online with ServerPoint
To create an online business presence you will need three things to get started. A domain, a website and a web hosting provider such as ServerPoint. So let's quickly walk through each one.
When you type an address in your browser to reach a website; that's a domain. And getting one is easy — when you sign up with ServerPoint you get the option for domain registration. And what web hosting will do is to ensure that when someone types in your domain in their web browser — your website shows up.
Every website is running on a large server infrastructure — geeky stuff and nothing to worry about. Then there is the website. And if you already have one, the SitePoint staff will help you to transfer it from your old hosting companies. If you are new at this, it's easy to build a website from scratch by using WordPress. It's the easiest and most popular website tool for design and management in the world.
Once you have all these things together your website is ready to go live. With SitePoint you are spoiled for price and plans start at $1 to find out how easy it is to launch your website to the world wide web.
Installing WordPress with Few Clicks
With ServerPoint there is a very useful feature for shared hosting plans; called the "One Click App Installer". With this tool you can automatically install most popular web applications and content management systems, such as WordPress, Joomla, Magento as well as 70+ other apps directly from the client portal — with a few clicks.
The system installs all the requirements and does basic settings for you. Such as a MySQL database and other software dependencies. Watch the below video on exact steps to install WordPress on SitePoint using the easy installer.
See the below transcript for easy reading!
Let's first log into the ServerPoint client portal. In the menu, click on Apps then click on deploy an App on the top right corner. Here you can see the list of most commonly used Apps. To see the complete list of available Apps, click where it says here. You have the option to choose from more than 70 other Apps: which include blogs, business applications and lots more. To install an application, just select the software from the list and click it's Install button.
Back at the client portal. For the example; You want to install WordPress to the website. First, select the website from the drop-down to which you need to install WordPress. Give a folder name, in case you need to install WordPress to that specific folder. Enter the administrative username for the App and password for the user. Once done, click on deploy App. And that's it!
WordPress is now added to your website. You can see the installed Apps and admin URL in the Apps' page now. Click on it to check out your newly installed App. Just like this — remember that you can use App Installer to install over 70 Apps easily!
And there you have it. What makes SitePoint different is all in their personal service and for-ever dedicated server infrastructure — read more on SitePoint here.
Do you have any questions or comments?
Also experiences most welcome!
Thank you for reading and if you found this review helpful.
And, please share if possible.
Note: This blog contains affiliate links in order to promote the work put into the content and reviews contained within. You support is voluntary, free of cost and hugely appreciated. Thank you for stopping and always willing to hear you out for any concerns.