SiteGround offers pretty good value through it's Reseller Hosting; deploy multiple websites on different locations & IP addresses under the same account — all at a flat low price of $3.5/month per website; cheaper than shared hosting.
In this review I've done the research on what the deal is in 2023 — enjoy.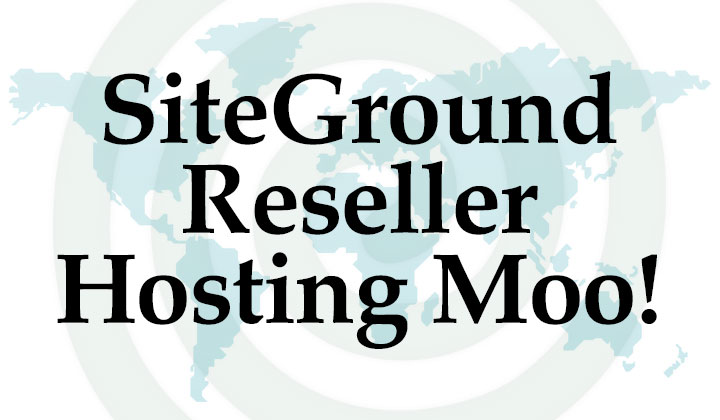 Index of Contents:
With a bigger site portfolio you have some serious linking power in your hands, known as link juice. Having all the sites on the same IP & data center; your multiple website online empire will loose this linking potential as Google and other search engines give out more juice to their favorite brand — diversity.
Sadly this is true for 99% of reseller hosting plans out there; which defies the point of going reseller in the first place. With SiteGround there is no need to pay extra for additional IP addresses. You will get access to all of their 5 data centers in 3 continents (Chicago, London, Amsterdam, Italy, Singapore) to which you can deploy your websites all on different locations — diversifying your website portfolio.
Not forgetting the benefits of SiteGround's fast servers, and good support.
Enough Chit-Chat; This is How it Works!

Reseller Credits
Billing is based on a credit system — you can purchase any quantity of credits and then later use them to pay for newly created hosting accounts or to renew them.
One credit constitutes as one year of hosting on their most basic StartUp plan (more about that later). And the more credits you purchase in one time; the cheaper the credits — starting from $42 for 1credit/1year of web hosting.
It also means that pricing is constant forever; beating shared hosting prices!
SiteGround Reseller Hosting Credit Pricing:
| | | |
| --- | --- | --- |
| 1-4 credits | 5-10 credits | 11+ credits |
| $49/credit | $45/credit | $42/credit |
However to become a reseller with SiteGround you have to purchase a minimum of 5 credits to start with. But you can later do what you want with them; even host just one site for 5 years; cheaper than any other hosting option!

Control Panel
Just like with regular hosting; you will have all the needed controls within the "User Area" backend section of SiteGround (check the tutorial here).
Adding a new account is as easy as selecting <<Add Services>> & <<Activate>> under "activate a new web hosting account". Proceed to enter your desired domain and data center location; hit <<submit order>> and you will have a newly created hosting account in your hands.
With the new account credentials; you or anyone who using the account can access cPanel and manage normal hosting operations.
After a year has passed you will see the renewal option in the billing section.
You will see remaining credits in the "reseller accounts summary" section and can purchase more credits with the <<add credits>> button.

Good Stuff
Besides the relative cheap cost and five global data centers within your fingertips. There's plenty of other perks with hosting on SiteGround in general.
If you are running a blog network or similar without visitors; I would suggest checking for cheaper alternatives mentioned below. If you want fast websites with excellent support, in my opinion you are in good hands.
These three are strong points in my experience:
Hosting industry professionals with extensive experience. Server infrastructure is designed to deliver highest uptimes and fast speeds — for all users on all plans.
On location support with English native staff. 24h/7 instant live chat and phone contact — as well as ticket support with replies within 10 minutes.
Run sites on secure HTTPS with free Let's Encrypt SSL/TLS certificates — installation is just a click away in cPanel.
Since accounts are on cPanel — one click WordPress install is obvious.

Nasty Stuff
A downside is that the accounts on reseller hosting are based on the most basic StartUp plan; which has some restrictions compared to higher level plans.
Main issue on resource limits:
While bandwidth is unlimited; website resources are not. And the recommendation is to host websites with up to 10,000 monthly visitors on the StartUp level. Meaning you could need a plan upgrade for bigger amounts of traffic.
In my experience this is limit is largely over estimated. I've run fast sites with more than double the traffic running on heavy WordPress installs. Ultimately it depends on the type of website and how much visitors use website resources.
So in theory if so called "CPU counts" reach a maximum daily level, support will get in touch with you asking to upgrade. And the upgrade procedure with reseller accounts is similar to normal hosting except it's cheaper.
As you already have a year worth of hosting per credit; to upgrade you will simply pay the difference between for example the StartUp plan and the next level GrowBig plan; which is $4/month per account. While the difference with regular shared hosting would be about $5/month (more details in the q&a).
So if you have heavy sites; reseller hosting will be significantly more costly however still the cheapest offer available. And low to medium traffic websites will be fine!

Alternatives
According to my research there's no SiteGround reseller hosting alternative that would challenge SiteGround's reseller plan in terms of hosting quality.
Here's a review of alternative scenarios worth considering:
Cheaper Alternatives
If you want to host several websites under one account (a) cheaper and with (b) decent performance (c) different IPs & locations; I would have a look at Fastcomet with 7 data centers around the world. They offer quality shared hosting from 2.95/month per website, they also have flat pricing without surprises.
I would be very wary of any hosting company offering anything under $3 and this is the only one I know I can safely recommend.
Blog Networks
If the websites are not serving real visitors; SiteGround will be a waste of investment as there is no need to pay for such good website performance & uptimes.
A much more affordable way to host websites with more than 250 world-wide locations to choose from; MultipleCloud costs from $1.66/month per IP/website. On the downside this is a "SEO Hosting" but the name has been re-branded for a reason as it's one of the most secure, low footprint options available.

Questions & Answers
If you have any questions check out the answers below or get back to me in the comments section and I'll do my best to help out — thank you!
Which locations can be used for reseller hosting?
You can use anyone of the 5 datacenters – Singapore, Chicago, London, Amsterdam and Milano (this is despite the full feature list stating "server on three continents, 4 data center locations" which is apparently old information).
So you can chose the server that is close to your clients as a reseller.
Can accounts be on different location and how are IPs assigned?
Every account can be set on a different server/datacenter. Usually they will be set automatically and every account will have its own unique static ip.
Which plan accounts use?
The reseller hosting plans are StartUps and in case you need more resources and space you can always upgrade to a higher plan like GrowBig or GoGeek with a credit card payment.
How to upgrade the plan if needed?
The upgrade of the hosting account happens by paying the difference for the remaining months of hosting on the higher plan. And the difference is calculated by the already paid amount / the credit and the higher plan price + remaining months.
About $4 a month difference for an upgrade from StartUp reseller to GrowBig account. And the good thing with the credits is that the credits price does not change. Startup reseller account can be renewed again with 1 credit; which is a lot less than a standard StartUp renewal.
Thanks for reading my review and comments welcome!
More on reseller hosting here.
Note: WebHostWhat and SiteGround are affiliated and placing orders on their website after clicking some of the links on this post could potentially have monetary benefit.
The article is based on my own truthful experience, in support of my blogging habit and a hosting company that I really feel truly deserves all the credit they can get!