I'm using this space as a buyer's guide, and promo-watch to report any possible ThemeForest & Envato Market promotions and discounts. Watch out for coupon code sites, they are all fake as Envato doesn't use any coupons.
In this post, real deals and discounts only..!
New December, 2023! Free themes and files of the month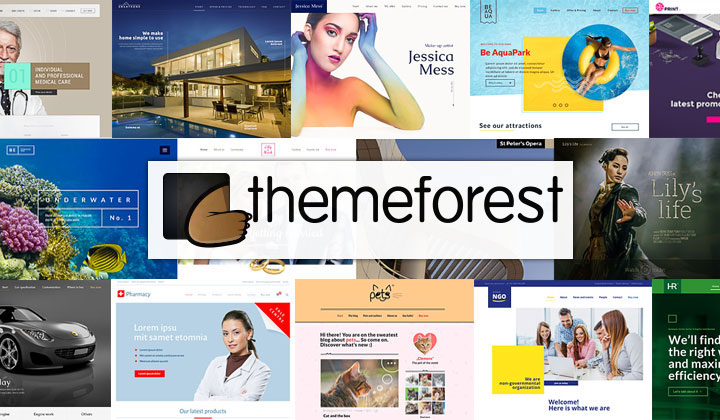 Images curtesy of BeTheme responsive WP templates.
Bundle Promotions & Offers
If you are looking for discounts on the Envato Market where ThemeForest is located in, there are two main promotion channels. One is known as "Envato Bundles" which offers bundled content packages for web designers. Each deal is different and may contain things like fonts, apps, mock ups, add-ons, icon packs and so on. You can get a lot of value and quality material to work with for the fraction of the price that you would pay for everything separately.
There are also the "Envato Offers" which are more frequent. You can subscribe to their mailing list and be notified every time there is a newly running offer available. You can get big discounts on all sorts of hand picked items from the Envato Market. This could include photo packs, email templates, themes, add-ons, modules, music & sound samples, and more.
New! Check out the official Evato Offers Twitter account to follow updates.
Coupon Codes & Discounted Themes
There are no coupon codes for making regular ThemeForest purchases and the Envato Market neither supports them. This is largely because of the nature of how the marketplace operates, which consists of individual sellers who have the control to set their own pricing. So the company does not have the permission of authors to offer discounts on their own products.
This effectively means that themes, templates and some other items cannot be discounted. Even thought there are plenty of websites claiming to offer so called ThemeForest coupon codes and campaign activation links. They are simply cashing in on false hopes and I suggest to stay away from such scams.
About Envato & ThemeForest
The 2008 launched company has set up several seller-buyer portals to satisfy the creative needs of web designers and developers, all under the "Envato Market". The most popular marketplace, "ThemeForest" is the leading portal for themes, and other shops such as CodeCanyon, VideoHive, AudioJungle, GraphicRiver, PhotoDune and 3dOcean complete the spectrum of designer content. Each offering highly rated products for all aspects of designing and developing websites. All content is manually checked by staff to maintain strict quality standards.
The variety of themes and templates available includes WordPress, Joomla, Drupal, WooCommerce, Shopify, Tumblr, Facebook and much more. In June of 2016, ThemeForest contained a whopping 24,255 website templates and themes for purchase. Making it the largest global community on the market.
Their latest project is "Envato Sites" which is a modern website builder which let's you build your own design and have the website running in less than an hour.
ThemeForest Supported Formats
List of supported theme formats.
Content Management Systems (CMS): WordPress, Concrete5, Joomla, Drupal, MODX Themes, Mura, Moodle, Webflow and others.
eCommerce: VirtueMart, 3dcart, WooCommerce, Ubercart, Cart66, CS-Cart, PrestaShop, OpenCart, Drupal Commerce, Shopify, Jigoshop, Easy Digital Downloads, Ecwid, Magento, Zen Cart, osCommerce, WP e-Commerce and others.
Marketing: Email Templates, Landing Pages, Pagewiz, Instapage, Unbounce Landing Pages.
Others: HTML Website Templates, Adobe Muse themes and Muse templates, Sketch App Templates (UI Design), WordPress Plugins, Scripts (PHP, JavaScript, .NET), and more!
Click here to check for current offers.
— Page outdated: please, see above for new working links in 2023.
Don't hesitate to leave a msg if you have any questions..!
And check back later for new promo updates and developments.
Thanks for visiting my page, if possible share. Tim.
Please be aware that to support this blog, I've placed affiliate links at appropriate locations not just for monetary benefit but for the benefit of readers too. Thank you.