In my experience Uniregistry makes a great home for your domains with a beautiful and feature rich interface — but renewal can be costly depending on the domain.
Before continuing with this review; I suggest checking renewal pricing here for December of 2023, to know if it's worth it or not, or use the domain search option below:
If you need to squeeze on costs; see NameSilo for best Uniregistry alternative.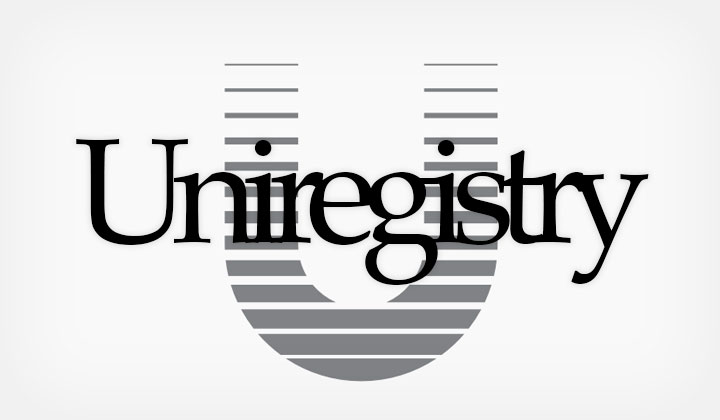 Uniregistry at a Glance
With a huge number of top-level domains for register and new ones coming in every week; the Uniregistry is desgined for easy management of any number of domains.
Here are some statistics from 2017:
More than 3 million domains registered
Top 6 TLDs are .com, .biz, .casa, .click, .club, .email
Free domain WHOIS (contact information) privacy
On average more domain transfer gains than losses
Domain name registry since 2012 (currently Uniregistry is the administrate of 25 generic top-level domain names — see below)
ICANN-accredited domain name registrar since 2014
Uniregistry market for buying & selling domains
Native website designer — Molly
Administrated TLDs are .photo, .juegos, .help, .hiphop, .flowers, .gift, .cars, .auto, .christmas, .hosting, .guitars, .pics, .audio, .property, .click, .blackfriday, .link, .lol, .tattoo, .hiv, .car, .game, .diet, .sexy and .mom
Uniregistry Ad
Watch the latest TV ad from Uniregistry; "The right domain can change your life".
Transcript:
Hi, this is Jim Wilson. We have a patented super-slippery compound.
Jim: Hello?
Female: Hi, my names is Allison. I was wondering if you guys got my head-shots and if there is any feedback from the casting agents?
Jim: By email?
Female: My Facebook account is alisonbaby83.
Jim: slipperyguy72@…
Female: It's the 5th link down.
Jim: It's Wilson.
Female: I'm more like, a sexy blonde and a cute brunette.
No, it's Allison. Hello?
Male: What I need is sexy.
Jim: I think I'll be able to help you today.
Uniregistry Domain Transfer
How easy is it to transfer your domain to Uniredistry?
Log into your current registrar and:
find the domain that you want to transfer;
find the lock setting and make sure that that is turned off
save your changes
Next, find the authorization code and usually, you email that to yourself.
Then go to your email inbox and copy that code.
Next, log into your Uniregistry account and click transfer at the top of the page. Then type in the domain that you are transferring, and paste that authorization code and click continue.
Next, set the contact for the domain. Remember that at Uniregistry privacy is free so, you can enable or disable WHOIS privacy and click begin transfer.
Next, find the transfer authorization email that sent the FOA and approve that. After a few click-throughs to approve the FOA; you will be re-directed back to your transfer page where you can begin the actual transfer and click through to approve that.
Then you just need to approve payment. And you will get a full year of registration to your current expiry date when the domain transfers and you're done!
Frank Schilling on Uniregistry
Think about the beginning of the internet; content started on government websites, .gov or .mil for the military and then gradually, companies realized in '93, '94; wow! there is this new thing called the internet, I have got to get my content online.
They gravitated to the name spaces that were reserved or created for commerce; which was .com. The GTLD is a Global Top Level Domain name, it's the real estate to the right of the dot. Today there is just a handful of GTLDs, a part of the of the problem in naming is that all the good names are gone but in 2014, that's all going to change as thousands of new top-level domain names come to market.
We are going to have dot anything you can imagine.
You have .cars, .realestate, .food, .travel, .shopping and any brand; you can have .ford, ,Chrysler, .coke. I think it will be confusing at first but…you drive down the freeway and you see drink.johnnywalker; it'll just become more logical to you.
The names and labels that people use to navigate on the web, that hasn't changed. What's changed is the location of the dot. Rather than usedcars.com, people will go to used.cars. There is a land rush of great, great, descriptive, generic domain names coming that anyone can register on a first come, first serve basis.
When future generations look back on the internet today, they are going to think; how did we get by with this narrow selection of names. It's so much better now.
— Frank Schilling, Managing Director of Uniregistry
Find more reviews and opinions about Uniregistry here!
Thanks for reading and hope you enjoyed the review.
Sharing this post if your domain portfolio benefited from it — is hugely appreciated.
A note to readers; there may be affiliate links in this and other posts while browsing the blog but I've done my best so that you won't be affected by them in any way. Happy domain hunting and my most warmest thanks for your support. Always, Tim.