Traffic exchange from WebHits.io was nothing but a waste of time for several reasons. Here's my honest review of 2023. And a way better alternative.
My Problem with WebHits.io?
The main issue, was that after waiting for months, my site was not approved to the system. This means, (1) you cannot get traffic, and (2) they don't have users.
Yes, WebHits didn't even work.
I recommend looking at HitLeap traffic exchange instead.
Most importantly, HitLeap is one of the most popular traffic exchange programs in 2023. A huge user base is vitally important for quality traffic.
But they also address many of the other issues I found with WebHits.io, that I will briefly outline in the rest of the review. Enjoy!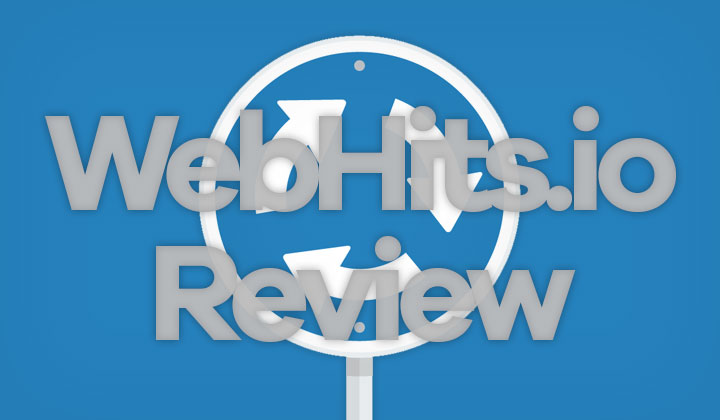 The traffic provider at WebHits.io is basic in functions, but the idea is pretty much the same as with most other traffic exchange services. You view other users sites, which then collects points that you can use to order traffic from users in return.
Optionally, you can purchase points and just get traffic.
My WebHits.io Experience & Review
Any traffic exchange service, will need to have as many active users as well as new users coming in regularly to keep providing traffic from unique, fresh IPs addresses.
And the competition amongst such services is tough, requiring fast approval of websites to the system and an easy, working system for collecting points.
None of which WebHits.io provided in my experience.
How Browser Sessions Work;
Even if you cannot get actual traffic, you can still collect points by running a "browser session" directly on your web browser, this has multiple issues.
Normally traffic exchange has a separate program, which you can run in the background, with sounds muted. With HitLeaps.io however, you'll have to use your own browser. Which also means, that there is no mute option. So all the annoying YouTube videos and other sounds that run in the background will make a sound.
So basically, I would not run this on a machine that I am actually using.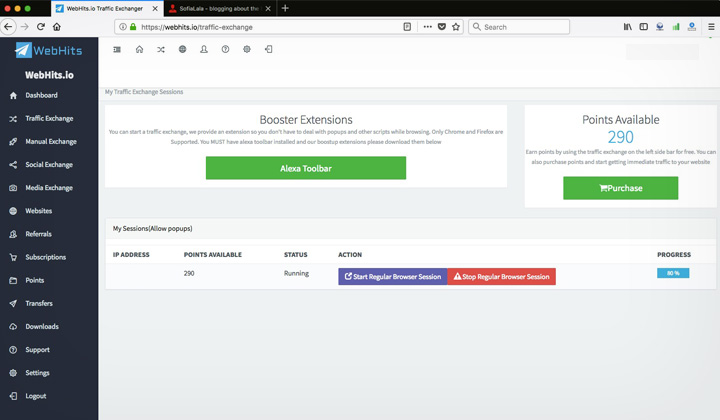 This is what the browser sessions looks like. It rotates the viewed websites in a new tab, while having the WebHits.io website opened in one tab.
It works on Chrome & Firefox, and you'll need to have the "Alexa Toolbar" add-on or extension installed. Also they say that you need their "boostup extensions", however haven't seen a download link anywhere and seems to run fine without one.
Traffic Exchange Features;
I didn't see any features at all. Just collect points, and add websites which start gaining hits if they get approved. Which was not my case obviously.
Better WebHits.io Alternative
With the fierce competition on which website gets the most users, as that is naturally the best place to sign up in. You have to choose with care.
As suggested, HitLeap Traffic Exchange is currently one of the most popular such services, so you'll have no problem getting as much traffic from there as you need.
They offer loads of features but let me mention;
To collect free hits, you have a separate program that mutes sounds and is light to run in the background while you work or use the machine.
Traffic can be geotargeted, for visitors from desired country locations
Websites are approved immediately to start receiving traffic quickly
You can set custom referrals (website where the user is coming from) such as Google, Facebook, Twitter, or any website URL of your choice.
Huge amount of users with natural residential IP addresses for safe traffic
Anyway, even if WebHits.io would have approved my website, their features and amount of users are unlikely to ever compete anywhere near to HitLeap.
That's pretty much it. Hope you enjoyed my review of WebHits.
Any questions about traffic exchange services?
Or what's your experience with WebHits.io, keep up informed!
Your visit is much appreciated, Tim.
Be informed please, that some, although not all, links are affiliated with companies that they are linking to. This is voluntary support for the blog. Thank you.