On this post I maintain an up-to-date list of the best available promo codes and coupons for Reclaim Hosting (at reclaimhosting.com).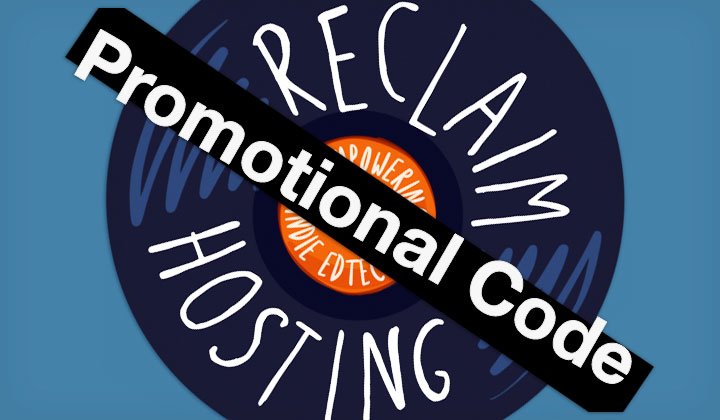 Dubbed as "best student web-hosting" — Reclaim Hosting brings exceptional value for an exceptional price; doesn't end there though: read below for max 20% discount.
New Offer!
Complementary SSL certificate to host your website on HTTPS for free..
— –> Click here for more info!
Reclaim Hosting Promo Codes
This is the best offer available — not a huge discount but the pricing is extremely low already and why not save a little extra if you can. Enjoy.. 🙂
Best Coupon 20% OFF >> WEBHOSTWHAT20
Valid for 2017 — should work for all hosting plans, if not try the one below.
Second Coupon 10% OFF >> WEBHOSTWHAT10
Valid for 2017 — works on all hosting plans.
Reclaim Hosting Plans
The main difference between the different available hosting plans is the amount of allowed storage — as all come with unlimited bandwidth.
Personal — for Student/Individual
Max. 2GB Storage
Free Domain
$30/year (or $24 with above coupon)
Professional — for Faculty/Professional
Max. 10GB Storage
Free Domain
$50/year (or $40 with above coupon)
The Works — Organizational
Max. 100GB Storage
Free Domain
$100/year (or $80 with above coupon)
About Reclaim Hosting
Founded in 2013; Reclaim Hosting is a favored hosts amongst students and educational institutions. It also provides affordable web-hosting to other individuals and businesses — as you are not required to be a student to sign up for their services.
It is a low-cost option for those who still need a quality platform with ease of use and great customer service in mind.
Comments & feedback is very welcome, thank you!