Considering using the site builder with HostGator in 2023? Read my review on what you need to know and your options before you commit to it.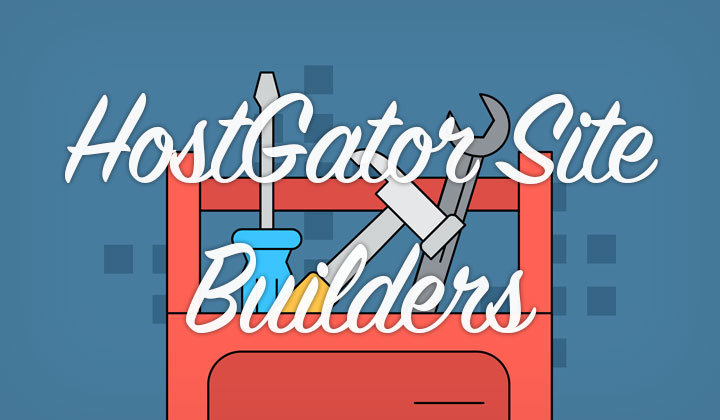 What you need to know first;
I absolutely recommend website builders if it's the first time you are starting a website, and not interested in the technical details on how sites work.
And while HostGator provides a very good easy-to-use site builder, this means that you will be committed to them — and to paying $16.90/month.
Unfortunately there's little that can justify this because, you can find an equally good website builder from FastComet Hosting — at $2.95/month.
They provide quality hosting on fast SSD, that includes a lifetime free domain, free HTTPS security, and of course a free website builder.
You can compare HostGator VS FastComet Hosting here.
But do continue reading to consider your options with HostGator!
Website building for beginners on HostGator;
I would put it like this — only use WordPress if you are interested in learning how websites really work. Without prior knowledge of building websites, if you just want to get your site up and running quickly, you are prone to mistakes, you could sink in the SERP or be venerable to hackers. WordPress has a learning curve.
If you are only interested in creating a website or blog…
Then website builder is for you!
Websites are not a canvases to drag-and-drop your website creation on. Despite this, web site builders have been able to achieve exactly this!
This San Francisco based company has around 50 million customers around the world, making it one of the most popular website builders.
You can enable their service together with HostGator hosting at $8.99/month extra, which just doesn't make any sense, when you can use Weebly directly without HostGator. And that way it will obviously be cheaper too.
Feel free to ignore this additional service from HostGator, costing $4.95/month extra. This is only for building a separate mobile version of your website. In December of 2023 mobile and desktop version of websites work together.
It's import to understand, that the basic version of the HostGator native sitebuilder is pretty much for testing purposes only. Even within the 6 pages limit, it's very difficult to actually get anything done with it without upgrading to the pro version. Which does work well once you pay for the upgrade of course..
Here's the cost on top of a regular shared hosting plan.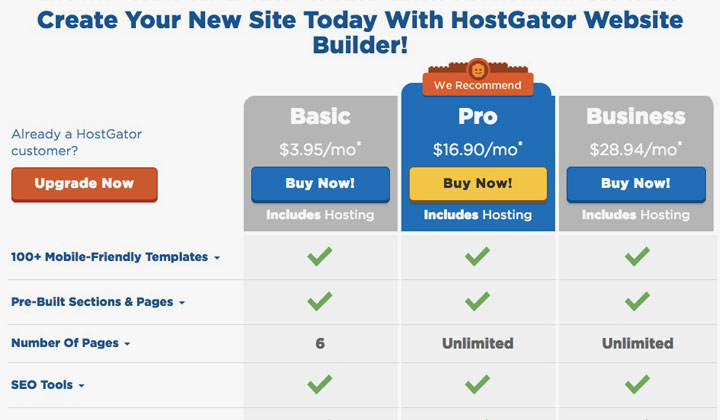 Professional Website Builder;
$12.99/month, billed at $12.99 for 1 month
$10.99/month, billed at $131.88 for 12 months
$8.99/month, billed at $215.76 for 24 months
$6.99/month, billed at $251.64 for 36 months
Business Website Builder;
$24.99/month, billed at $24.99 for 1 month
$20.99/month, billed at $251.88 for 12 months
$17.99/month, billed at $431.76 for 24 months
$15.99/month, billed at $575.64 for 36 months
I recommend first signing up with a regular shared hosting plan, likely hatchling and getting the website builder as an extra with HostGator.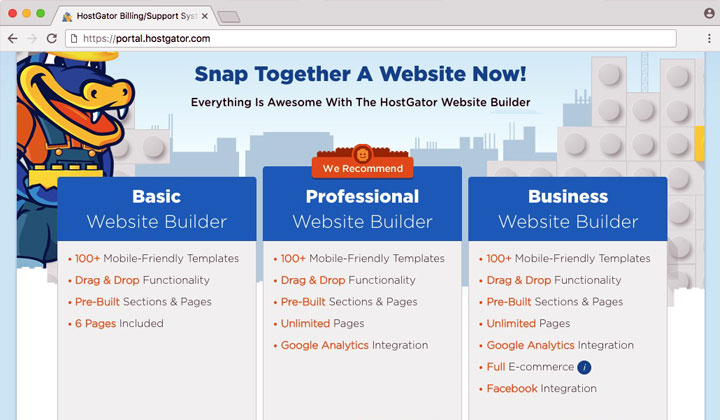 So let's have a look at an example of purchasing the plan..!
Purchased together with a new hosting account;
$3.95/month for Hatchling Plan
$12.99 for Professional Website Builder
== total $16.90/month
$3.95/month for Hatchling Plan
$24.99/month for Business Website Builder
== total $28.94/month
End of my review on building website for beginners, and those who want it easy.
Read my extensive tutorial on using HostGator Website Builder here.
HostGator also has one-click installs to the following platforms. However, most of these are not very popular or easy systems and therefore not recommended;
Joomla, Drupal, b2evolution, concrete5, e107, glFusion, Hotaru, liveSite, Mambo, Modx, Nucleus, ocPortal, Open Atrium, PHP-Nuke, phpwcms, Pligg, Saurus CMS, Textpattern, Tiki, Trendy Site Builder, Typo3, Xoops, Zikula.
Thank you for reading my review. Any questions about website builders?
And what's your experience with HostGator? Please, share!
And I'd like to end this with a kind notice that some of the posts on my blog have affiliate links which support and encourage my work long into the future. Wishing for a mutual benefit from your voluntary contribution. Much thanks, Tim.