The free SSL certificate authority has gained popularity through Let's Encrypt supported shared hosting — but what about VPS hosting plans in 2023?
Here's my research on Let's Encrypt for VPS, Cloud & Dedicated Hosting.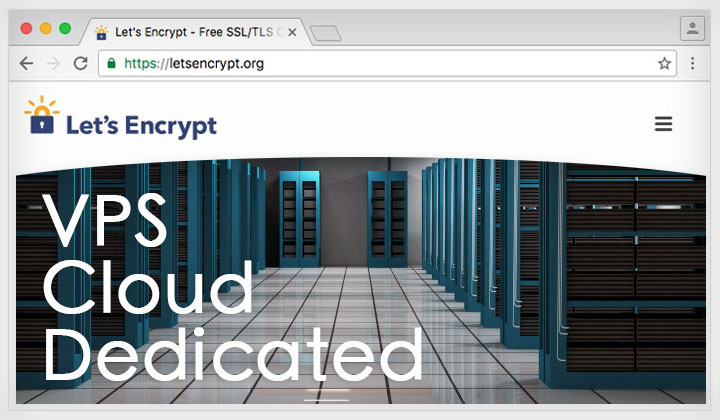 Support on VPS (Virtual Private Server) and Cloud Hosting plans can vary – from easy automatic install and certificate renewals, to manual install or non-existant support. Looking for companies that have the best possible and easiest support for using the free 'Let's Encrypt' SSL certification — I compiled this list of hosting companies with info on each to get a picture on what one is up for or against.
Best Let's Encrypt Support
These providers have excellent support for Let's Encrypt by making the installation and management of the certificates as easy as possible.
Server Locations: Worldwide
The most advanced easy to use cloud hosting platform, enables you to quickly launch VPS cloud server on five leading platforms DigitalOcean, Linode, Google Cloud, Amazon & Vultr. A managed solution with fast support for advanced hosting.
All with one-click install of free SSL with LetsEncrypt.
---
Dreamhost (New Dream Network, LLC)
Server location: US (Virginia)
Another host with great support for all hosting plans, both VPS Hosting and Dedicated Hosting. They have their own control panel where you can easily manage all your certificates and also renewal is completely automatic.
---
Server locations: US (Chicago), UK (London), NL (Amsterdam) & Singapore
Easy to use management for Let's Encrypt certificates is has been further enabled for Cloud Hosting and Dedicated Servers. See this page for their tutorial to see just how convenient it really is.
---
Server Locations: US East Coast, US West Coast, UK
Unlimited free SSL certificates can be installed on your account, through easy to use installation software. All plans, including 'Managed VPS' and 'Dedicated Server Hosting' are fully supported. The certificate will be automatically updated each time before it expires. A video tutorial is provided of the whole process, although it's so easy that you most likely don't even need any help with it.
Tip: If you are using a content delivery network such as CloudFlare to cloack your IP address, you need to disable it temporarily for the installation to complete.
Mediocre Let's Encrypt Support
These companies say that they support the certificate authority and give some guidance to the process but require manual install of the certificate. Usually command line instructions are fairly easy to follow, however you will need to set up an automatic renewal script by yourself (likely as a 'cron' job) because the certificates need to be renewed every 90 days. See this link for instructions.
Although GoDaddy supports only manual installation of Let's Encrypt certs for VPS — they have provided instructions on how to do so. But even though the certs expire every 90 days they do not give instructions on writing a renewal script. You will need to figure out a way to get 'crontab' working for you.
---
Currently Let's Encrypt is only available for the 'Unmanaged VPS Hosting' and 'Unmanaged Dedicated Server' plans. Clear instructions are provided for manual install and again, setting up automatic renewals will require a bit more effort.
Not Recommended Hosting
These companies provide either poor support or none at all. As the trend increases, hopefully the rest will have no choice but to join in. By the looks of things – world's biggest hosting agglomerate EIG (Endurance International Group) is yet to budge.
HostGator — There are reports that you can ask them to install the certificate by sending it to them by email but the process seems complicated. Does not seem like they are willing to really support this – EIG owned.
Hawk Host — When questioned about this, they replied: "In VPS, you'd need to install Let's encrypt manually from your end, we do not provide support for third party application on our VPS plans as our VPS plans are semi-managed." – So expect to be on your own with this one.
This list will be maintained and added to over time – check back later!
Any questions or comments most welcome.