I've put together this guide for CDN users looking for free SSL having done the research on MaxCDN and it's successor StackPath for enabling free HTTPS.
Plus the latest on the free Let's Encrypt certificate support.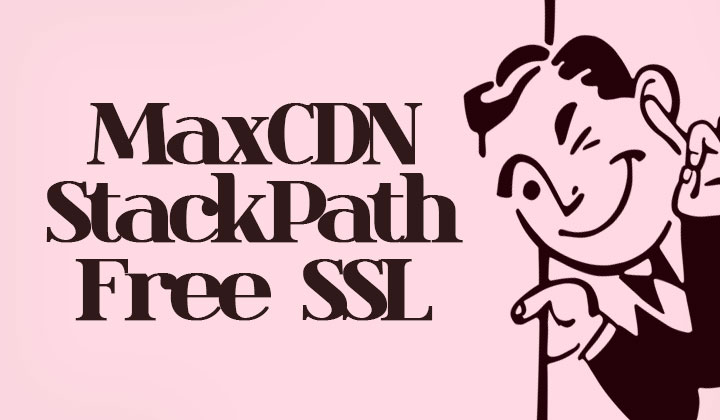 With the transition of MaxCDN to what is now know as the improved StackPath SecureCDN; policy on paid & free SSL certificates remains more or less the same.
Mostly you have the free shared SSL that's shared amongst all CDN users or you can use your own custom paid certificate; those serious enough may also directly purchase an expensive dedicated or wildcard SSL which also requires a dedicated IP.
To use the shared certificate for free; you'll need to use a subdomain alias on their domain name or run the entire site through the CDN by editing DNS records.
Free Private Let's Encrypt SSL Certificates
The current trend in SSL certification is a completely free Let's Encrypt (or letsencrypt) certificate authority. It can be used to provide a private SSL for securing your site on HTTPS between CDN and the outside world.
In this way you can also use a professional looking subdomain on your own domain such as; cdn.mywebsite.com — for free.
Unfortunately StackPath has no support for Let's Encrypt.
Currently supported CDNs are;
We are yet to see if there will be support from StackPath in the future (MaxCDN more unlikely). But current free solutions can also be considered sufficient.
Both MaxCDN & StackPath uses EdgeSSL to provision the SSL certificates.
Good to know!
To fully secure your website on HTTPS you need to have two separate SSL certificates enabled on both connections;
Between your website server and the CDN
The CDN and the outside world
If still lacking one for your website;
A list of hosting companies that support free SSL can be found here.
Questions and comments alike are very welcome.
Especially on anything related to free SSL certification on CDNs.
For your information; this amongst other guides, reviews and content contains affiliate links at times which help my blogging efforts. Purchasing these third party services is voluntary and won't cost you any extra. Thanks for supporting me!